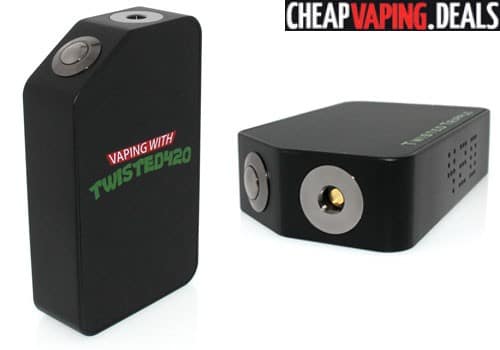 Here's an awesome deal on the brand new Twisted420's Twisted Triple Mechanical Box Mod By Wotofo
Update: This Item Is Out Of Stock Everywhere – Check  Similar Mod  Deals Below
Overview
The Twisted Tripple is an unregulated triple parallel mechanical box mod resulting from a partnership between  VapingWithTwisted420 and Wotofo. The device is powered by up to three 18650 batteries to ensure all day vaping, without the need to recharge.
The unit is constructed of lightweight aluminum and is quite compact. It looks almost exactly like Wotofo's Chieftain box mod.    The fire button's position is at a diagonal inclination to ensure comfort while holding the mod. The button is clicky and its black chrome construction gives the entire device an amazing look   The top of the mod features a black chrome, 510 threaded connector with a gold plated, springloaded center pin for maximum conductivity.
VapingWithTwisted420 included a MOSFET in this box mod to make it more safe.  It is highly suggested to utilize atomizers that have a resistance of 0.2Ω or higher.  While the manual states that the mod will shut down with any devices that are lower than 0.15Ω, VapingWithTwisted has explained on facebook that he has been using the Twisted Tripple with a 0.08Ω atomizer.  Unlike the majority of mechanical mods, the Twisted Tripple can be powered down with five fast clicks of the fire button.
The Twitsted Triipple was designed to ensure a long battery life.  It is powered by three 18650 batteries but can also be used with just one or two batteries.   Batteries are located behind a magnetic door which is easily removed.  For maximum conductivity, it  features gold plated contacts and a ribbon for easy battery removal.   An internal LED behind the battery door provides feedback regarding ouput voltage and battery level.
Overall, the VapingWithTwisted420 Twisted Tripple looks like an awesome mechanical box mod.  And since it is by one of the most trusted names in vape reviews, it's bound to work the way it's designed to.  And, it can be powered down making it perfect to take with you when you're out and about.
Features
Official Twisted420 Box Mod
Constructed from aluminum
Compact
Powered by three 18650 batteries, installed in parallel
Can be used with one or two batteries
Amazing battery life
MOSFET mechanical output for safety
Output range: 3.7V to 4.2V
Five clicks power on/off
LED indicator with output power and battery life
Double magnetic battery door
Chrome 510 connection
Springloaded, gold plated center pin
Clicky firing button, made of Chrome
Video Review
Total Views Today: 1 Total Views: 285