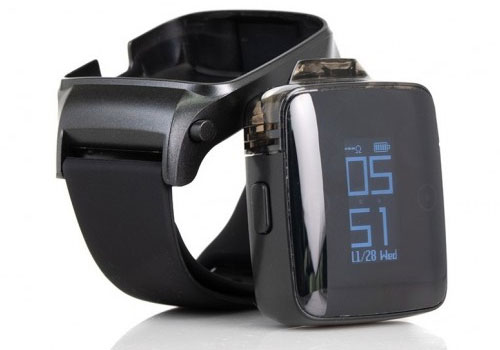 Uwell Amulet: All-In-One 2mL/370mAh Watch & Pod System 
The Uwell Amulet is a pod system and watch at the same time.  This means it can be worn like a watch or you can use it as a standalone pod kit. Additional features include a 370mAh battery, 2mL refillable cartridges, draw-activated firing, a dust-proof design, multiple circuit board protections, 10 watts of power, the ability to check date/time by a simple touch of the screen and a simple/compact appearance. An alternative to this kit is the new Acacia Q-Watch which can be vaped while on your wrist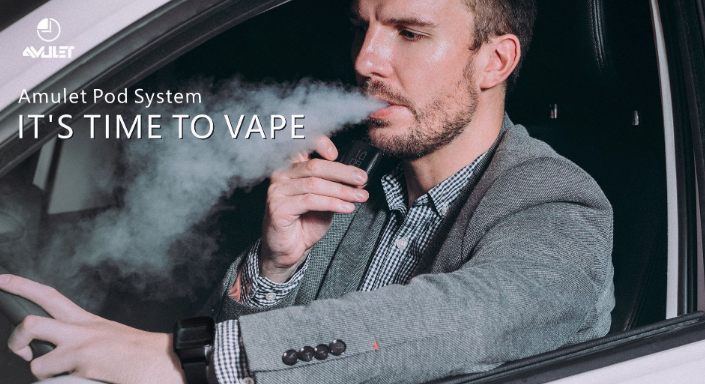 Review
Overview
The Amulet is the first ever watch-type pod kit. You may put it on your wrist like a watch thanks with an included silicone strap or just put it in your pocket to use as a standalone pod system. Best of all, the portable and stealthy shape means you may easily hide it in your hand.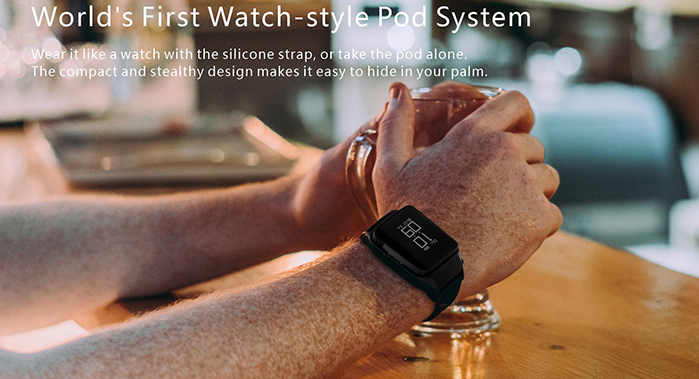 When on your wrist, you can wake up the device to check the date and time by a simple touch of the display screen. The large font is white on a black background, so it is effortless to see.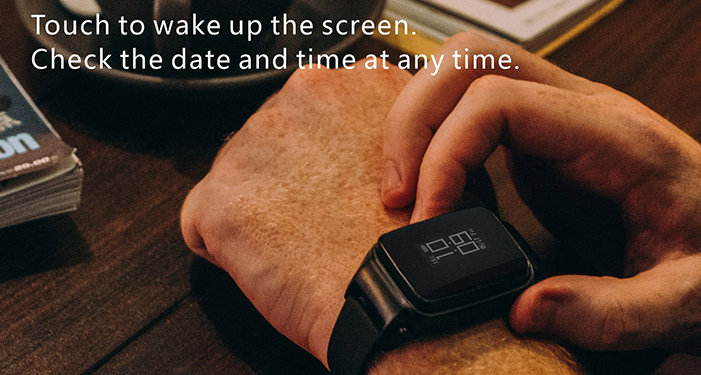 The kit works well for both right and left-handed people. Simply hold the function key on the side for 4 seconds to rotate the display.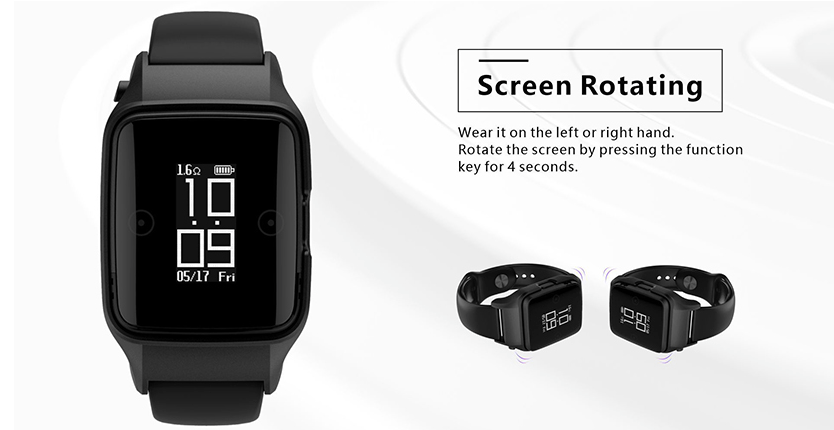 The pods easily slide in and out of the Uwell Amulet and are held inside the battery section via powerful magnets. These cartridges can hold 2mL of e-liquid and refills are a breeze. To add e-juice, lift a stopper at the bottom of the pod and squirt juice into a large filling slot.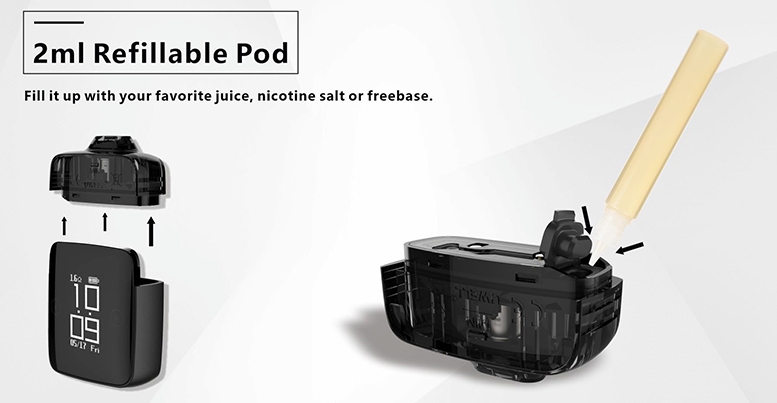 The device is simple to use as there is no fire button. To take a puff, draw on the mouthpiece.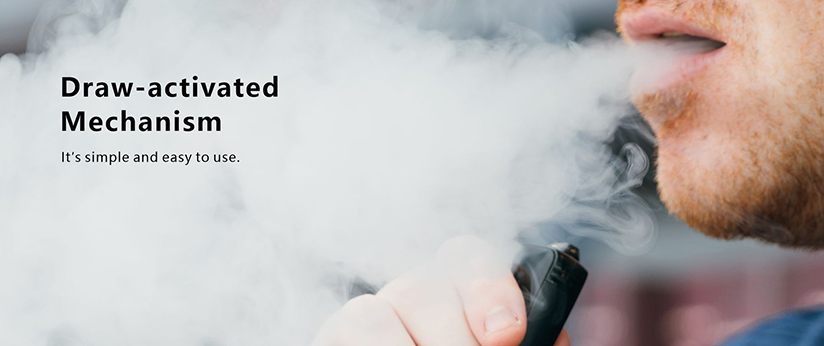 Inside the battery section, there is a powerful 370mAh battery for long vaping times. The output is stable, so the Amulet should operate efficiently until a recharge is required.  A micro USB charging port at the bottom ensures an easy charging process.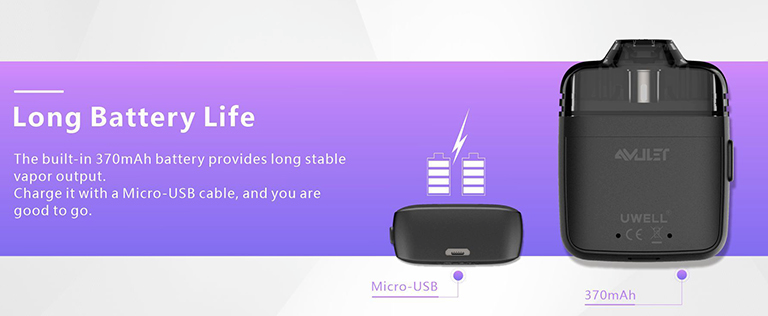 This pod kit produces flavorful vapor from a tight draw, similar to smoking a cigarette. This may make it perfect for use with nicotine salt e-liquids or other high nicotine juices. Uwell has also integrated Pro-FOCS Flavor Testing technology to produce the best possible vape experience. This means vape flavor is the way it is meant to be due to proper control of the heating temperature and durable construction materials.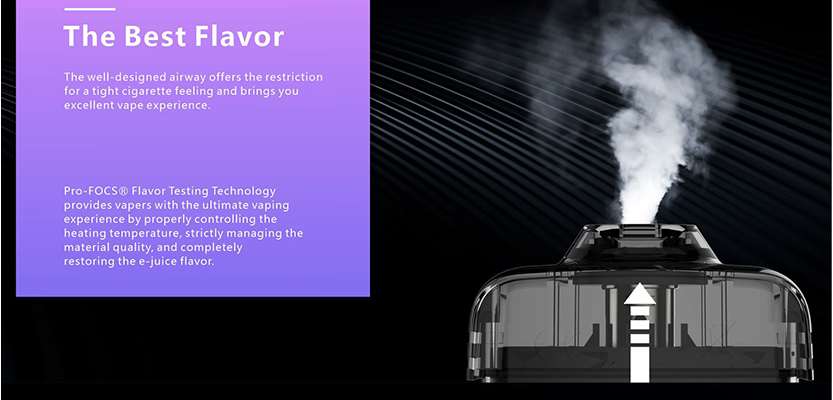 The circuit board of the Uwell Amulet is the latest and greatest. The PCBA is dustproof to protect the chipset and ensure longevity. And, the chipboard is made with multiple protections to ensure reliable and safe performance.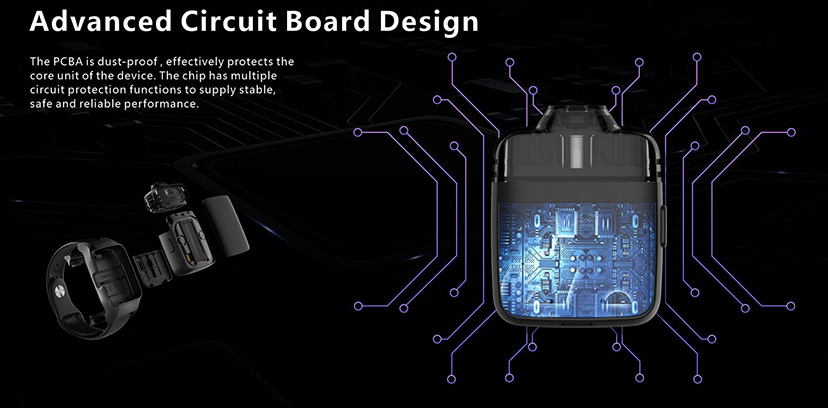 The protections include an over-vape indication, over-temperature protection, low power indication, short-circuit protection and open-circuit protection.

Below you can see a diagram of all the components of this kit. As you can see, the Amulet is easily removed from its watch strap via a release button and the display screen is navigated via a function key or by a simple touch to see the time. On the user interface, you can see current atomizer resistance, the battery's charge level, the day of the week, today's date and the current time.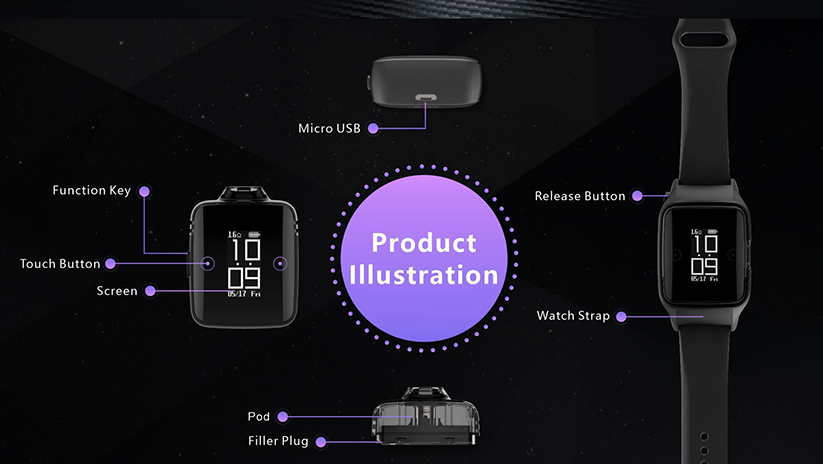 Features & Specifications
Made from PCTG |polycarbonate | silicone
Dimensions:  47.7mm x 37.5mm x 17.2 mm
Weight: 27g
Compact design
Use as watch or standalone pod system starter kit
Large display screen

Touch to wake up screen
Large white font on black background
Check date and time anytime
Resistance indicator
Battery bar
Day of the week

Rotate screen for left or right handed use
Easily remove kit from strap via button
2mL capacity refillable juice pods
Easy refill system
Leak-proof stopper
Max output: 10W
370mAh integrated battery
Micro USB charging port
Long battery life
Coil resistance: 1.6ohm for nic salts or high nicotine juices
Tight airflow: mouth-to-lung vape experience
Draw-activated firing
Dust-proof circuit board for longevity and to protect the unit's core
Multiple protections

Over-vape indication
High-temperature protection
Low power indication
Open circuit protection
Short circuit protection

Best flavor production thanks to Pro-FOCS flavor testing

Related
Total Views Today: 4 Total Views: 2,126