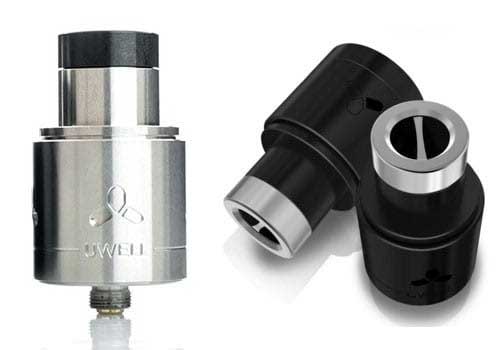 Here are some fantastic deals on the Uwell Rafale X RDA.
Overview
The Rafale X  is a brand new RDA from Uwell, makers of popular products such as the Uwell Crown Sub Ohm Tank.  It features a diameter of 24mm, a patented ASB system, designed airflow intakes (vapor or flavor), and is available in either black or steel.
The RDA measures 24mm in diameter, and its large build deck features a design that has never been seen before: a neutral post build deck.  This setup allows for more intricate build configurations because the negative and positive posts cross the deck while the neutral post carries current and secures the leads.  As a result, additional space for a dual coil setup can be installed in a serial configuration while still maintaining a single coil's resistance.    A larger surface area can be heated if properly configured, and power input can go very high.  If you are unsure how to set up this new configuration, the Rafale X RDA can utilize a normal two-post configuration.  Simply remove the neutral post to do so.
The Rafale X cap has two sets of fixed holes for airflow.  If you are looking for more flavorful clouds, open only one hole on either side or open all three holes for additional vapor production.
Like the Rafale tank, the  Rafale X has the Uwell anti-spit back system (ABS).  Because some users have complained that there's a loss of flavor with ABS installed, Uwell allowed for ABS to be removed from the RDA.  Also included with the purchase is a  14mm drip.
Check out the Rafale X RDA on the Uwell site
Features & Specs
Stainless steel construction
Diameter: 24mm or 0.94″
Height: 43mm or 1.69″
Weight: 50g or 1.76oz
Brass 510 connection pin
14mm drip tip
Massive build deck surface area
Patented neutral dual post/single terminal setup for intricate builds
Active two-post design in combination with neutral posts
2mm x 2.5mm wire holes
5mm deep juice well
Pre-set airflow intakes for cloud or flavor mode
Large build deck
Anti Spit-Back Technology
Peek insulation
Video
Total Views Today: 1 Total Views: 561