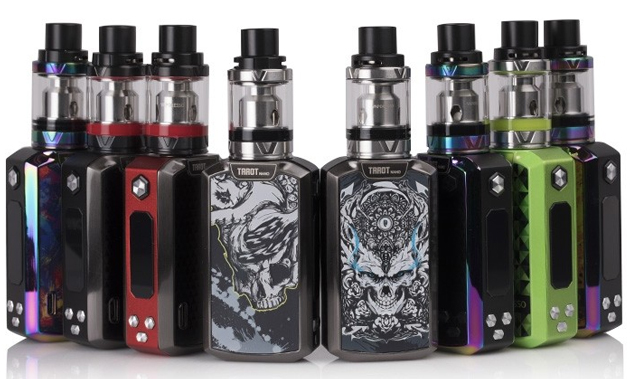 Here's good prices for the Vaporesso Tarot Nano Mod or Kit.
Update: This Item Is Out Of Stock Everywhere So Check Out Similar Deals Below
Overview
The Tarot Nano is the portable version of the Tarot Pro by Vaporesso.  The Nano is a mini mod that features a premium design, a compact form factor, advanced power/temperature curve settings and is available in red, green or gray.
The materials used in the Tarot Nano are the same as the larger 200 watt version.  It is made with zinc alloy, aluminum alloy and carbon fiber.  With dimensions of 69mm x 38mm x 22.5mm, the mod is  much smaller and weighs just 122g.  It's bound to be a perfect mod to take with you when you leave the house and it is also said to be ergonomic.
At the top of the Nano, there's a 510 threaded connection for convenient installation of most tanks or atomizers.   The control face features high quality buttons that look to be metal and are hexagon shaped.  The 0.91 inch OLED has the shape of an octagon, further adding to the modern  look of the device. The interface features all the stats you may need for convenient access and is easily navigated thanks to three adjustment buttons instead of two.  This allows for fast switching between modes.
The mod is built with an Omni chip board, the same you will find in other premium devices from Vaporesso.  The chip produces six alternate output modes including power mode, CCW mode, three temperature control modes (Ni, Ti, SS), CCT mode, TCR mode and bypass mode.  CCW is the abbreviation for Customized Curve Wattage and allows for wattage ramp curves for a specific period of time in power mode. With this new technology, you can set a unique wattage level for every 0.5 seconds of the first 5 seconds after firing.  CCT (Customized Curve of Temperature) mode is similar to CCW, but works with a temperature curve in TC modes to put out higher temperatures during the first five seconds of firing. Both CCW and CCT will result in a unique and personalized vape experience.  Another premium aspect of the mod is that  it will automatically detect resistance and recommend the ideal wattage setting of an installed atomizer.  This prevents burnt puffs while prolonging the life of your atty's coils.
The Omni chip board also means the Vaporesso Tarot Nano can put out powerful and accurate performance from a small device.  It features up to 80 watts of power, can fire atomizers in the range of 280 to 600 degrees Fahrenheit and will work with builds or tanks that are 0.15Ω resistance or higher.  The Vaporesso Tarot Nano utilizes a built-in 2500mAh battery that will allow for long vaping times at the maximum 80 watt output.  The internal cell is recharged via the micro USB port under the adjustment buttons.  You will receive a USB cable with purchase.
The device is  safe for use thanks to safety features that will additionally prolong the life of your mod. These include low voltage, output short circuit, low resistance, overheat, current, load, timeout and anti-loaded battery protections.
There's a Vaporesso Tarot Nano starter kit available for purchase as well.  With this bundle, you will receive a Veco tank  in addition to the mod.  It features a 2ml e-juice capacity, a truly leak-free design and an easy top fill system.  The Veco uses an Eco Universal Coil (EUC) and was made specifically to be environmentally safe because it re-uses the metal sleeve of the coil.  In this way, you only have to buy the EUC head which will also reduces the cost of buying entire replacement coils over time.  The EUC heads are available in either ceramic or the more traditional options.
Video Review
Features & Specs.
Dimensions: 69mm x 38mm x 22.5mm
Weight: 122g
Colors: green, red, grey
Portable yet powerful
Made from zinc/aluminum with carbon fiber
Ergonomic
510 threaded connection
Hexagon-shaped 0.91″ OLED screen
Pentagon-shaped buttons
New Omni chip board
Recommends wattage for coil type
Modes: VW, CCW, VT(Ni200/SS/Ti), CCT, TCR, Bypass, Smart
5 second customized temperature (CCT) and wattage (CCW) ramp modes
Power mode range: 5W to 80W
Temperature control range: 140°C to 315°C or  280°F to 600°F
Resistance range: 0.15Ω – 5.0Ω
Voltage Range: 0V to 8.5V
Uses internal 2500mAh battery
USB charging
USB firmware upgrades
Current protection
Load protection
Timeout protection
Anti-loaded protection
Low voltage protection
Output short protection
Low resistance protection
Overheating protection
Pictures
Total Views Today: 1 Total Views: 859