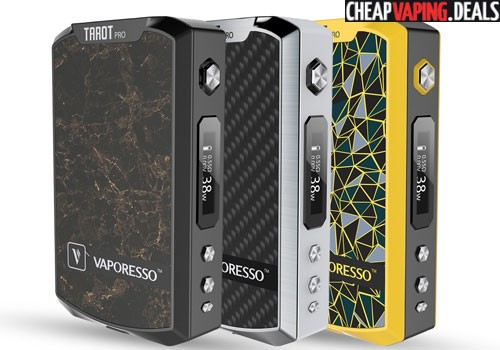 Here's a discount on the Vaporesso Tarot Pro. This is a beautifully designed mod with exquisite finish options and 160 watts of power.
Overview
The Tarot Pro by Vaporesso is a box mod which has the ability to power atomizers up to 160 watts and has temperature control functionality with temperature/wattage ramp modes for a really customized vape.  The mod is available in yellow, metallic grey and silver.
The Tarot Pro looks a lot like its predecessor, but Vaporesso has claimed it has solved all the issues with the previous device.  The Pro's dimensions come in at 93mm x 57mm x 23mm and is made from zinc alloy, aluminum alloy with carbon fiber.  The design was meant to be ergonomic and safe to handle.  For easy atomizer installation, there's a 510 threaded connector at the top.  The control face features a beautiful fire button with a pentagram shape, a bright OLED and two adjustment buttons in vertical formation.
A good reason to buy this box mod is perhaps the all new curvature of wattage (CCW) and curvature of temperature (CCT) modes which allow for firing while ramping up/down the wattage or temperature for a particular period of time.  For example, you could put in  a higher wattage when the device first fires up and the mod could reduce power as you vape according to your preference. In addition to CCT & CCW modes, you also have bypass mode, smart mode, power mode, temperature modes for nickel, titanium & stainless steel and TCR mode for use with virtually any temperature control coil head.
The Tarot Pro also packs a punch with a massive 160 watts of output power and variable temperature operation in the range of 280 Fahrenheit to 600 Fahrenheit.  The device is also compatible with atomizers that have low resistance down to 0.15 ohm.
The box mod uses two external 18650 battery cells which can be recharged via the USB port.  The port also allows for full customization and future firmware upgrades, whenever they are released by Vaporesso.
Overall, if you liked the look of the original Tarot box mod, but were frustrated with the lack of firing accuracy, you may want to consider the Tarot Pro Mod, as Vaporesso is said to have solved all the technical issues with the Omni chip board in the Pro.
Video Review
Features & Specs.
Dimensions: 93x57x23mm
Weight: 200g
Constructed from zinc/aluminum with carbon fiber
Ergonomic and safe to handle
510 threaded connection
OLED screen
Pentagon-shaped buttons
New Omni chip board with reliable performance
Highly advanced & fully customizable
Modes: VW, CCW, VT(Ni200/SS/Ti), CCT, TCR, Bypass, Smart
Power mode range: 5W to 160W
Temperature control range: 280°F to 600°F or 140°C to 315°C
Resistance range: 0.15Ω – 5.0Ω
Voltage Range: 0V to 8.5V
Uses two 18650 batteries
USB charging
USB firmware upgrades
Pictures
Total Views Today: 1 Total Views: 70