Here are cheap deals to purchase the Lost Vape Centaurus Quest BF Squonk Box Mod or Centaurus Quest BF Kit.  The squonk mod features 100 watts of power, single 21700/20700/18650 battery support, Type-C charging, tons of modes (wattage, VPC, bypass, voltage, TC), exquisite design, a 9.5ml squonk bottle, a 9.5ml vape juice storage bottle, and a proprietary chipset. The kit includes the Centaurus Solo RDA with adjustable airflow, dual airflow channels, giant vapor production, incredible flavor, a dual post-build deck with easy coil installation, plenty of room to build, and single coil builds.  Update: have a look at the Lost Vape Centaurus Q200 Kit.
Best Deals
Lost Vape Centaurus Quest BF Box Mod
The Lost Vape Centaurus Quest Box Mod features a similar design to other series devices, such as the Lost Vape Centaurus DNA250C.  This means luxurious leather fused with real carbon fiber (black, gunmetal, leather),  two crocodile versions (black, SS), and a pearl fish edition in gunmetal.  You can't miss this device's extreme quality and exquisite appearance.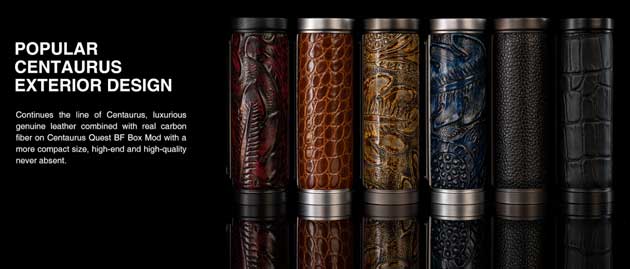 Moreover, this new mod is either a standard or squonk mod since you can easily switch between the two.  If you are not into squonking, you may store the included juice bottle where the squonk bottle is normally located.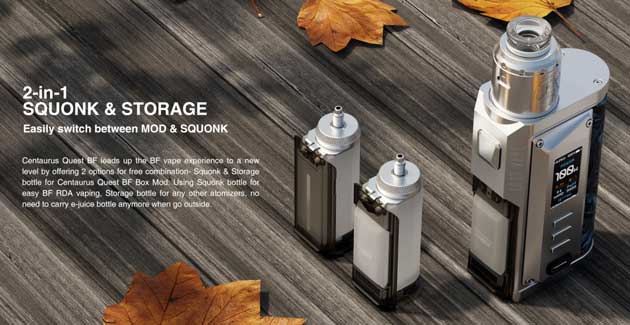 And it features leakproof squonk technology that ensures efficient valve linkage and automatically resets when the atomizer is removed. As a result, installing a BF atomizer opens a 1-way valve with incredible linkage to the mod. Removing an RDA has the opposite effect: the spring inside resets to sealing everything properly.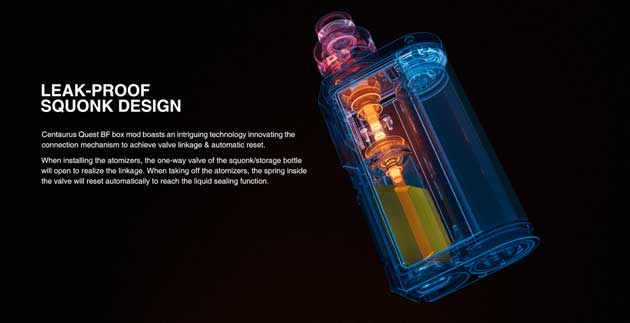 The included storage and squonk bottles feature a massive 9.5ml juice capacity that should easily last an entire day when filled to the brim.  This is much bigger than similar squonk mods in the vape marketplace.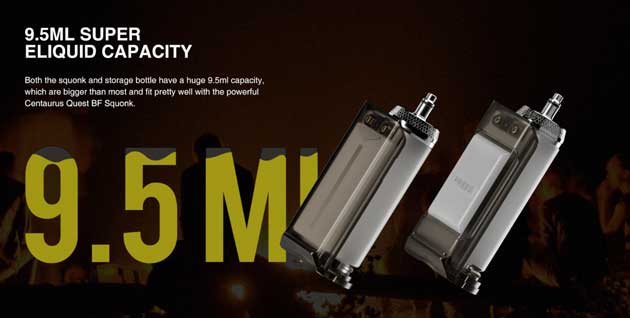 The Lost Vape Centaurus Quest BF Box Mod features 100 watts of maximum output, which is adjustable by way of a full-color display that is easy to navigate thanks to two adjustment buttons and a select button.  Power comes from a single 21700 battery, but there is also support for a single 18650 or 20700 battery.  A fast-Type C USB interface means you may replenish the cell's voltage quickly.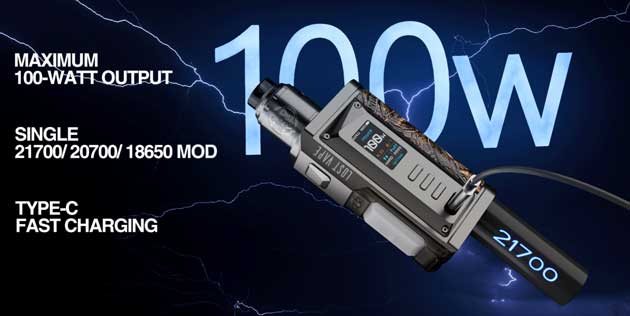 This squonker is built on a proprietary Quest 2.0 chipset that is unique to get hard-hitting performance and safety in 5 different modes.  Choose from wattage mode with soft/normal/hard setting options, VPC mode, bypass mode, voltage mode, and temperature control mode with SS, titanium, or nickel coils.

Lost Vape Centaurus Quest BF Kit w/ Centaurus Solo RDA
The kit includes the Solus RDA, Lost Vape's first rebuildable dripping atomizer.  It stands out for looking sleek yet is functional and easy to work with.

The RDA matches the color scheme of the mod and can be either SS, gunmetal, black, blue, or gold.

A dual airflow channel design permits the right airflow to create a well-balanced flavor profile.  This is noticeable as soon as you take the first puff.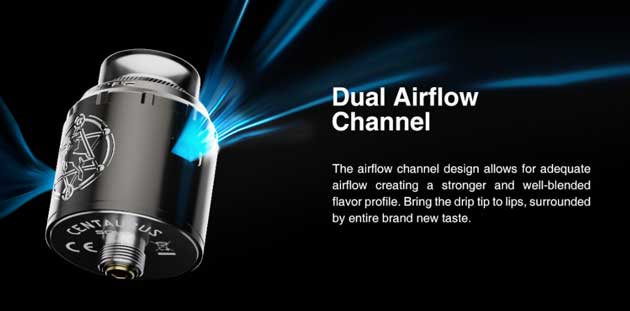 Under the Centaurus Quest BF RDA's chuff cap, you'll discover a dual post build deck compatible with single builds. Plus, you can swap out the squonk pin with an included 510 pin to use the Centaurus Quest kit as a standard dripper kit.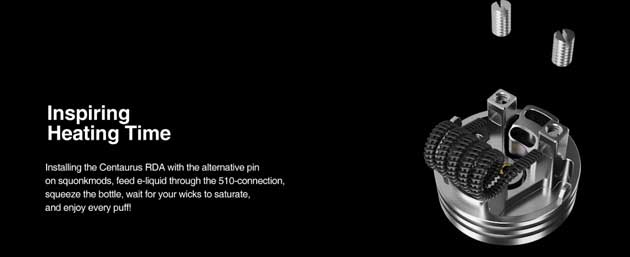 Features & Specifications
Centaurus Quest BF Mod
Dimensions: TBA
Colors: gunmetal pearlfish, SS crocodile, black crocodile, SS ukiran leather, gunmetal ukiran leather, black ukiran leather
Centaurus exterior design
2-in-1 squonk or storage

9.5ml squonk bottle
9.5ml e-juice bottle

0.96 full-color display: 80 x 160px

Two adjustment buttons
One select button

Leakproof technology

Proper valve linkage when RDA is installed
Automatic valve reset when RDA is removed

Battery: Single 21700/20700/18650

2A fast USB-C charging port
Battery Voltage: 3.0V-4.2V

Output Voltage: 0.7V-8.0V
Power Range: 5-100W
Input Current: 1A-35A
Modes: Wattage/VPC/bypass/voltage/TC mode(SS904/SS316/Ti/Ni)
Temperature Range: 200°F-600°F
Quest 2.0 chipset for fast firing & safety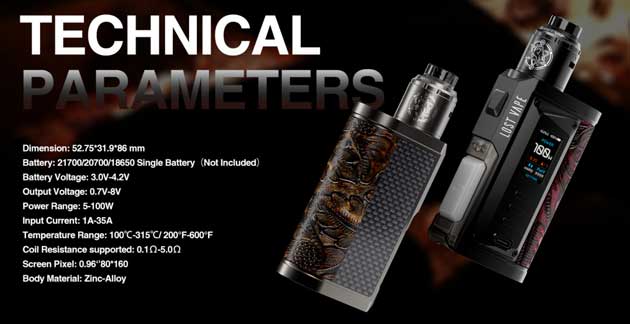 Centaurus Quest BF Kit
Kit Includes The Centaurus Solo RDA
Measurements: 24mm x 31mm
Stainless steel chassis
24mm diameter
1.2ml juice well
Dual airflow channel to enhance flavor
810 drip tip
Single coil/dual post build deck
Plenty of room to build coils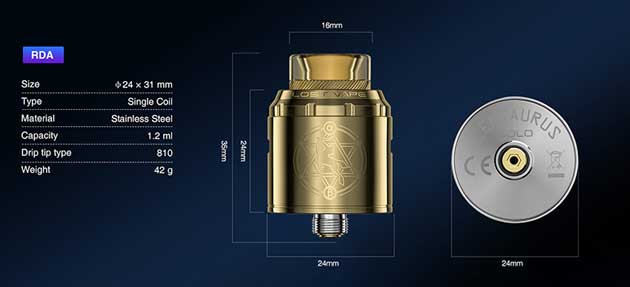 In The Box
Mod Only
With the purchase of the box mod, you'll also receive a 9.5ml squonk bottle, a 9.5ml juice storage bottle, a 18650 battery adapter, a Type-C cable, a manual, and a warranty.

Starter Kit
With the purchase of the kit, you'll also get the Centaurus Solo RDA, a spare drip tip, extra parts, an RDA manual, and warranty information.

Total Views Today: 1 Total Views: 16,714