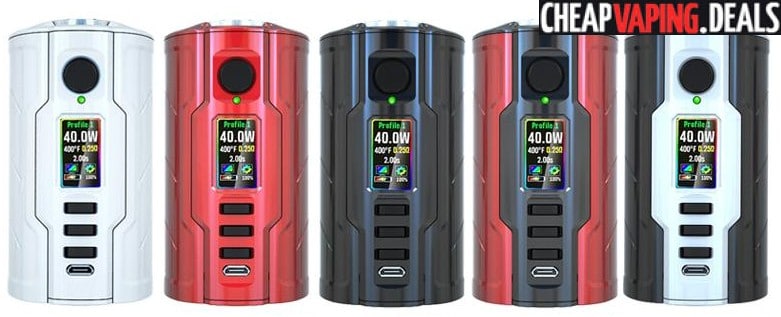 Here's a discount for the Vapecige Creator DNA 75C Box Mod that is made with the latest full color Evolv DNA chip board. 
Update: This Item Is Out Of Stock Everywhere – Check  Similar Evolv DNA Mods Below
Overview
The Creator by VapeCige is the latest DNA 75C to hit the vape market place.  It features a full color TFT display, a compact stunning design, dual 18650 batteries, patented temperature protection, Escribe theme uploads, custom fonts, patented wattage control and synchronous rectification to maximize battery life.
With a modern curved design, the box mod is available in white, black, red, black/white and black/red.  It is very portable as the dimensions are just 48mm x 32.5mm x 87mm. At the top, there's a 30mm diameter 510 atomizer connection for compatibility with large tanks or builds. The side magnetic panels — on opposite sides — hide the dual 18650 batteries that power the device.  They can be swapped out for a new mod look although it is uncertain when the magnetic panels will be available for sale.  In the middle of the control face, you will see a  160dpi x 80dpi TFT display that features full color fonts and can be completely personalized with themes/fonts/menus via Escribe desktop software.  At the bottom of the control face, you will find 3 total adjustment buttons — versus the traditional two — to more easily operate the vertically oriented menu.  Displayed vape data includes current power, temperature, resistance, puff time and several icons to access the device sub-menus.
As previously mentioned, the Vapecige Creator Mod is powered by two 18650 cells.  With only 75 watts of power, two cells will last forever and drastically reduce the frequency of recharges.  And, the cells are effortlessly recharged while located inside the device via the 1 amp micro USB port.  For safety, the on-board charging setup also uses a balanced system to make sure each cell achieves the same voltage level.
Technically, this Evolv DNA 75C box mod features the most precise and accurate operation in the market today.  It is built with patented wattage control, preheat modes, patented temperature protection and synchronous rectification for further battery longevity.  There are several temperature control modes that are easily customized in memory slots via Escribe desktop software. Variable temperature also works with stainless steel, nickel and titanium coil elements. Resistance wise, the minimum is 0.15ohm during temperature control operation and 0.25ohm while the unit is set to wattage control.  Improved on the Vapecige Creator is the voltage output that is now a whopping 9 volts.
Vapecige Creator Features & Specifications
Dimensions: 91.5mm x 27.5mm x 55mm

Compact, portable, transportable

Weight: 280g
Made from aluminum
Colors: red, black, white, black/red, black/white
Curved design
30mm 510 atomizer connection
TFT color display

160 x 80
Customize themes via Escribe desktop software
Change font
Customize menu
Three adjustment buttons for effortless navigation

Powered by dual 18650 high rate batteries

Located on opposite sides
Magnetic battery panels
Micro USB 1A balanced charging system

Built with an Evolv DNA 75C chip board

Power output range: 1W to 75W
Temperature Control range: 100°C-315'°C or 200°F-600°F
Output modes: TC-Ni/TC-Ti/TC-SS/VW/TCR
Temperature control minimum resistance: 0.15Ω
Power mode minimum resistance: 0.30Ω
Maximum output voltage: 9.0V
Synchronous rectification technology extends battery life

Included with purchase:

Vapecige Creator DNA75C
Micro USB charging cable
User's manual
Cleaning cloth
Pictures
Total Views Today: 1 Total Views: 198