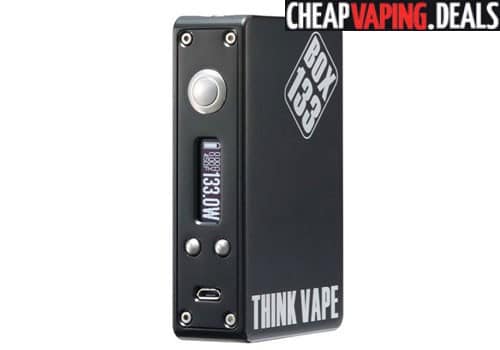 Here's a blowout deal on the brand new Think Vape Box 133 Box Mod powered by an Evolv DNA chip.  This is a pre-order deal.  We are uncertain when the coupon code expires, so order yours today or you may end up paying upwards of $150. 
Update: This Item Is Out Of Stock Everywhere – Check  Similar DNA250C Mods Below
Overview
The Think Vape Box 133 is powered by an Evolv DNA 200 chip, known in the industry for accurate temperature control and amazing menus and functionality.  It is powered by only two LiPo batteries.  As a result, the maximum output has been reduced to 133W, but the device is bound to be lighter and more compact.
The polished design of the Box 133 is simply amazing.  It features dimensions of 95mm x 60mm x 25mm  and is made of  aluminum alloy.  It is available in black or silver. The buttons are very similar to the ones found on Hana mods.  The unit features a 0.91 inch display and a 510 threaded connection to make sure it works with the majority of builds or atomizers.
The menu and controls for the mod are the same as other DNA 200 mods.  It has a maximum output power of 133W and can control temperatures in the range of  200°F to 600°F.  The Box 133 can fire atomizers with resistance that go down to 0.08Ω in temperature control mode, making it well-matched with most tanks or atties.
The Box 133 is powered by two 18650 batteries that are installed behind a magnetic door panel which is easy to open and pleasing to the eye.  The mod can be charged via the micro USB port, but is always recommended to charge vape batteries with an external charger.  The USB port is also used to update the firmware or to customize settings via your desktop PC.
Overall, the Box 133 looks like an excellent device.  You can never go wrong with a mod that features a DNA 200 chip.   With plenty of power and excellent design, this mod is highly recommended. Other vape deals sites have this box mod listed for $150, so at $114.99, you won't find a better price.
Features
Dimensions: 95mm x 60mm x 25mm
Weight: 158g
Available in silver or black
Made of aluminum alloy
Evolv DNA 200 chip set
510 threaded connection
Variable wattage mode
Ouput power range: 1 to 133 W, adjustable in increments of 0.1W
Temperature control mode
Temperature range: 93°C – 315.5°C or 200°F to 600°F
Resistance range: 0.08Ω to 3.0Ω
Voltage range: 1V to 9.5V
Output current: 50A to 55A
Powered by two 18650 batteries
Brass battery contacts
Micro USB charging
Firmware upgrades
Customize via escribe desktop software
Lock mode
Stealth mode
Power lock mode
Power preset mode
Resistance lock
Auto-power down
Short circuit protection
Low battery warning
Temperature protection
High resistance protection
Low resistance protection
Cell by cell monitoring
Cell balancing
Video Review
Not available
Total Views Today: 1 Total Views: 205