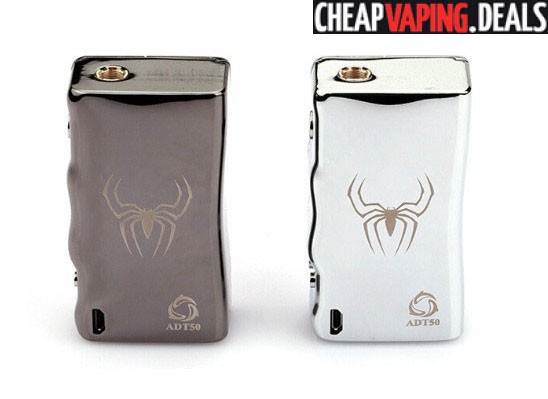 Update: The Arctic Dolphin ADT50 Box Mod Has Been Discontinued – Check  Newer Box Mods & Starter Mod Kits Below
Overview
The Arctic Dolphin ADT50 is one cool looking box mod.   With a spider logo and an ergonomic design, it fits perfectly into the hand.
The device boasts reasonable power at 50W, adjustable in increments of 0.1W.  The Dolphin is said to be the only mod with constant temperature control functionality.  It will fire atomizers at the exact set temperature to ensure coil longevity and avoid burnt taste or toxic chemical reaction.  Temperature can be controlled in the range of  200°F-650°F in 5°F increments.  The atomizer resistance range for the Dolphin box mod is 0.06Ω to 1Ω in TC mode and 0.1Ω to 2.5Ω in power mode.  With those specs, chances are this mod work with your sub ohm tank or atomizer.  To switch between power and TC mode, simply press the fire button 5 times.
The OLED on the Dolphin features adjustable brightness and is located on the bottom of the device.  The menu displays resistance, battery level, temperature/wattage and voltage.  If there is no atomizer attached or if you have a malfunctioning coil, the menu will tell you to check the atomizer.  There's also a sub-menu which is accessed by pressing the up and down button simultaneously. Here you can adjust the brightness, lock or unlock, change the screen direction, access the serial number, limit the number of daily puffs,  set a puff time cutoff, choose temperature control celcius or fahrenheit and more.
The top of the device features a 510 copper threaded connection with an adjustable center pin.  There have been no reports of atomizer attachment problems as they all sit flush.
The magnetic battery door on the Dolphin slides right off to reveal the external 18650 battery.   It's recommended to use high brain batteries 2800mAh.  The Dolphin can be charged with the included USB cable.
If you are looking for something that looks and operates a little differently, the Arctic Dolphin ADT50 in definitely a mod for you.  Temperature control works really well because it constantly adjusts for accuracy while puffing.  And the design is just as unique as it gets.
Features
Dimensions: 45mm x 83mm x 26mm
Weight: 340g
510 copper threaded connector
Spring loaded brass pin
Magnetized battery door
Variable wattage range: 1W to 50W (0.1W increments)
Temperature control range: 200°F to 650°F (5°F increments) or   93°C to 343°C (1°C increments)
Input voltage: 3.1-4.3V
Maximum output voltage: 9V
Input current: 1-30A
Maximum output current: 25A
Maximum output current: 1000mA
Wattage mode resistance: 0.1Ω to 2.5Ω
Temperature control mode resistance: 0.06Ω to 1Ω
Maximum output current: 1000mA
Bottom blue OLED 0.69″ display
Battery under voltage protection
Charging over voltage protection
Over time protection
Short circuit protection
Over temperature protection
Over current protection
USB charging
USB cable included
Detailed manual included
Video Review
https://www.youtube.com/watch?v=9PdVTYAzWPc
Total Views Today: 1 Total Views: 82