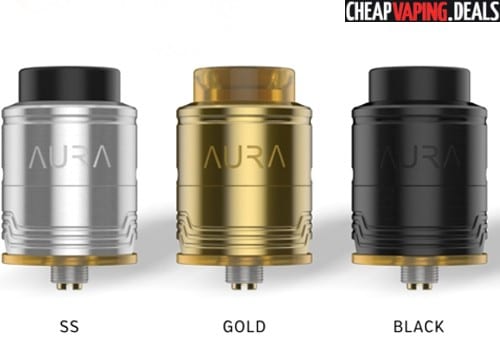 Check out these deals on the Digiflavor Aura RDA. 
Comparable Products
Review
Overview
The Digiflavor Aura is a flavor RDA that is designed by DJLsB Vapes. It features a step clamp build deck for convenient coil installs, a deep juice well, two airflow channels, includes a BF connector and is leak-free.
This rebuildable dripping atomizer has a diameter of 24mm, a height of 28mm, is made from stainless steel and is available in silver, black or gold.  Two sets of Delrin drip tips are included: you will  get a 15mm x 6mm one or an 18mm x 6mm.  The gold Aura includes PEI drip tips.  In addition to a standard 510 pin, you will also get a BF pin for use with your favorite squonk mod. Additionally, the base is made with an Ultem disc plate to resist heat while giving the RDA a one-of-a-kind look.
Removing the chuff cap reveals the convenient build deck that utilizes a step clamp system to make installing coils easier than ever.  This clamp-style can utilize either flat head and Phillips head screws — both are included — the latter of which makes applying torque an easier process. Underneath the deck, there's a 1.5ml juice well to prevent the necessity to drip too frequently.
Two sets of dual air slots on the Aura RDA are said to result in intense flavor with massive vapor.  Two bottom air slots direct air to hit the coils from underneath the build deck while two middle airflow slots directly hit the coils from both sides. Due to the position of the airflow, this RDA is also said to be leak proof and the top cap is domed to be close to the coils and further intensify flavor.
Features & Specifications
Dimensions: 24mm x 28mm
Stainless steel
Colors: stainless, black, gold
Two sets of 810 drip tips

1 x 15mm diameter Delrin (black/silver RDA)
1 x 18mm diameter (black/silver RDA)
Yellow PEI drip tips (gold RDA)

Bottom feeding connector included
Ultem bottom disc plate

Distinct look
Resist heat

Dual post build deck

Step clamp coil installation system
Flat head screws (included)
Phillips head screws

1.5ml  juice well
Dual airflow channels

2 x bottom air intakes
2 x side air intakes
Dense vapor clouds
Intense flavor
Position of airflow prevents leakage

Domed top cap

Closer to build deck
Intensifies flavor

Included:

Flat head screws
Phillips head screws
Phillips screw driver
BF pin
2 x drip tips (15mm, 18mm)
2.5mm coiling tool
3.0mm coiling tool
2 x 3mm coils (2×28/36 SS316L)
User manual
Gallery
Total Views Today: 1 Total Views: 237