Here are cheap deals to buy the Freemax Marvos S Kit.  This combination of mod and pod tank features a leather grip, a single 18650 battery, fast 2 amp Type-C charging, a 0.69″ display, a 510 threaded mod for use with any atomizer, a DTL pod tank, adjustable airflow, a power mode, a bypass mode, a smart mode, and mesh series coils.
Marvos S Mod
With five options, the Freemax Marvos S Mod is tiny and for sale in silver/grey, gunmetal red, gunmetal yellow, black/black, and black/blue.  The design is also exquisite, with a fine leather grip over a zinc alloy chassis to keep the entire kit premium, light, and ergonomic.  This kit is so small you may store it in your purse or pocket since you can also lock the device to prevent accidental firing.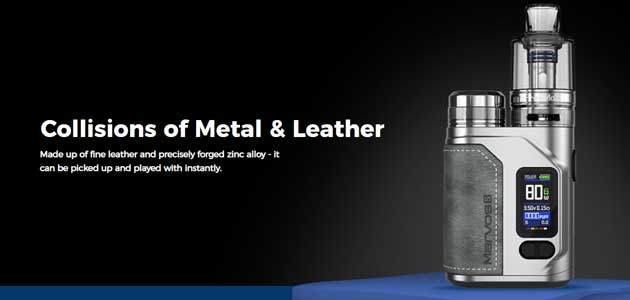 On the control face, you will find a 0.96″ color TFT screen that is easy to work with thanks to dual adjustment buttons underneath.  On the user interface, you'll get data such as current mode, current output, atomizer resistance,  puff counts, and last puff time.  Best of all, you may set your desired color theme for the UI to blue, yellow, green, red, or white.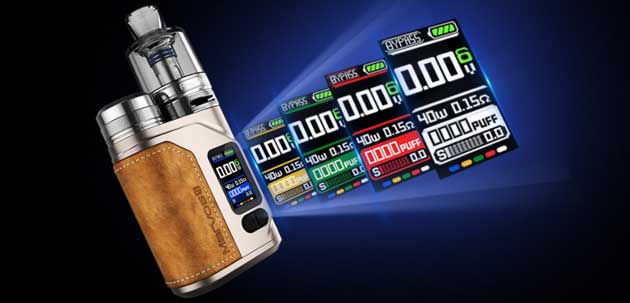 Operation-wise, this setup also stands apart from the crowded field of pod systems.  The output modes include a variable wattage mode, a smart mode for beginners, and a bypass mode to use the device as a mech mod.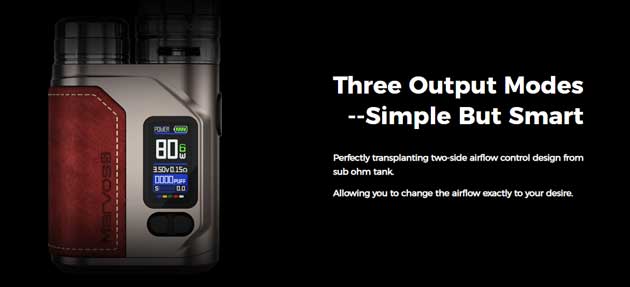 At the top of the mod, you will see the 510 atomizer bezel and a cap that permits access to the battery bay, which is compatible with a single 18650 cell.  You may also recharge the battery while it is installed using a side USB-C port with fast 2 amp charging.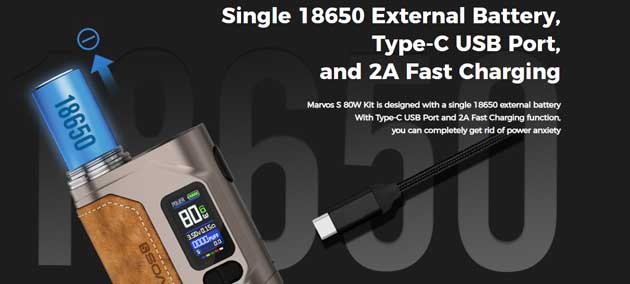 Marvos S Kit
As previously stated, the 510 connection on the mini mod permits using any 510 builds or tanks. But, with the purchase of the kit, you'll receive the Marvos DTL Atomizer, which can be used as either a pod or tank by the easy installation or removal of the 510 connector.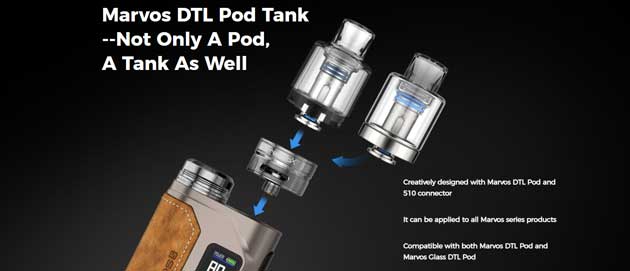 Change the airflow by adjusting the intake slots on the pod tank.

At the top of the tank, you'll see a unique 810 drip tip designed specifically for direct-to-lung vaping.  The design has been upgraded inside this mouthpiece to increase airflow while it passes through to your mouth.  And a V-shaved groove at the edge reduces leakage and thus prevents spit back.

Finally, this setup uses MS mesh coils, two of which are in the package.  The first is the 0.15ohm version that operates from 60 to 80 watts and is pre-installed, while the extra coil features 40 to 60 watts of output from a 0.25ohm heating element.  If you are looking for a more restricted style of puff, you may separately buy the 0.35ohm (30W to 40W) or the 0.5ohm (20W to 30W), which are more compatible with higher nicotine vape juices.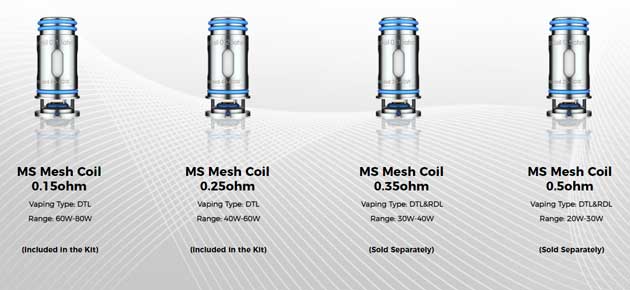 Features & Specifications
Size: 26 x 51.7 x 110.2mm
Pod Capacity: 4.5ml
Coil: MS Mesh Coil (Tea Fiber Cotton Formula+S9904L Mesh)
Coil Resistance: 0.15ohm/0.25ohm/0.35ohm/0.5ohm
Output Mode: Power, Smart, Bypass
Battery: External 18650 (Batteries not included in the package)
Output Voltage: 0.7-4.2V
Output Wattage: 5-80W
Material: Zinc Alloy+Artificial Leather+SS+PCTG
Weight: 156.42g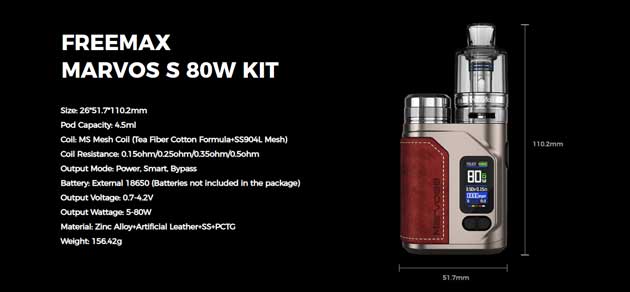 Package
With purchase, you will get the Marvos S Mod, a DTL Pod Tank, a 0.15ohm & 0.25ohm MS coil, a USB charging cable, a warning card, a warranty card, and a manual.

Total Views Today: 1 Total Views: 2,270