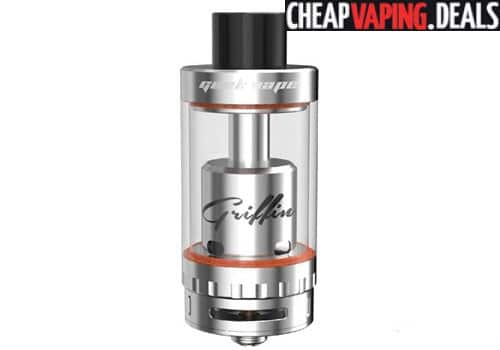 An awesome deal just posted on the brand new GeekVape Griffin 25 RTA. 
Overview
The Geekvape Griffin 25 is next generation of Griffin RTA.  It is available in a standard and top airflow versions.  The main difference from the original Griffin RTA  is the large tank capacity and bigger building deck to allow larger builds such as Clapton ones.
The Standard Griffin 25 was designed for those who love simpler vape gear.  It has dimensions of 25mm x 48.5mm and the drip tip's height is 10mm  The tank capacity is a massive 6.2ml.  It features a 17mm build deck and is available for single or dual coil.  The air flow control ring is adjustable via its clicking-clock positions design.  You can the Standard Griffin 25 in either black or stainless steel colors.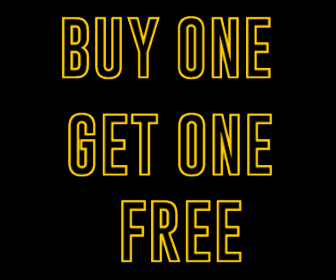 The top airflow version of this RTA has features direct to coil airflow.  Its dimensions are 25mm x 54.4mm, with a drip tip of 10mm.  This RTA will hold up to 6ml of e-juice and the build deck is 17mm in diameter, compatible with single or dual coil builds.  The AFC ring functions in the same way as the Standard Griffin 25 and you can get one in either SS or black.
Both versions of this RTA feature a Delrin Drip tip, a Silica glass tank, a Velocity-style deck, an adjustable positive connection poll with full gold-plated housing.
If you want more airflow, build coils easier and love to chase clouds, then either version of the Geekvape Griffin 25 RTA is a must buy!  Get yours today.
See the Griffin 25 on the Geekvape website
Griffin 25 RTA Standard Version Features & Specs.
Dimensions: 25mm x 48.5mm
Weight: 80g
Body constructed from stainless steel
Precision machining
Silica glass tank: temperature & acid resistant
Tank capacity: 6.2ml
Top fill design
17mm Velocity style build deck
Available for single or dual coil
Ceramic block for single coil build
Adjustable gold plated 510 contact pin
Clicking-clock positions airflow control
510 drip tip adapter
Delrin Widebore drip tip
Peek insulator
Griffin 25 RTA Top AFC Version Features & Specs.
Dimensions: 25mm x 54.4mm
Weight: 80g
Chassis made from stainless steel
Precision machining
Silica glass tank: temperature & acid resistant
Tank capacity: 6ml
Top fill system
17mm Velocity style build deck
Available for single or dual coil
Ceramic block for single coil build
Chimney width: 9mm
Top airflow with travel-to-the-coil structure
Adjustable gold plated 510 contact pin
Clicking-clock positions airflow control
Delrin widebore drip tip
Peek Insulator
Video Review
https://www.youtube.com/watch?v=Aqp_OpGQQaQ
Total Views Today: 1 Total Views: 173