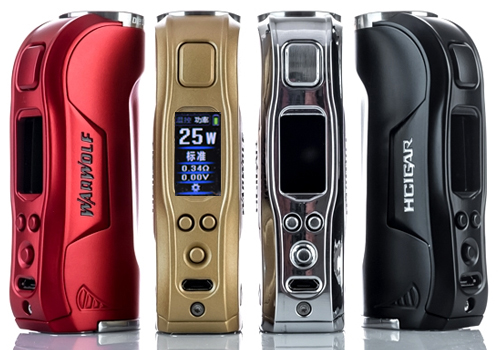 Check out this cheap deal for the Hcigar Warwolf.  This portable box mod features 80 watts of power, a full-color display, an exquisite appearance, a full temperature control suite, several taste modes, a single 18650 battery (not included) and a micro USB charging system.
Update: This Item Has Been Discontinued Out Everywhere – Check  Similar 80W Mod  Discounts Below
Video Review
Overview
The Hcigar Warwolf features 80 watts of power, an ergonomic portable design, an elegant appearance, superior construction, a color display, several taste modes and a wide range of temperature modes.
This mod is said to be designed for ultimate ergonomics because its shape fits perfectly into the palm of the hand. The design is small for portability and also elegant. The surface has a finish utilizing a special process that makes it durable and scratch-resistant. Available colors include red, gold, silver, black.
Powered by the latest HCigar XT80C Color Screen chip board, the large display on the Warwolf looks amazing. Vape data is organized in a vertical orientation and is pleasing to the eye. On the screen, you will see indicators for current mode, wattage/temperature, resistance, voltage and a battery bar. A gear icon allows for changing the mod's settings such as adjusting the screen time, changing the brightness, setting the language and mod/firmware information. All the menus are easy to use thanks to a third confirm (select) button underneath the two adjustment buttons on the control face.  At the top of thte device, there's a springloaded 510 connection bezel for effortless installation of builds or tanks.
From a technical perspective, very little has been released vis-a-vis temperature control and resistance capabilities. However, this mod should be compatible with all heating elements (nickel, titanium, stainless steel) at a lower resistance. In power mode, the Hcigar Warwolf also features several taste modes such as normal or powerful operation.  Powered by a single 18650 cell, the battery bay is accessed by pushing the bottom cover outward to release a panel.
Features & Specifications
Dimensions: unknown
Colors: Red, gold, silver, black
Portable, elegant and ergonomic mod

Shaped for the human hand
Special finish
Durable
Pleasurable to hold
Resists damage

Powered by Hcigar XT80C color chip board

Full color display
Vertical menu
Easy to change settings
Third select/confirm button for easy menu navigation

Maximum power: 80W

Taste modes: normal, hard

Resistance range: unknown
Temperature range: unknown
TC elements: Ni, Ti, SS
Utilizes a single 18650 battery

Micro USB charging
Bottom slide/flip battery door
Total Views Today: 1 Total Views: 546