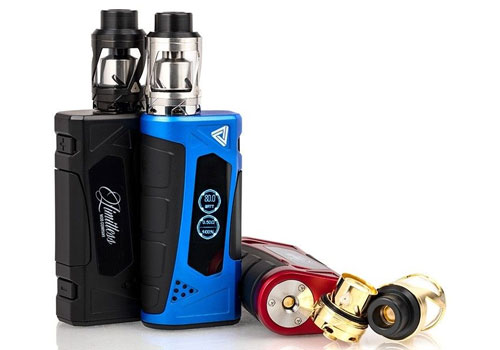 Here are cheap deals for the Limitless Redemption 80W Box Mod Kit.
Update: This Item Is Sold Out Everywhere – Check  Similar 80W Box Mod & Kit Discounts Below
Overview
The Limitless Redemption Kit features a mod with proprietary chip board, 80 watts of power, a 0.91 inch OLED and the Hextron Tank with 3.0ml capacity, a top fill system, sextuple external air slots and mid wattage coils.
With a modern appearance, the Redemption Box Mod in this kit is available blue, red and black. On the side, you will see a 0.91 inch OLED display that has a vertical menu in white font with vape data such as current power, resistance, battery percentage and more. The side located control center is built with a large fire button and large adjustment buttons for effortless menu navigation. At the top there's a stainless steel threaded connection bezel with a gold plated/spring-loaded center pin for best electrical conductivity and simple atty installation. On the backside, there's a battery panel that provides easy entry into the battery bay that stores a single 18650 cell. This mod is only capable of operating in power mode at a maximum of 80 watts and does have a micro USB charging system.
The Redemption Kit by Limitless also includes a Hextron tank that is either gold, silver or black depending on which mod color you choose. Built with an effortless fill system, the tank reservoir can contain up to a decent 3ml of juice. Upon inspection of the tank tube, you will notice caging around the Pyrex glass that reduce chances of damage while resulting in an amazing appearance. Hextron coils,made with organic cotton for health, power the tank. With purchase, you will receive two 0.5ohm heads that fire in the range of 40 to 80 watts. External airflow to the coils happens via sextuple adjustable air slots that measure 4mm x 1mm and direct air to the coils.
Features & Specifications
Redemption Box Mod
Dimensions:  unknown
Weight: unknown
Colors: black, blue, red
510 threaded connection

Springloaded center pin
Gold plated center pin for conductivity

0.91″ OLED display

White letters on black
Vertical orientatoin

Large fire and adjustment buttons
Maximum power: 80W
Powered by a single 18650 battery

Battery door on back held down by magnets
Micro USB charging system
Hextron Tank
Diameter: 24mm
Constructed from 304 stainless steel with glass tank
Colors: gold, black, silver
Black widebore drip tip
Tank capacity: 3ml
Tank reinforced with caging to prevent damage
0.5Ω Hextron coils / 40W to 80WMade with organic cotton
Sextuple air slots: 4mm x 1mm
With Purchase
Limitless Redemption Box Mod
Hextron Tank
2 x coils
Extra glass section
Related Deals
Total Views Today: 1 Total Views: 458