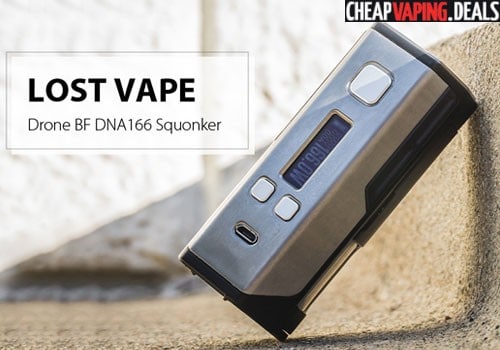 Update: This Item Is Out Of Stock Everywhere – Check  Similar Evolv DNA Mods Below
Overview
The Drone BF Squonker is the latest DNA 250 box mod by Lost Vape.  It features a hollow 510 atomizer bezel to feed your favorite RDA, a DNA chip board up to 166 watts and is powered by dual 18650 cells.
The DNA 250  mod measures 95mm x 50mm x 41mm, is made from zinc alloy and has an elegant design.  The control face is build with a solid stainless steel button and features a DNA 250 display.  The menu is quite innovative and can be customized via Evolv's Escribe software.  A squonk ready stainless steel threaded/spring-loaded 510 connector is located at the top for use with your favorite bottom-fed RDA.  Included with purchase, you'll get three squonk bottles.
Inside the Drone BF Mod, there's an Evolv DNA chip board, perhaps the most popular and accurate chip set in the vape market place with a wide range of customization options, including Escribe desktop software. Because the Drone is powered by only dual 18650 cells, this DNA 250 device is only capable of producing 166 watts of power, but this fact also allows for a smaller mod size. Accurate temperature operation with nickel, titanium & stainless steel heads has a range of 200 to 600 degrees Fahrenheit when used with any atomizer above 0.08ohm.  In power mode, the unit can fire builds or tanks with a resistance 0.1ohm or higher.
Dual external 18650 batteries power the Drone BF Box Mod.  They can be topped off via the fast charging 2A Micro USB port  that will top off the cells within 3 hours.  A balanced charging system is integrated into the device for safety and optimal mod performance.  The batteries can also be charged externally by removing the magnetic battery cover.   In addition to the balance charging, there's also short circuit, low resistance, low voltage and overheat protections.
Overall, the Drone Mod looks to be yet another reliable and amazingly designed DNA device from Lost Vape.  With the high tech chip board, ergonomic form factor, incredible design and reliable performance, this squonker may quickly become very popular.
Drone BF Video Review
Drone BF Features & Specifications
Evolv DNA 250 squonkmod
Power output range: 1W to 166W
Temperature control range: 200°F to 600°F or 100°C to 300°C
TC mode supports SS / Ti / Ni200
TC modes lowest resistance: 0.08Ω
Power mode lowest resistance: 0.10Ω
Voltage output range: 0.5V to 9.3V
Voltage input range: 9V to 12.6V
Maximum current output: 55 amps
97% efficiency
Dimensions: 95mm x 50mm x 41mm
Weight: 410g
Zinc alloy construction
Colors: silver/black only
Ergonomic
Premium design
Large stainless steel rectangular firing button
Water resistant buttons
Stainless steel/ 510 threaded connector
Hollow/spring-loaded center pin for squonking
Three included squonk bottles
0.91″ OLED display
Intuitive menu
Magnetic batty cover
Uses dual 18650 batteries
Micro USB fast 2A charging (3 hours)
Pass-through vaping system (vape while charging)
Escribe customization and firmware upgrades
8 preset modes
Short circuit protection
Over-temperature protection
Low resistance protection
Low voltage protection
Reverse polarity protection
Total Views Today: 1 Total Views: 197