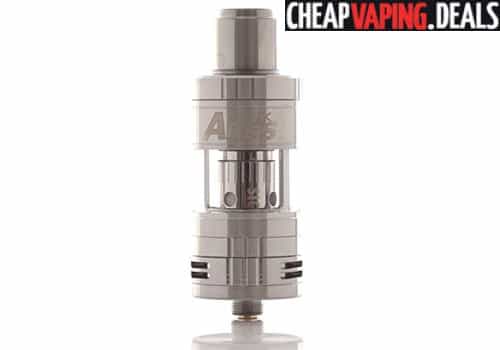 This is a fantastic deal on the Ares Tank by Sigelei.
Update: This Item Is Out Of Stock Everywhere – Check  Similar Sub Ohm Tank Deals Below
Overview
The Ares is the first top fill capable sub ohm tank by Sigelei.  The device combines an amazing design with high power and excellent performance that is said to work perfectly with the company's box mods.
The Are sis made of a stainless steel chassis with a quartz glass tank tube. It has a very large 4.8mL. tank capacity to ensure it doesn't have to be constantly refilled. However, when it is finally time to add e-juice, it's never been easier.  The Ares features an amazing top fill system to prevent e-liquid spillage, while ensuring the tank never has to be removed from the mod to add e-liquid.
The device may also be one of the best temperature control tank atomizers on the market.  It comes pre-installed with a 0.2Ω Ni200 TC coil head.  If you prefer vaping in power mode, or if you don't have a box mod with temperature control capability, you can simply install the included Kanthal coil which is rated at 20W to 50W.
Sigelei also didn't forget to include airflow when designing this tank.  It features two adjustable airslots, stacked on top of each other, in three different locations at the base of the tank.  This assures that airflow can be changed to the setting you prefer.
With purchase, you will also receive a widebore drip tip.  It is insulated to ensure a cooler vape and prevent the tip from getting hot and burning the lips.
The Ares can also be completely disassembled to ensure easy cleaning and maintenance of the tank.  It is quite easy to take the device apart as Sigelei included small ridges to make the different parts a lot easier to grip. For rebuilding enthusiasts, a rebuildable deck is also said to be released very soon.
Overall, the Ares looks like a fantastic sub ohm tank which has an amazing look and is said to perform quite well.  And, since it's designed and manufactured by Sigelei, it's bound to perform according to its specifications.
For more information, see the Ares on the Sigelei website
Features & Specs
Dimensions: 73mm x 24mm
Weight: 75g
Body made of stainless steel
Quartz glass tank tube
Tank capacity: 4.8ml
3 x double adjustable airflow at base
Includes one 0.2Ω Ni200 temperature control coil head rated at 280°C – 300°C
Includes one Kanthal 0.5Ω coil head rated at 20W to 50W
Insulated wide bore drip tip: cooled vapor and drip tip
Adjustable juice flow control
Video Review
Not available
Total Views Today: 1 Total Views: 61