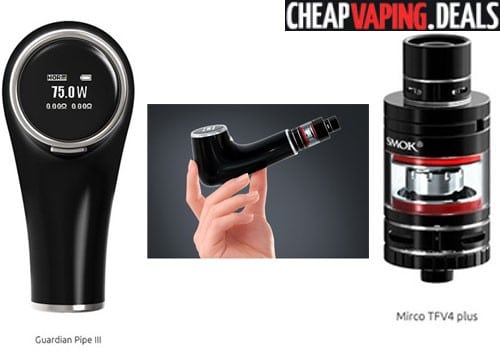 Here's an awesome deal on Smok's brand new Guardian III pipe mod kit which includes a Micro TFV4 Plus Tank. Find out more information on this kit on the Smoktech website
Update: This Item Is Out Of Stock Everywhere – Check  Similar Smok Mods & Kits Below
Guardian III Mod Overview
The Guardian III pipe mod features a black lacquer paint with a classic pipe look.  It is portable, compact, easy to use and very ergonomic.  It is made of from fire-resistant Polycarbonate and ABS Alloy for longevity.
The Guardian III is the ideal fusion of design and science to create the best and most capable pipe mod.  In power mode, the device has a maximum output of 75 watts .  It was designed with both exact and smart temperature control functionality in the range of  200°F to 600°F.  Temperature control works with Nickel, Titanium and Stainless Steel coils.  The Guardian III can fire atomizers with resistance as low as 0.06Ω, making it compatible with practically every sub ohm tank, build or atomizer in the marketplace.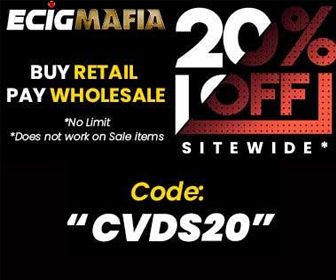 The Guardian III is powered by one 18650 external battery which are held behind a magnetic battery door on the bank of the device.  Replacing batteries is a breeze and you can also charge the mod via the510 charging port.
The device features the largest OLED display in its class.  The menu has been improved over previous Guardian mods and navigation has never been simpler.  Depending on the mode, the screen will indicate wattage, resistance, voltage, time, puff time, battery level and resistance.
The Guardian III also has its own mobile application.  The device communicates with the smart phone app via Bluetooth 4.0 technology.  In this way, you can track and/or limit puff data and customize settings.  There's also a USB port to upgrade the firmware via desktop PC.
Overall, the Guardian III looks like an awesome device.  It's powerful, easy to use and sure to turn heads.   Get yours today.
Guardian III Mod Features
Dimensions: 101.7 x 59.1 x 46.3
Weight: 119g
Made of ABS Alloy and Polycarbonate
Textured black piano lacquer finish
Fireproof & durable
Power mode range: 1W to 75W
Output voltage: 0.7 to 9V
Temperature control mode range: 100°C to 315°C or 200°F to 600°F
Accurate & intelligent temperature control
TC mode support for SS, TT and Ni200 coils
Adjustable resistance
TC resistance range: 0.06Ω to 2.0Ω
Power mode resistance range: 0.1Ω to 3.0Ω
Powered by 18650 external battery
Sliding magnetic battery cover
510 connector  with springloaded center pin to fit most atomizers
Charge battery through 510 connector
USB port to upgrade firmware
Largest e-pipe OLED with easy menu
Screen Saver Time
Adjust screen brightness
Rotate screen
Smart phone app to customize settings
Limit/Count puffs
Bluetooth 4.0
Stealth Mode
Many safety features: 12 second cutoff, short circuit protection, overheat protection and low battery warning
Micro TFV4 Plus Overview
The Micro TFV4 plus in this kit features a 3.5ml tank capacity which is upgradable to 5 ml with the included larger tank tube and tank extension adapter.  It features a 510 cone shaped RDA drip tip with V shape airflow to create a completely unique vaping experience.
The tank has a top refill system to ensure adding e-liquid is a breeze.  Simply  twist open the top cap of the device to reveal the e-liquid slot.  No more refill messes!
The airflow on the Micro TFV4 plus has also been redesigned.  The unit has a very open draw and airflow can be easily adjusted by turning the drip tip ring at the top or by adjusting the bottom airflow.
The Micro TFV4 plus utilizes patented coils including a Clapton Dual Core for low wattage vaping and flavor and the patented stainless steel dual core to be used in temperature control setting.
Micro TFV4 Plus Features
Dimensions: 24.5 x 51mm
3.5 ml tank capacity upgradable to 5.5ml with included extensions
510 RDA drip tip with the V shape airflow channel
Leak proof top refill
Open draw
Adjustable airflow top and bottom
Includes 0.3Ω Micro CLP2 coil
Includes 0.25Ω Micro STC2 coil
Huge vapor clouds
Incredible flavor
Guardian III Kit Video
Total Views Today: 1 Total Views: 375