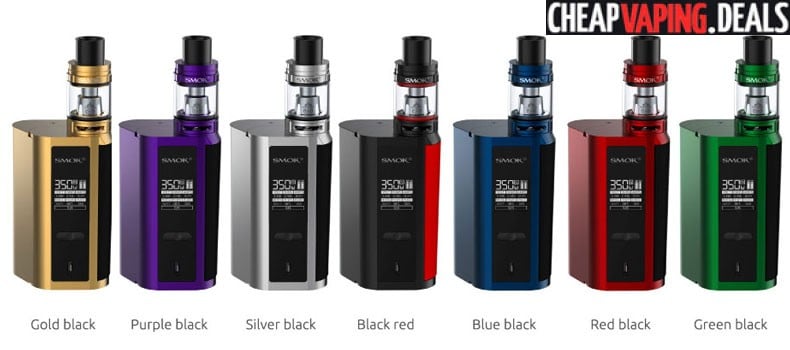 Update: This Item Is Out Of Stock Everywhere – Check  Similar 300W Mod Below Or Visit Our Box Mod Deals Page 
Check out this fantastic deal on the Smok GX2/4 Box Mod or Kit. Powered by either four or two 18650 batteries for portability, this mod features 350 watts of maximum output, a large OLED display, temperature control, a plethora of safety protections, micro USB charging, and firmware upgrades.
Review
Overview
The Smok GX2/4 looks to be the follow-up of the very popular Smok GX350 mod.  Just like its predecessor, the new device is capable of being powered by either four 18650 batteries (350W) or two (220W).  But, the GX2/4 is more versatile as it can be used with alternate covers depending on the number of cells that are used.  With two batteries, it transforms into the smallest 220W mod in the marketplace!
From a design perspective, the new mod looks just about the same as the GX350.  But, the control face has been moved from the top to the front and the device includes both a smaller 2-cell battery door and a large 4-cell one.  As a result, the GX2/4 is actually two mods in one. With four 18650 cells installed, the unit has a maximum output of 350 watts, measures 59mm x 44mm x 87.2mm and has a weight of 205g.  With the included smaller battery door in place, the unit only holds two cells to result in a maximum output of 220W, a weight of 137g, and the smallest dimensions for a 220W mod in the marketplace (46mm x 26mm x 87.2mm).  To release and swap out the covers, you simply press an effortless button on the bottom. With either battery door installed, the mod has a minimum resistance of 0.10ohm in power mode and 0.06ohm in temperature mode.  And, the temperature output tops out at 600 degrees Fahrenheit.
Unfortunately, the micro USB port does not support charging but is used for future firmware upgrades only.  The current operating system for the GX2/4 box mod allows for intelligent atomizer recognition, a puff monitoring system, a 10-second cutoff, short circuit protection, overheat protection, and low battery warning.
On the control face, you will notice the OLED screen is completely redesigned and is much larger with a diagonal diameter of 0.96″.  The display's menu shows vape data in a vertical orientation including current wattage/temperature, mode, voltage, resistance, amps, battery levels, puff counts, puff time, and more.
The side-firing key still uses the recognizable stealth design so it perfectly integrates with the GX2/4 and is ergonomic for effortless firing.
You may buy this mod in a wide range of colors including gold/black, purple/black, silver/black, black/red, blue/black, red/black or green/black.
Features & Specs
Constructed from zinc alloy
Works with either two or four 18650 cells
Smallest 220W/350W mod in the marketplace
Dimensions/weight with dual cell battery cover: 46mm x 26mm x 87.2mm / 137g
Dimensions/weight with quad cell battery cover: 59mm x 44mm x 87.2mm /205g
Colors: silver/black, black/red, blue/black, red/black, green/black, purple/black, gold/black
Polygon shape with curved corners for comfortable holding
A responsive stealth fire key
510 threaded connection
0.96″ OLED with vertical menu
USB firmware upgrades
Power output range: 6W to 220W (2 cells) or 6W to 350W (4 cells)
Temperature output range: 100°C to 315°C or 200°F to 600°F
Power mode resistance: 0.10Ω to 3.0Ω
Temperature mode resistance range: 0.6Ω to 3.0Ω
Standby current: <500uA
Atomizer recognition
Puff monitoring
10 second over puff protection
low battery warning
Overheat protection
Short circuit protection
User manual
Micro USB upgrade cable
Pictures
Total Views Today: 1 Total Views: 738