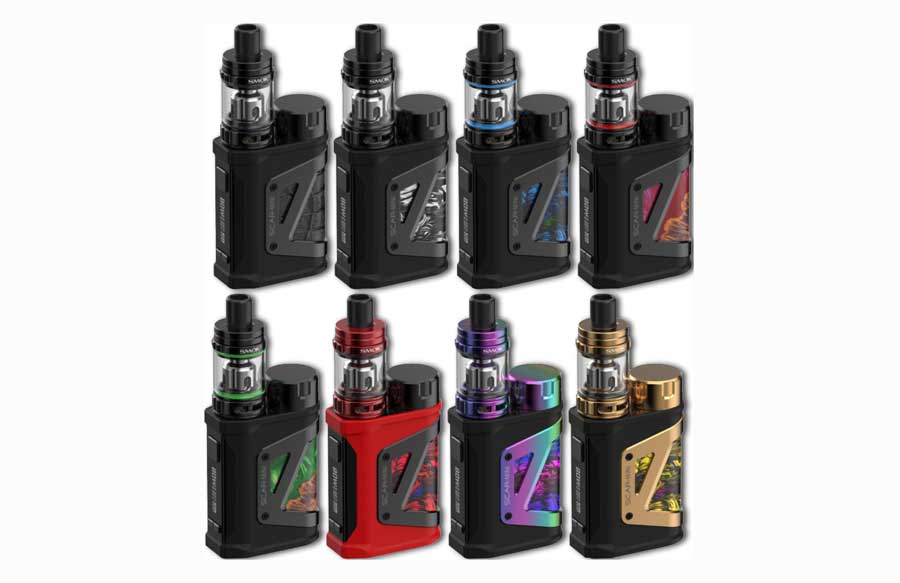 Here are cheap deals to purchase the Smok Scar Mini, for sale as a box mod or kit with TFV9 Mini tank.  The Scar Mini Box Mod features 80 watts of power, a convenient top battery slot, a single 18650 battery, Type-C charging, an ergonomic design, metal with leather finishes, multiple protections, and waterproof/shockproof/dustproof design.  Meanwhile, the TFV9 Mini Tank has an upgraded airflow system, a child-resistant top cap, V9 meshed coils, top refills, and a 3mL juice capacity.
Deals
Review
Smok Scar Mini Overview
Designed with a limitless vision for endless potential, the Scar Mini Mod continues the amazing design and technical power of Smok's Scar series of mods such as the Smok Scar 18.  Not only is this device smaller and lighter, but it also looks similar to the previous device in the line with innovations such as a top battery slot, an external 18650 battery, and 80 watts of power.  The Scar Mini Kit includes a brand new TFV9 Mini Tank that has a 3mL juice reservoir, easy refills, and new V9 mesh coils for intense vapor production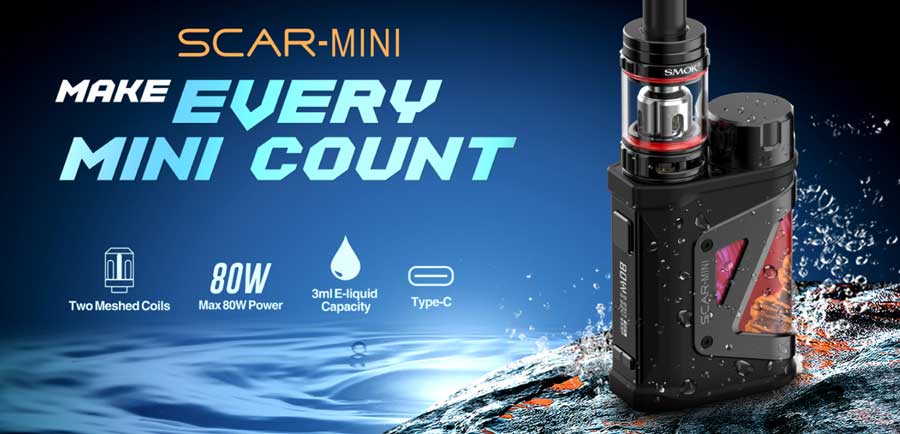 Delicate, Waterproof Design
As is the case with previous Scar devices, the Scar Mini features an IP67 waterproof design that can endure submersion in up to 1 meter of water for 30 minutes.  The IP67 rating also means the mod will not be damaged due to the buildup or exposure to dirt and dust.  And, it is shockproof, so if you accidentally drop it, the damage will be limited.  Appearance-wise, the Smok Scar Mini Mod maintains a similar design as the rest of the Scar devices by keeping the identical metal chassis and leather texture for incredible ergonomics.  However, the side control panel looks a little bit different as the smaller, monochrome display screen is disappointing and the user interface is horizontally oriented with limited vape data such as the current power, the current resistance, the current voltage, the battery percentage, and a puff counter. Changing the settings is done by way of two adjustment buttons and at the top of the Scar Mini, you'll see a premium 510 connector that should work with many atomizers you may already have.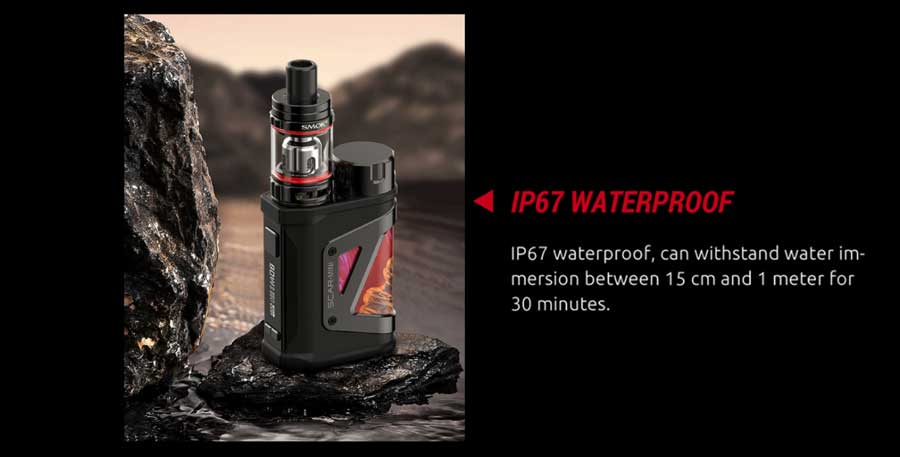 Top Battery Slot & 80 Watts Of Power
Driven by a single 18650 battery, the Smok Scar Mini is equipped with a top battery slot for easy loading and battery replacement.  To charge this cell without removing it, you may attach the included Type-C cable to a charging port at the bottom that has a fast transfer speed for a smooth charging process.  With a power range of 1 to 80 watts, the Smok Scar Mini has plenty of power to produce massive vapor clouds in every puff from virtually any build or tank and multiple protections means a reliable vape experience that avoids potential risks.  For example, the Scar Mini has a self-adaptive power output system that ensures a constant power level whenever you take a puff.  And, there's also intelligent atomizer recognition, a puff monitoring system, 8 seconds puff limitation, short circuit protection, overheat protection, and low battery warning.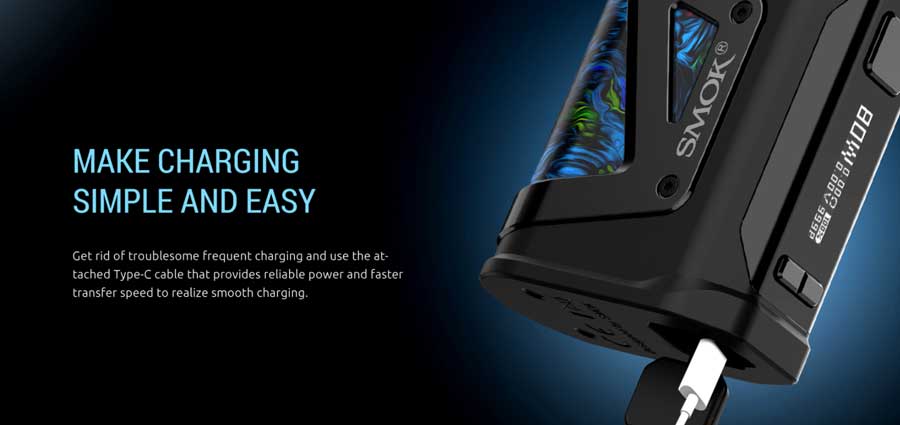 TFV9 Mini Tank
When purchasing the Smok Scar Mini Kit, you'll also receive the brand new TFV9 Mini Tank. It is light, small, and has a 3mL juice capacity.  Plus, it has a brand new airflow system so that air intake can be changed by rotating a bottom airflow ring.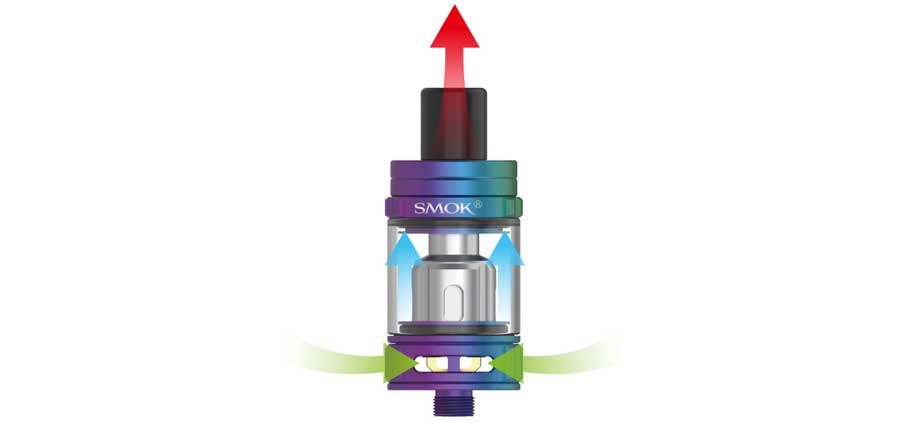 Refilling the 3mL juice reservoir entails swiveling the top cap by lifting and turning it counterclockwise to open a fill port.  Now, you may insert the nozzle of your juice bottle into the filling port, but you should be sure not to let e-liquid drip into the center airflow tube.  Another tip from Smok is to always let the Scar Mini Kit stand for a few minutes to get the tank's cotton saturated.  And, perhaps the best aspect of the refill system is its lock mechanism that is child-resistant to keep your young children safe.  A bonus feature of this characteristic is that it also prevents the accidental opening of the top cap in case you keep your Scar Mini in your pocket or purse.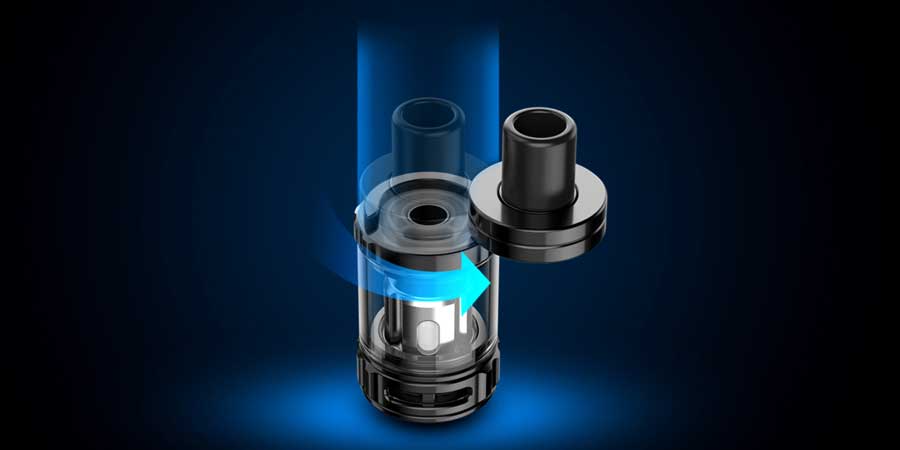 V9 Meshed Coils
Constructed with a Kanthal chassis, the coils in the Scar Mini have a large heating surface to create massive vapor clouds with incredible flavor. The mesh heating element also warms up faster for instant vapor production in less time.  With the purchase of the Smok Scar Mini, you will get the V9 Mesh 0.15ohm coil that works in the range of 40 to 90 watts and can handle strong power to produce huge clouds.  It is uncertain if the TFV9 Mini in the Smok Scar Mini kit is compatible with other coils, but we will produce this info when it becomes available.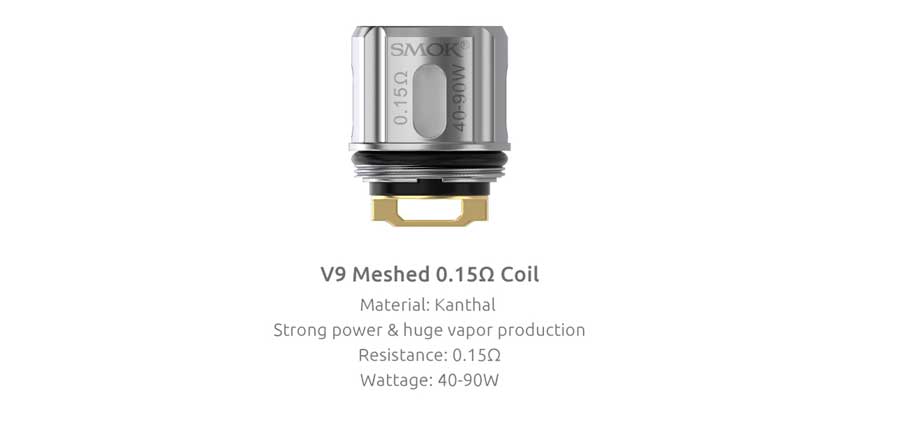 Features & Specifications
Made from stainless steel and leather, the Scar Mini Mod is for sale in black, fluid black white, fluid blue, red stabilizing wood, green stabilizing wood, fluid red, fluid 7 color, and fluid gold.  It is also portable with dimensions of 50mm by 25.5mm by 75.1mm and a weight of just 91.5 grams.  The wattage range is 1 to 80 watts and the 300uA or less standby current means the Scar Mini won't drain if not in use.  The device works only in power mode with atomizers that have a resistance of 0.15Ω or higher and the battery, accessed via a top battery cap, can be recharged via a bottom 1.5A Type-C USB port.  If you purchase the Smok Scar Mini Kit, you'll get the TFV9 Mini Tank that is made from stainless steel, measures 23mm by 55.8mm, a 510 threaded connection, and has a 3mL juice capacity.  However, the EU version only stores 2mL of e-liquid due to regulations.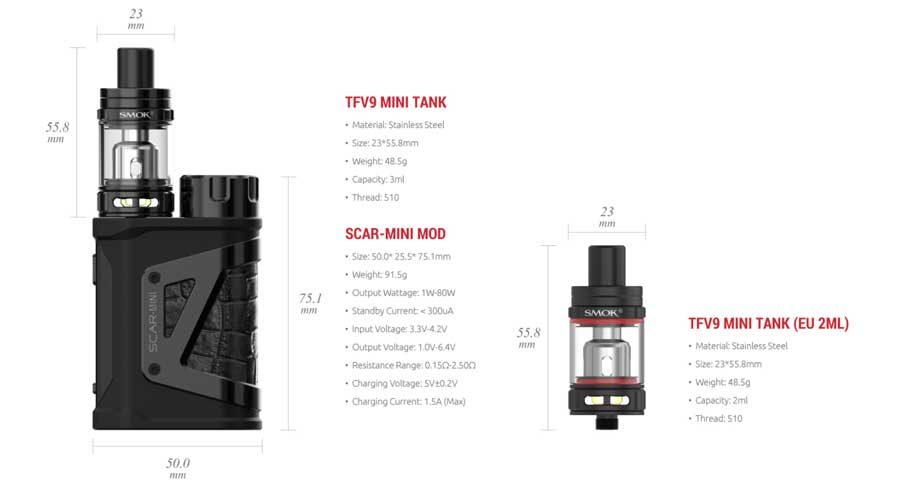 Package
With the purchase of the Scar Mini Kit, you will receive the mod, a TFV9 Mini Tank,  two 0.15Ω V9 meshed coils, an extra glass section, a Type-C cable, and a user manual.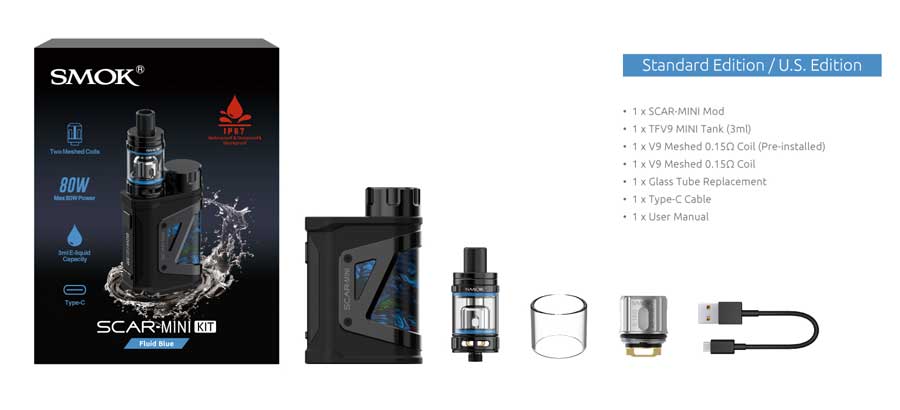 Comparable Products
Total Views Today: 4 Total Views: 3,885