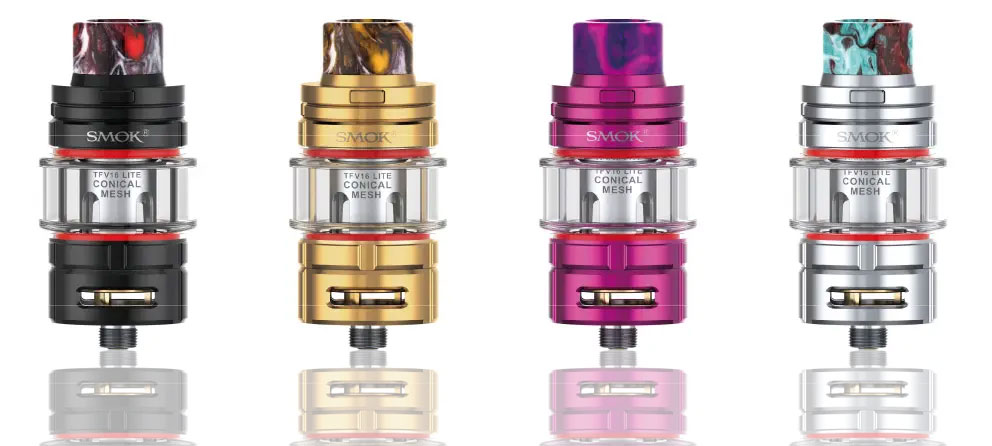 Smok TFV16 Lite: 5mL Sub Ohm Tank With Mesh Coils
The TFV16 Lite tank is a smaller version of the Smok TFV16.  The Lite version features mesh coils for vapor & flavor, a wide resin drip tip, a 5mL bulb reservoir, a lock button for safety, an improved airflow system, a top refill method, and dual bottom adjustable airflow control.

Mesh Coils For Vapor & Flavor
The TFV16 Lite works with mesh coils that are known throughout the vape industry for providing fast heating and extreme flavor. The 0.2ohm Lite Conical Mesh coil produces a mild throat hit and provides huge vapor with impeccable flavor. This coil should be used from 60 to 85 watts. Or, you may fancy the 0.15ohm dual mesh coil that is constructed with dual coils for superior e-liquid wicking. It fires between 60 and 80 watts to maximize vapor/flavor.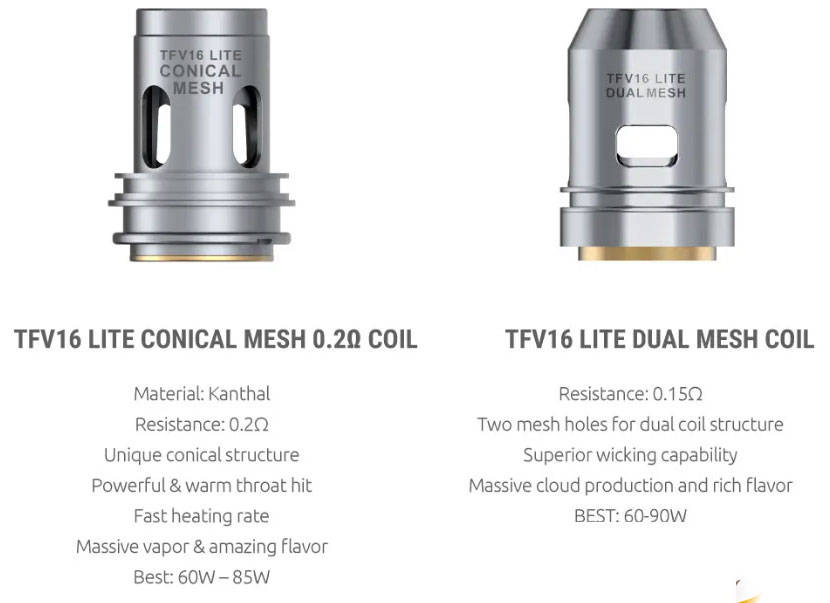 The Conical head with nexMesh technology has a larger bottom airflow channel to constrict the vapor and generate an instant blast of taste.  This heating element also delivers superfast heating to cause serious flavorful vapor. And, the honeycomb mesh holes are made of nickel/chrome for fast heating of every single drop of e-juice that enters the wicking ports.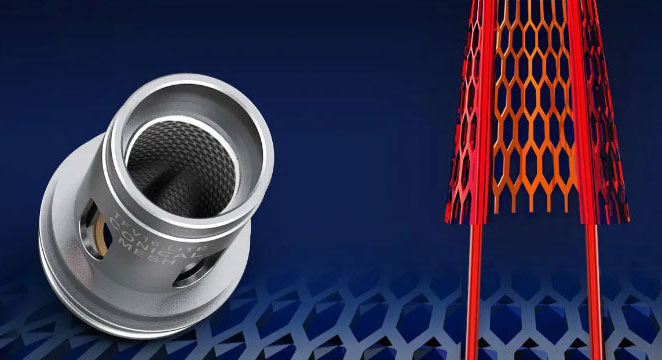 Wide Resin Drip Tip
With purchase, you will get an amazing 810 resin drip tip with a 16mm diameter that is also ergonomic in the mouth. This mouthpiece installs with a simple press and is composed of food-grade elements for a healthy experience.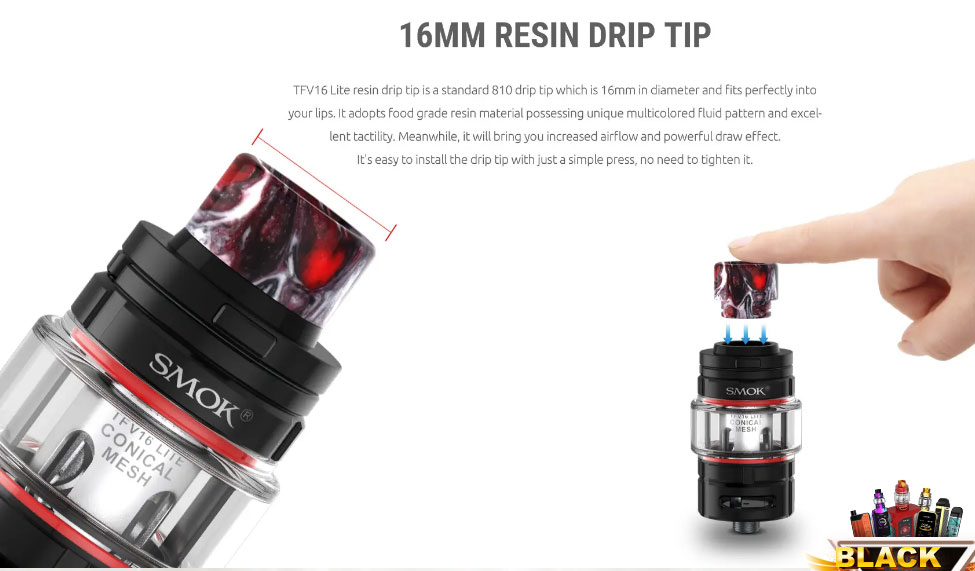 5mL Juice Capacity
The TFV16 lite can hold up to 5mL of e-liquid, but those of you located in the European Union will receive a 2mL version due to regulations.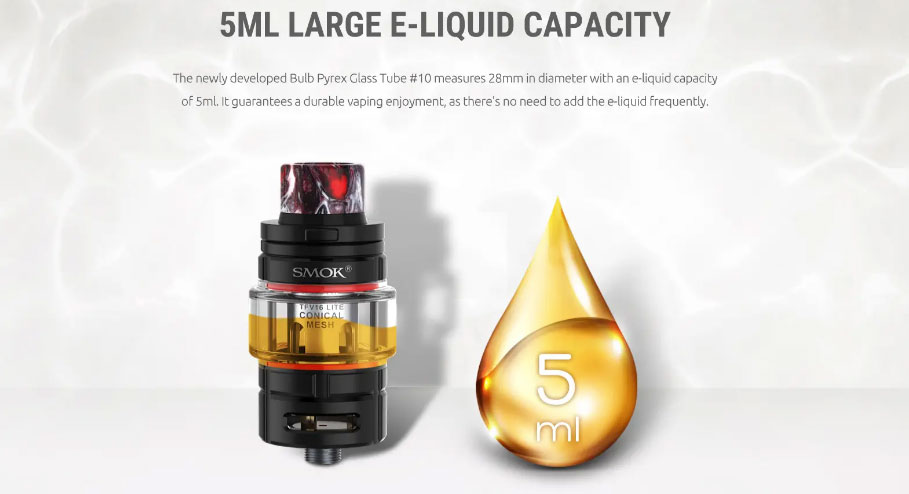 Newly Positioned Leak-Proof Gasket
In older Smok Tanks, the gasket was located above the fill port. With the TFV16 Lite, the gasket has been moved to the bottom of the top cap to prevent e-juice leaks. This further results in a much cleaner look.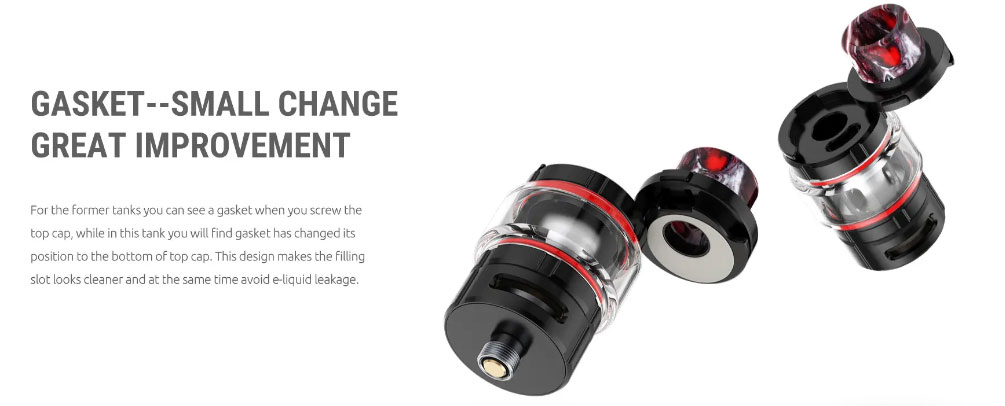 Easy Refills
The TFV16 Lite features a press-to-slide top cap that permits easy access to a fill port. This slot is also made to be leak-resistant.  To top off the reservoir, simply push the top cap's lock button and propel the cap counterclockwise.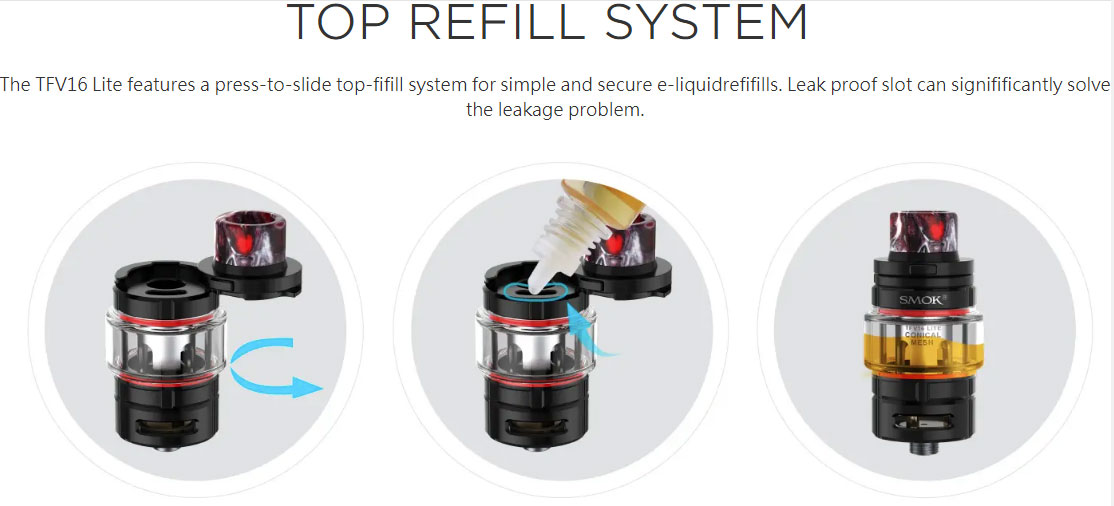 Secure Lock Button
To stop the accidental opening of the top cap and to prevent leaking, the tank has a locking press button on the top cap.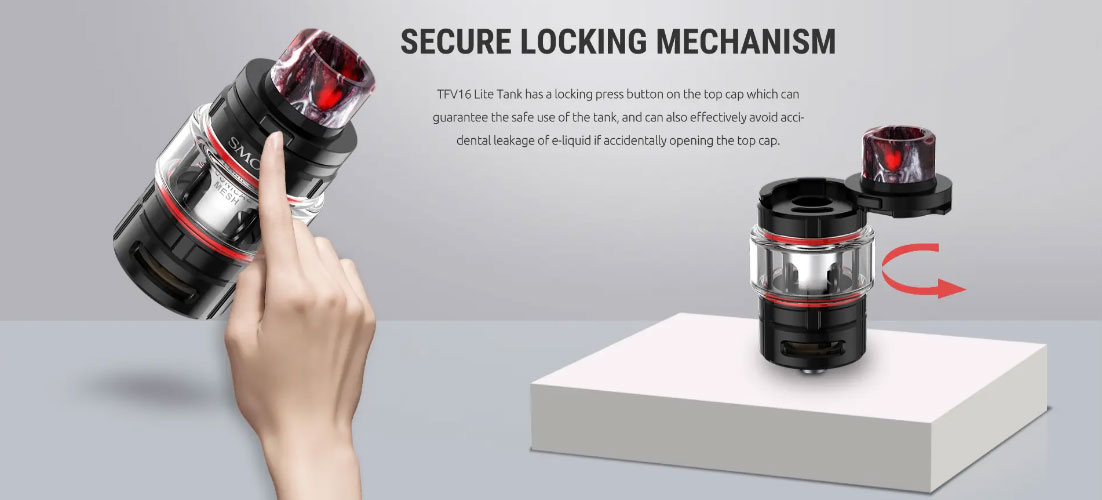 Gold Plated 510
For maximum conductivity of power, the TFV16 lite has a gold plated 510 threaded connection. This material also promotes longevity for a fantastic vape experience that will stand the test of time.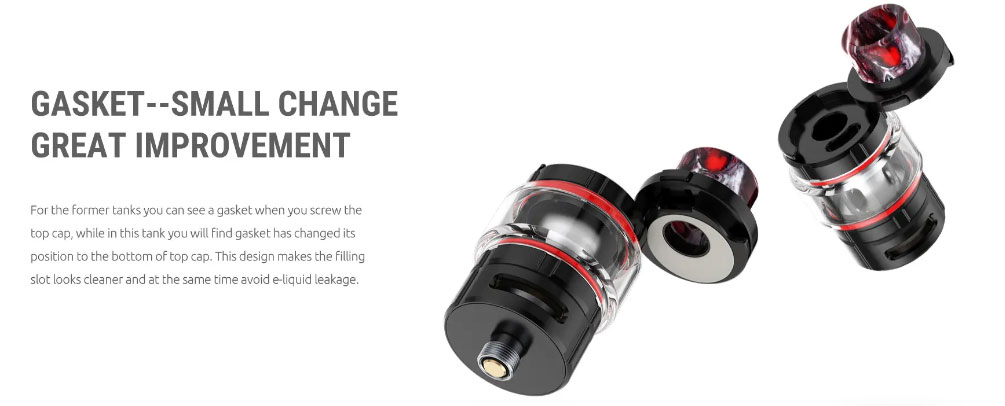 Massive Adjustable Airflow
The base of the TFV16 Lite is much higher than similar devices in the marketplace. This provides more space for airflow and the widened fully adjustable airflow slots that measure a whopping 12.7mm x 2.7mm for huge vapor production with flavor.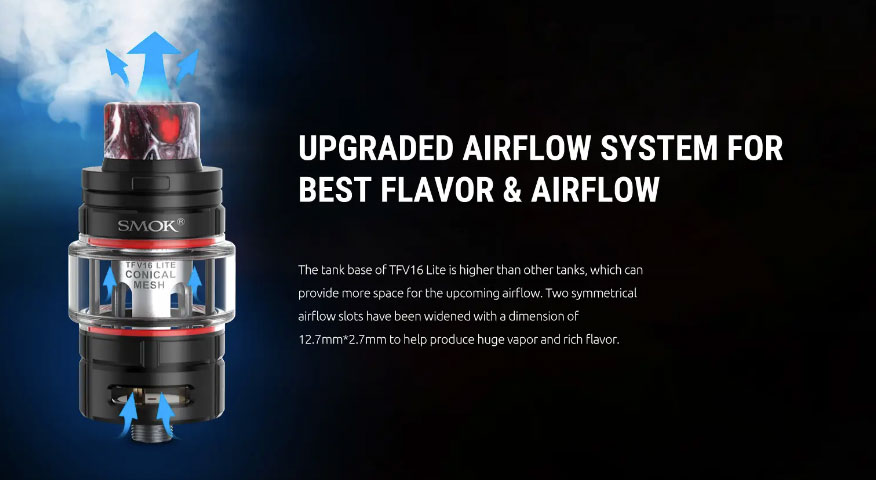 Quality Base Design
To ensure durability and an innovative product, Smok has made the base with brackets and two supporting points. This enhances the overall product quality and also results in smooth airflow with leakproof operation.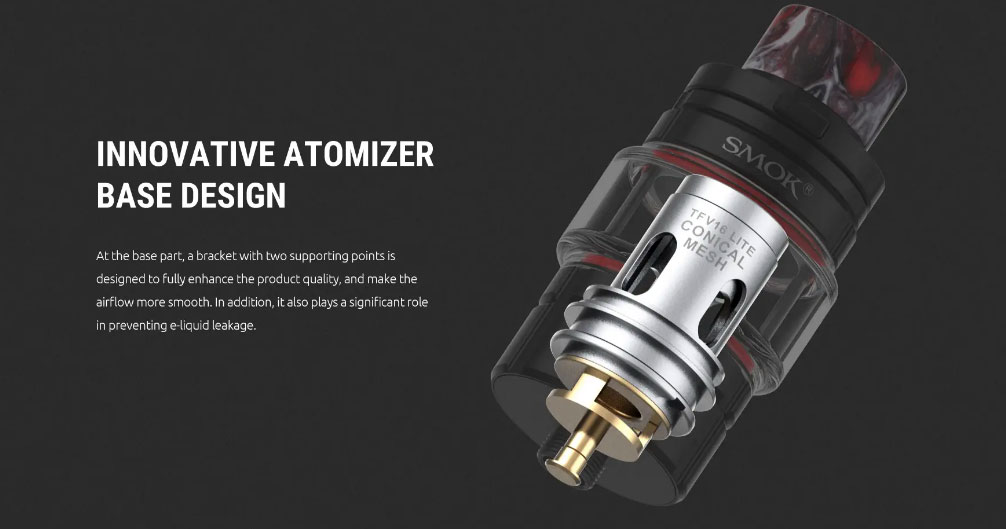 Smok TFV16 Lite Features & Specifications
The TFV16 Lite Tank has dimensions of 28mmx 58mm and a weight of 73g. The e-liquid capacity of the bulb reservoir is 5mL or 2mL for EU customers.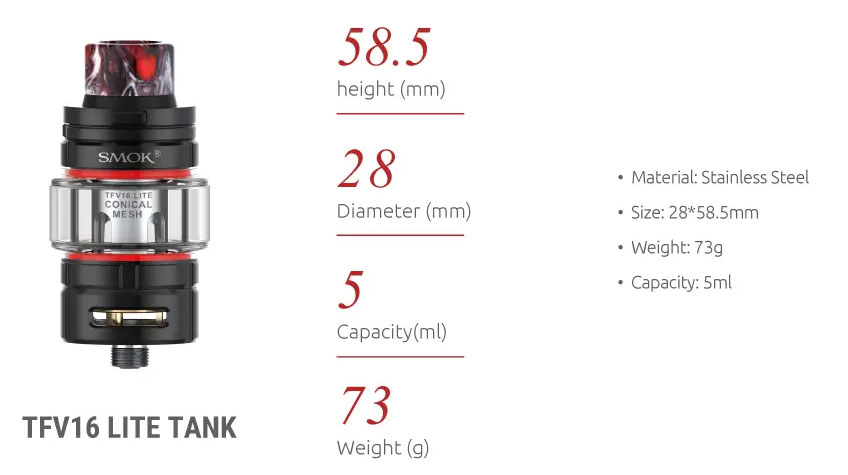 In The Box (Kit)
In addition to the TFV16 Lite tank, you will also receive a 0.2ohm conical mesh head, a 0.15ohm dual mesh head, a spare glass section, a manual and extra parts such as o-rings and a spare gasket.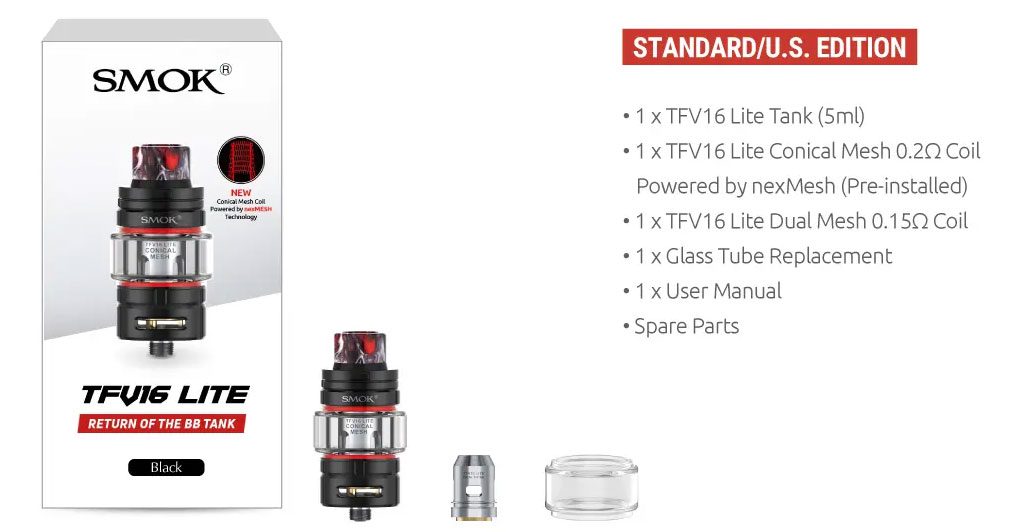 Related Deals
Total Views Today: 1 Total Views: 835