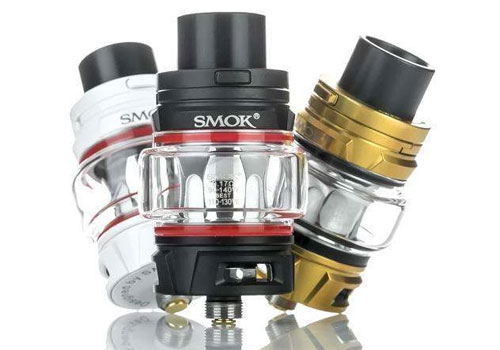 Here are cheap deals for the Smok TFV8 Baby V2.  This new tank features a "V" carved top cap and base, a 5ml juice capacity, a top fill system with lock, powerful new coils including one with a mesh heating elements, gold & rainbow coil color options, a larger filling slot and triple adjustable air slots.
Overview
To improve the TFV8 Baby V2 and make it stand out from its predecessor, the design of this new tank has been upgraded. Compared to the old version, this V2 features beautiful carvings on the top cap and base which really makes for a brand new appearance. Available finishes on the stainless steel chassis include matte black, green, gold, prism blue, red, stainless steel, 7-color and white.
With dimensions of 30mm x 54mm, this new tank has a bulb style glass section that can hold 5ml of e-liquid. However, if you live in the European Union, you will receive the standard 2ml tube due to regulations. Refilling the Smok TFV8 Baby V2 is done by pressing a patented lock button on the top cap which swivels open to expose a juice port that is larger than before. Another change from the previous device is that the gasket on the filling port has been moved to the bottom, allowing for a cleaner looking fill slot and a more leak proof filling process.
At the bottom of the TFV8 Baby V2 Tank, you will find a gold plated 510 threaded connection pin. The plating allows for better resistance to wear and tear and also improves electrical conductivity.
At the bottom of the Baby V2, you will see an upgraded airflow system which adds one new air slot for a total of three. The size of these air inlets has also been widened to produce additional vapor. Airflow is said to work well with the 16mm wide bore drip tip that is made of Delrin to be resistant to heat. It is said to be the perfect diameter to fit in the mouth and it installs with a simple press, making it easier than ever.  Additionally, it provides for powerful drawing effects to increase the airflow and vapor production. There are also optional Cobra Resin drip tips available in black, green, gold, blue, red, white, 7-color, purple and pink.
The Smok TFV8 Baby V2 utilizes its own proprietary coil system which utilizes anti-bacterial medical cotton for health and who have rainbow and gold finish options (not included). With purchase, you will get the silver 0.17ohm Baby V2 A1 head that is built with a mesh heating element for fast heating of its larger surface. It operates in the range of 90 to 140 watts, but should be used from 110 to 130 watts for best results. Also included with purchase is the 0.2ohm Baby V2 A2 which is a dual coil head. It features huge vapor production, fires from 50 to 80 watts but is best used in the range of 65 to 75 watts. There is also a third coil option that needs to be purchased separately: the 0.15ohm triple Baby V2 A3. It has a range of 60 to 100 watts, but is best if fired between 80 and 90 watts.
Features & Specifications
Made from stainless steel with pyrex glass
Measurements: 30mm x 54mm
Weight: 65g
Colors: white, matte black, green, gold, prism blue, 7-color, red, stainless steel
New carvings on top cap and base for modern appearance
Bulb juice reservoir

Larger 5ml capacity
Easy sliding top cap exposes juice port

Patented lock mechanism
Larger filling port
Gasket has been moved to bottom of top cap

Better appearance
Leak proof refills

Triple bottom adjustable airflow

One additional slot compared to predecessor
Wider for huge vapor

510 threaded connection pin

Gold plated

Maximum electro conductivity
Longevity

16mm wide bore cobra/resin Delrin drip tip

Heat resistant
Easy push installation (no threading)
Perfectly fits in the mouth
Enhances airflow and vapor production
Optional Cobra Resin drip tips:  black, green, gold, blue, red, white, 7-color, purple, pink

New coil system

Pre-installed: 0.17ohm Baby V2 A1

Silver color (optional gold/rainbow colors)
Large mesh heating area
Rated: 90W to 140W
Best: 110W to 130W

Included: 0.2ohm Baby V2 A2

Silver color  (optional gold/rainbow colors)
Dual heating cores for huge vapor production
Rated: 50W to 80W
Best: 65W to 75W

Optional: 0.15ohm Baby V2 A3

Silver color  (optional gold/rainbow colors)
Triple heating cores for thick vapor and tons of flavor
Rated: 60W to 100W
Best: 80W to 90W
Gallery
Similar Smok Tanks
Total Views Today: 1 Total Views: 1,944