Smok Thallo: 3000mAh/80W Pod Mod System Kit
Here are cheap deals to purchase the Smok Thallo at a low price.  This new pod mod kit features a 3000mAh internal rechargeable cell, 80 watts of maximum power, the latest IQ-XS chipset, fast firing, a color display, 5mL capacity cartridges, many design options, a USB port for charging, and a plethora of safety features.  It is believed that this pod kit was part of Smok's PMTA application to the FDA, so you can be assured this pod system and its accessories will be available in the United States in the foreseeable future.  We will add deals when they become available.  You may also want to check out the 100-watt/single 21700 version of this kit: the Smok Thallo-S.
Deal
Overview
Upon the first inspection of the Thallo, you will immediately notice that Smok went out of its way in designing this new all-in-one vape system.  With a size of only 123.65 by 37.77mm by 30mm, it is extremely portable, yet it packs a punch, as we will discuss later.  Moreover, the look is incredible, with a black chassis and a matching leather grip with fluid patterns in 7-color, black/grey, black/red, blue, gold, and green.  There is a 0.69-inch screen on the control face with a full-color user interface to make the operation effortless. Here you will see a battery bar and data such as battery percentage level, current output power, a puff counter, a puff time indicator, atomizer resistance, and more.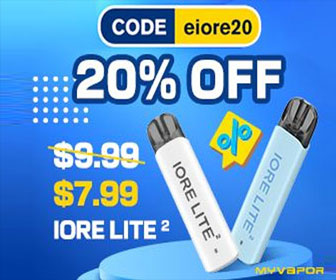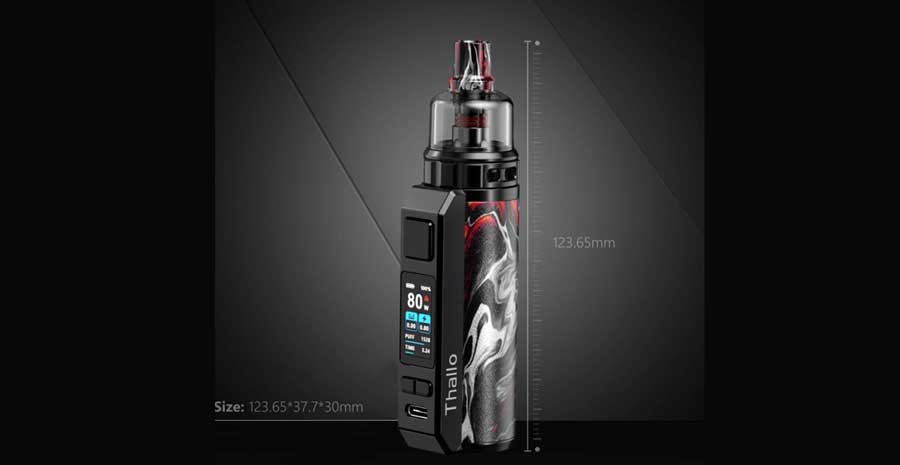 This kit features the latest IQ-XS chipset by Smok and, as a result, can achieve up to 80 watts of power from a 3000mAh integrated battery.  Plus, the output is changeable in the range of 1 to 80 watts via two adjustment buttons that navigate the user interface on the display screen.  A USB-C charging port also means that the recharging process is as easy as ever, and a cable is included in the package.  Another benefit of the new chipboard is that it permits firing within an incredible 0.001s, so there are no noticeable delays, as you may find with less popular or older pod kits in your collection.  And the chipset integrates many safety features such as low voltage protection, short circuit protection, and 8-second over-puff protection.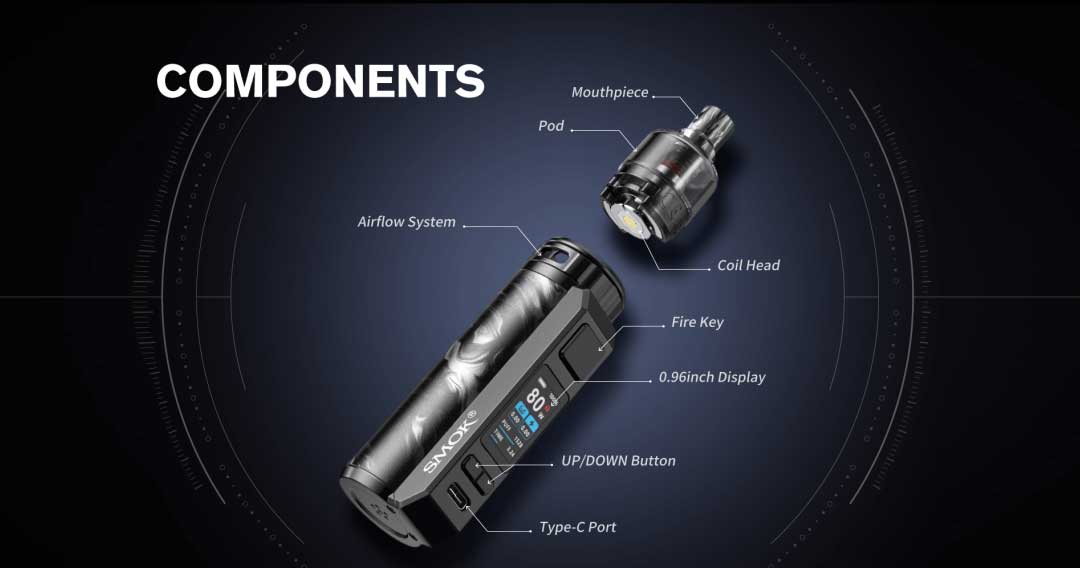 In addition to the powerful battery that allows long vape times, refills are less frequent due to 5mL pods that tightly fit the mod with powerful magnets and feature an easy refill system.  There are two different versions of this cartridge: the included RPM 2 and an optional RPM.  Both utilize the same RPM 2 coils seen in previous Smok pod kits, so there will be plenty of options to satisfy your vape preference.  In the package, you will find an RPM 2 0.16ohm mesh coil for direct-to-lung style vaping and an RPM 2 DC 0.6ohm MTL coil for nic salts. The mesh coil produces dense vapor and intense flavor and is best at 40 watts but can be used between 25 and 50 watts.  The 0.6ohm MTL DC is designed with dual coils, has a large surface for fast heating, and a 2mm inner hole for excellent cotton wicking.  With a power range of 12 to 25 watts, this particular head is perfect for higher-nicotine vape juices and a mouth-to-lung puff.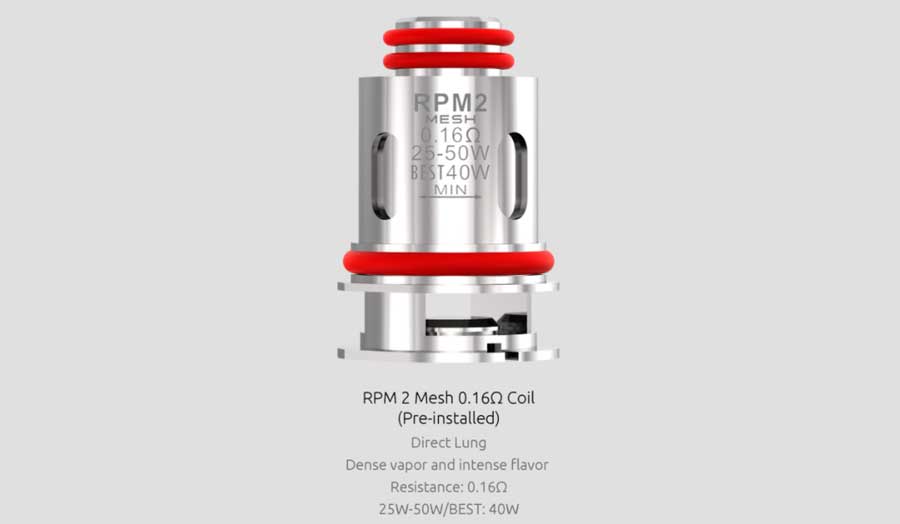 Features & Specifications
Dimensions: 123.5mm × 37.7mm × 30mm
Easily transported
Zinc alloy body
Fluid patterns
Leather grip matches the chassis color
Color options: fluid black grey, fluid 7-color, fluid blue, fluid green, fluid gold, fluid black red
Ergonomic mouthpiece
3000mAh  internal battery
Reversible Type-C USB charging system
Full-color 0.96-inch display screen
+/- buttons to navigate UI
New  IQ-XS chipset
Power range: 1W to 80W
Safety protections: 8s cutoff, short circuit, low voltage, high temperature
0.001s firing response time
5ml capacity pods
Magnetic pod connection
Easy refill port
0.16ohm RPM2 Mesh Coil: 20W to 25W
0.6ohm MTL Mesh Coil: 12W to 25W
Push/pull coil installation
Easy refills via side slot
In The Package
Battery Mod
5mL RPM2 Pod
0.16ohm RPM2 Mesh Coil
0.6ohm MTL Mesh Coil
USB-C charging cable
Manual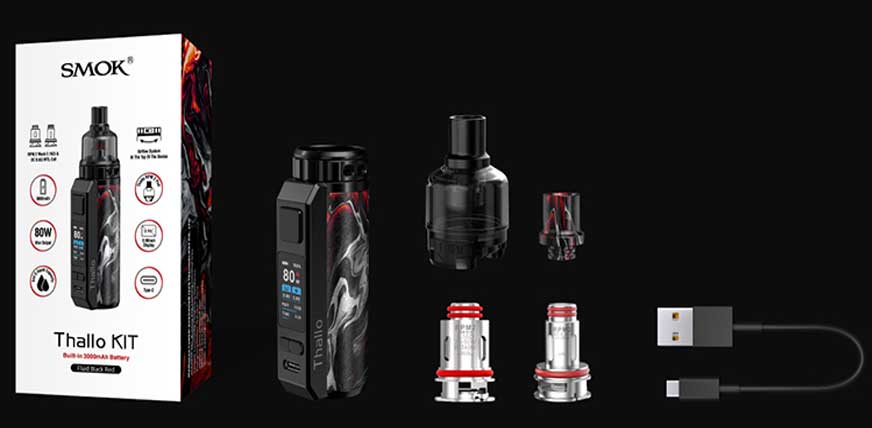 Total Views Today: 1 Total Views: 5,383