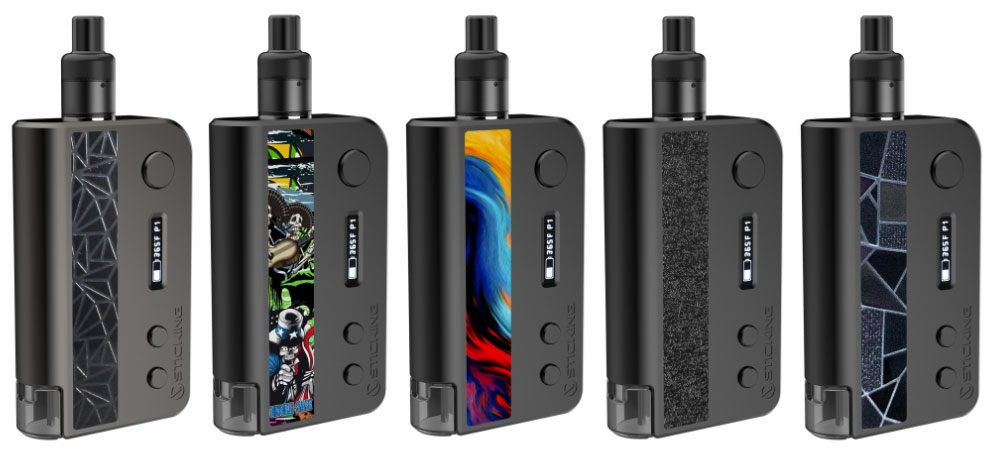 VSTICKING VKsma: Auto Squonk TC Kit w/ Yihi ESS Driver & Rebuildable Atomizer
Update: This Item Is Out Of Stock Everywhere – Check  Similar Auto Squonkers  Below
The VSTICKING VKsma looks and operates similarly to P4Y's IPV 3 Mini Kit. This new kit features a Yihi ESS driver for automatic squonking and e-liquid control, an auto dripping atomizer, a full temperature control suite, DIY mode capability, a bottom-feeding system, full flavor with every puff, a 3mL removable tank and a 1400mAH integrated battery with the charging system. Depending on your choice, you can get the version with only the prebuilt ADA atomizer or the one that includes both the ADA and the rebuildable RADA.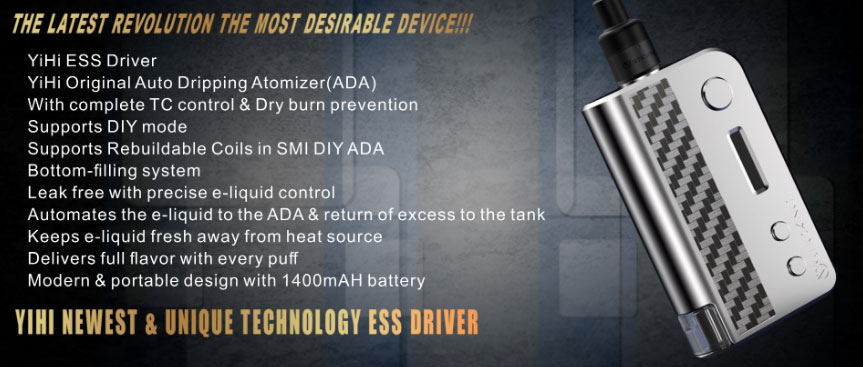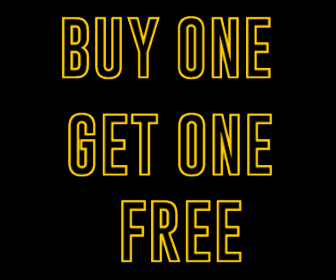 Yihi ESS Driver For Auto Bottom Juice Filling
The VKsma is designed with the newest Yihi ESS Driver. It is an automatic electronic spray squonker with an auto bottom-feeding system that sends e-juice automatically or manually to the attached atomizer. This intelligent system will automatically return excess juice to the mod's internal tank or add more if required.  An ESS driver is also found in the P4Y IPV 3 Mini, one of the most popular products on CVD because it produces RDA-style vapor and e-liquid stays fresh in the separated juice reservoir.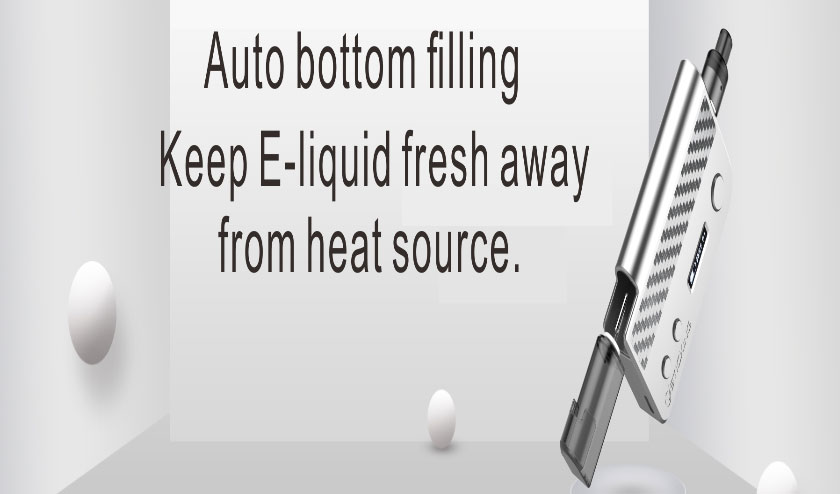 VKsma Box Mod
The device is made with zinc alloy material and measures 79mm x 47.5mm x 18.6mm, making it a portable mod and easy to carry.  On the front control face, you will see a metal fire button, two adjustment buttons, and a 0.69-inch OLED display. The menu is horizontally oriented, and vape data is displayed in white font on a black background.
On the bottom of one of the sides, you can find the removable e-liquid tank that easily slides out and feeds juice to the attached atomizer. It can hold 3mL of e-liquid, but those in the European Union will receive a 2mL version.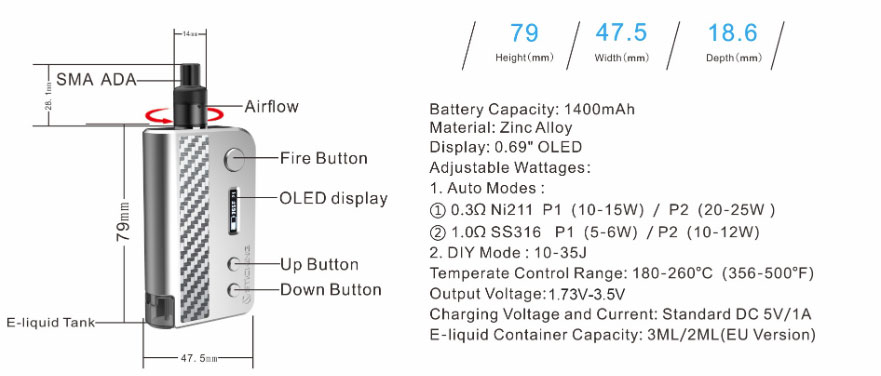 Power comes from a powerful integrated battery with a massive 1400mAh capacity for long vaping times. Recharges occur via a micro USB port that supports 1 amp of current.
The mod operates in auto mode or DIY mode. There are 2 auto modes: P1, which operates from 5 to 15 watts depending on the atomizer's heating element, and the more powerful P2, which functions from 10 to 25 watts. In DIY mode, the power range is 10 to 35 joules, and temperature control operation supports 356 to 500 degrees Fahrenheit or 180 to 260 degrees Celsius.
SMA ADA Atomizer
Made from brass and PP, the SMA ADA (Auto Dripping Atomizer) functions in auto and DIY modes. There are 2 versions of this atomizer: one with a 0.3ohm Ni211 Ni-Mn coil for standard e-liquids or a 1ohm stainless steel version for nic salt e-juices. With measurements of 28mm x 14mm, the SMA ADA is quite small to maintain the overall portability of the kit.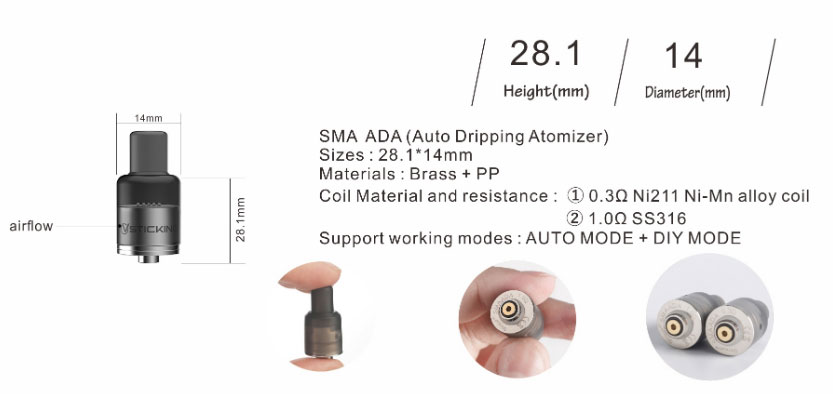 SMI RADA Atomizer
The rebuildable auto-dripping atomizer measures 33.5mm x 15.5mm and is constructed from stainless steel and PEI. The atty functions only in DIY mode and has a rebuildable deck that supports temperature control coils with a resistance of 0.2 to 1ohm.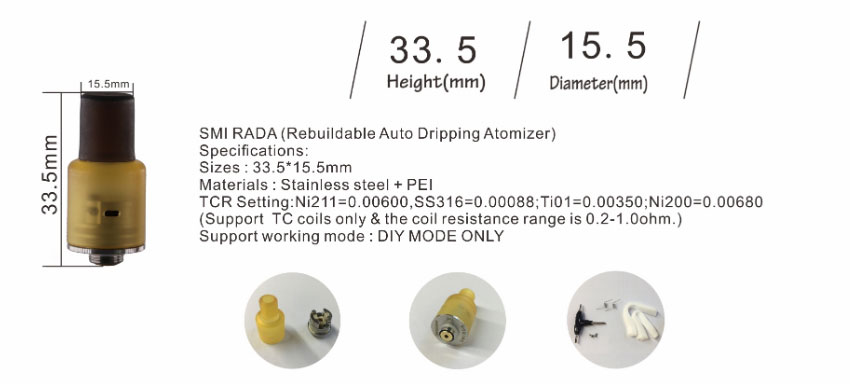 Effortless Refills
To add juice to the 3mL tank, pull the reservoir from the mod's base and squirt juice directly into a filling slot. To finalize the refilling process, push the tank back into the device.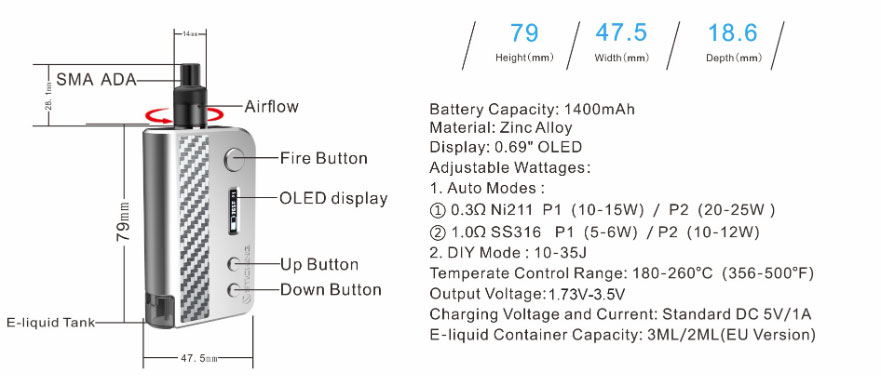 8 Design Options
The VSTICKING VKsma mod has a silver, black, or gunmetal body with premium inlay designs on both sides. The color options are zigzag silver, coral silver, carbon gunmetal, diamond gunmetal, skull black, flame black, leather black, and suede black.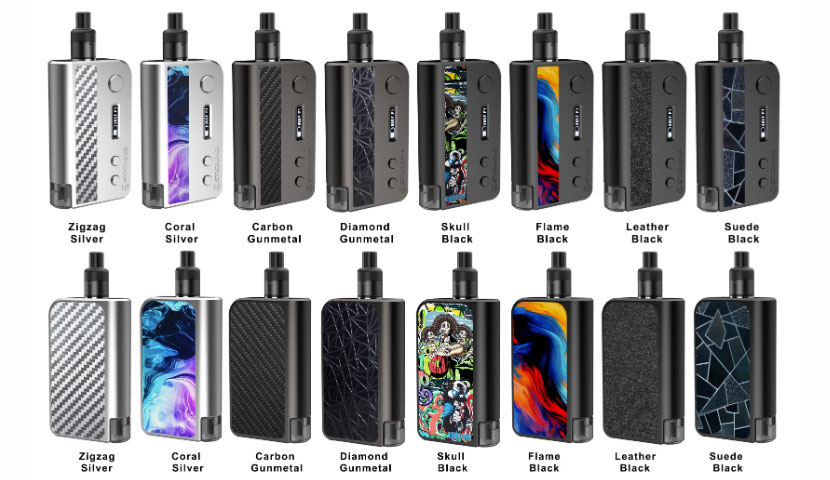 Features & Specifications
Dimensions: 47.5mm x 79mm x 18.6 mm
Made from zinc alloy
Color options: suede black, leather black, flame black, skull black, diamond gunmetal, carbon gunmetal, coral silver, zigzag silver
3ml removable tank
Tank slides out for easy refills
Updated YiHi SX638H chipset
Auto mode
DIY mode
Power range: 10W to 35W
P1 or P2 power settings
Output depends on the atomizer

0.3ohm Ni211 P1 (10W to 15W) | P2 (20W to 25W)
1ohm SS316 P1 (5W to 6W) | P2 (10W to 12W)

Temperature range: 180 to 260 Celsius or 356 to 500 Fahrenheit
Output voltage: 1.73V to 3.5V
1400mAh integrated battery
DC 5V/1A charging system
Yihi ESS driver for auto squonking
Automatically add or removes the juice from the atomizer chamber
Dry burn prevention
Atomizer options

SMI RADA (Rebuildable auto-dripping atomizer
SMA ADA (Auto dripping atomizer)

Amazing taste production
E-liquid is separate from the atomizer to keep vape juice fresh
In The Package
With SMA ADA
Battery mod
SMA ADA (0.3ohm Ni211)
3mL e-liquid tank
Silicon cap
Manual
Charging cable
Warranty
With SMI RADA
Battery mod
SMA ADA (0.3ohm Ni211)
SMA RADA
3mL e-liquid tank
Silicon cap
Manual
Charging cable
Warranty
Related Deals
Total Views Today: 1 Total Views: 441