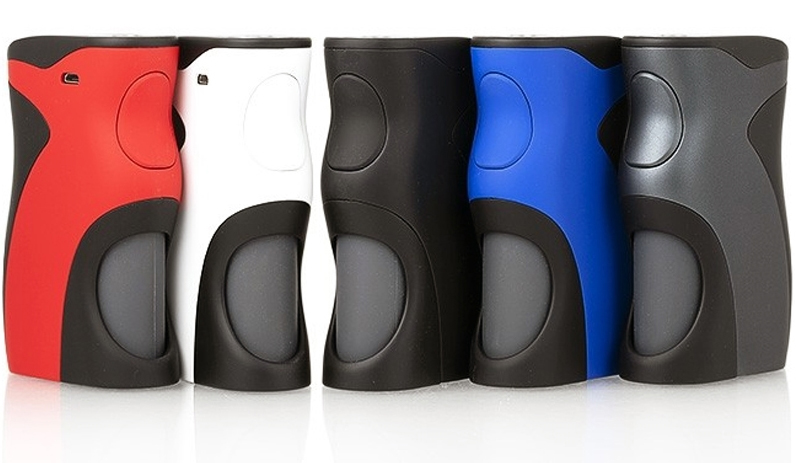 Here are cheap deals for the Wotofo Recurve Squonk Mod.  This new squonk mechanical mod results from the collaboration between Mike Vapes (Youtube vape reviewer) and Wotofo. It features 80 watts of power with a full battery, 21700/20700/20650/18650 battery compatibility, fast 2 amp micro USB charging, a battery/status LED behind the juice bottle with lantern effect, a full suite of safety protections, a high-quality squonk bottle, beautiful curves, and ergonomic design.
Deal
Overview
Design-wise, the main aspect of the Recurve Squonk Mod is the materials and shape. The device measures 60.5mm x 27mmx 90mm and has a zinc alloy chassis. The finish is a special rubber coating, available in gunmetal, blue, red, white & black, that feels soft and smooth. The curves ensure the mod feels perfect and keep your hand/wrist in a natural position anytime you fire it up. On one of the small sides, you will find a curved ergonomic fire button that went thru intense testing to ensure it always operates correctly. Underneath, you will see the Wotofo Recurve Mod's squonk bottle that can hold 8ml of e-liquid and is made of luxurious silicone material to ensure a healthy vape experience and effortless squonking.
Powered by a single 21700, 20700, 20650, or 18650 battery (use included sleeve for 18650 or 20650), battery options for this mod are wide-ranging. The cell is inserted into the battery bay by removing the back panel that easily slides in place. A cool LED light is located behind the squonk bottle to track the battery charge level and any changes to the protection status of the mod. It gives a lantern-type light effect that is sure to turn heads. The cell is charged inside the Recurve Squonk Mod via a micro USB charging system at the top. Use the included cable to plug the device into any USB outlet. And this squonker is a mechanical mod, so power is unregulated.
With a fully charged cell, the mod will put out about 80 watts of power and works in the range of 3.2 to 4.2 volts with any BF atomizer with a coil resistance of 0.08 to 3ohm. Thanks to its chipset, the Recurve Mod also protects against short circuits, low voltage damage, wrong insertion of the batteries, overheating, over-discharging, and overcharging. In the package, you will receive a manual, a micro USB charging cable, and two battery adapters (one for 20650 and one for 18650).
Features & Specifications
Dimensions: 60.5mm x 90mm x 27mm
Made from zinc alloy & special rubber coating
Smooth & soft hand feeling
Beautiful curves for an ergonomic grip
Ergonomic fire button that went thru thorough testing
Silicone 8ml squonk bottle
Compatible with 18650 / 20650 / 20700 / 21700 batteries

Easy back battery door
Fast Micro USB 2A charging system
Battery LED behind squonk bottle (lantern effect)
Cable included
18650 & 20650 battery sleeves included

Operating voltage: 3.2~4.2V
Max power with full battery: 80W
Fast micro-USB 2A charging
Resistance Range: 0.08ohm to 3.0ohm
Gallery
Total Views Today: 1 Total Views: 1,949