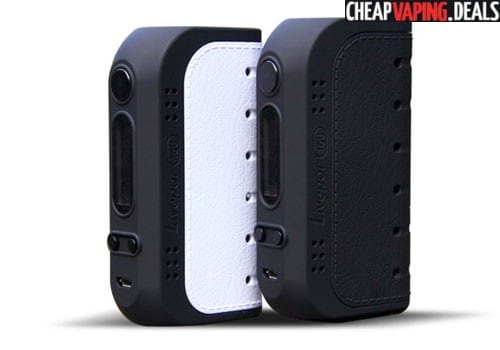 Check out these awesome prices on the Yosta Livepor 160 Box Mod.
Overview
The Livepor 160 is designed and manufactured by Yosta and is capable of 160 watts of power.  This affordable box mod is built with many operating modes, including temperature control with all coil types and TCR operation.
The device measures  53.5mm x 25mm x 93.5mm and is made from zinc alloy with a leather battery sleeve.  The unit has a heat dissipation design with multiple ventilation holes on the sides and bottom of the device for safety.  You can get the Livepor 160 in all black, red with black or white with black.
A 510 connector is located at the top and uses a springloaded center pin to fit any atomizer in the marketplace.  The control face is on the side and features a large fire button, two adjustment buttons, a USB port and an OLED screen.  The display's layout and fonts is reminiscent of any DNA mod with a battery indicator, resistance, voltage and temperature/wattage.  The screen can be put in stealth mode and can be rotated for left handed users.
As far as technology, this affordable unit has all the bells and whistles.  It can be powered in mechanical mode, variable wattage mode, TCR mode and three temperature control modes for nickel, titanium and stainless steel coil heads. Power and temperature can also be locked to your favorite setting. The lowest atomizer resistance is a rock bottom 0.06ohm, the maximum output is 160 watts while temperature can be varied from 200 to 600 Fahrenheit.  These specs indicate the mod will work with pretty much any atty you throw at it.
The Livepor 160 gets its power from dual 18650 batteries that are accessed by removing the back magnetic cover.  On-board charging is also available by plugging in the mod to any USB wall or computer outlet.
Multiple protections  built into the mod safeguard against dangerous operation.  These include overpuff protection, short circuit protection, low power protection, overheat protection, battery reverse protection and low e-juice level protection.
Review
Gallery
Features & Specifications
Measurements: 53.5 x 25 x 93.5mm
Weight 156g
Durable
Fireproofing PC
Spring-loaded 510 connection
Many ventilation holes for cooling
OLED screen with stealth mode
Rotate display 180 degrees
Uses dual 18650 cells
Easy access magnetic battery door
Micro USB charging: 4.8V to 5.5V
Firwmare upgrades
Maximum charge current: 1000mA
Operating modes: TCR/Mechanical/VW/TC x3
Power and temperature locking system
Power output range: 1W to 160W
Temperature range: 200˚F to 600˚F  or 100˚C to 300˚C
Temperature control works with Ni, Ti, SS
Resistance range: 0.06Ω to 3.0Ω
Operating voltage: 5V to 8.4V
Dry coil protection
Short circuit protection
20s overpuff prevention
Low power protection
High temperature protection
Reverse polarity protection
Included: USB cable and manual
Similar Products
Total Views Today: 1 Total Views: 511