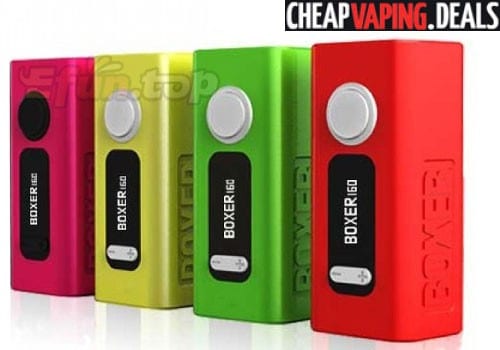 Update: The Hugo Boxer V2 188W TC Box Mod Has Been Discontinued – Check  Newer Box Mods & Starter Mod Kits Below
Overview
The Boxer 160W is a new high powered box mod from Hugo Vapor.  It features a massive 160W power output and precise temperature control.
The Boxer's chassis is constructed of zinc alloy and stainless steel.  It features a large fire button and OLED screen.  The adjustments buttons have an amazing look as they blend into the display.  The Boxer 160W is available in black, red, white, grey or choose a more unique look with black snow, white snow or green snow.
With a maximum output of 160 watts, the mod features massive power.  It can be fired in several modes: power mode, mechanical mode & temperature control titanium mode& nickel modes.  The temperature range is 200℉ to 600℉ and the device can fire atomizers with resistance as low as 0.06Ω.  This ensures that the unit will be compatible with virtually every atomizer in the marketplace.
The Boxer mod is powered by dual 18650 batteries that are hidden behind a sliding battery door.   The batteries must be purchased separately and are recommended to be Samsung, LG or Sony 18650 batteries with a 35A discharge recommended.  Although some of the pictures do not show a USB charging port, on board charging is built into the device so there is no need to purchase an external charger.  If you check Alibaba, you can see in the specifications and some of the pictures that there is a USB port!
At the top of the device, you will find a adjustable 510 pin to ensure atomizer compatibility.  Beneath the OLED, there's a USB port for charging and on the bottom, ventilation holes keep the batteries and device cool.
The unit also has a wide range of built-in safety features including: high voltage warning, short circuit protection, low resistance protection, high resistance protection, reverse polarity protection, low voltage protection and overheat prevention.
Overall, the Boxer 160W from Hugo Vapor looks like a powerful box mod with accurate temperature control.  And, $45 for a 160W box mod with temperature control is a steal!
See the Boxer 160W box mod on the Hugo Vapor website.
Features & Specs.
Dimensions: 90*40*35mm
Weight: 100g
Made from stainless steel and zinc alloy
OLED screen
Four modes: 2 TC Ni & Ti, VW and mechanical mode
Power range: 1W to 160W
Temperature range: 200℉ to 600℉ or 100 ℃-300 ℃
Resistance range: 0.06Ω to 3Ω
Powered by dual 18650 batteries
USB charging
Adjustable 510 pin
Wide range of safety features
Video Review
Not available
Total Views Today: 1 Total Views: 248