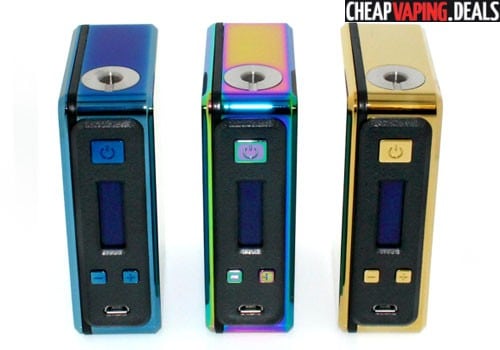 Update: The
Asmodus Oni DNA 250 167W Box Mod
Has Been Discontinued – Check  Newer Evolv DNA Mods
Or
All Mod/Kit Deals
The Oni by Asmodus is the company's latest DNA 250 mod.  Made with Evolv's most powerful chip board, the device is Escribe compatible for customization, utilizes dual 18650 cells, can put out up to 167 watts of power and features interchangeable door, buttons and more.
The Oni 167W measures 90.5mm x 54mm x 27mm,  is made from T6061 Alumuminum and features rounded edges in a modern form factor.  What's unique about this unit is that its chassis can be completely disassembled and that panels, the battery door, the face plate or main body can be swapped for a customized mod design.
The control face is made with square DNA 250 buttons for ergonomic operation. In between the buttons, you will see a 0.91″ OLED screen that features a convenient menu to swap modes and monitor current box mod data.   For easy and tight atomizer installation, there's a spring-loaded 510 contact at the top on which you can install the included 24mm inner diameter ring for an premium appearance.
Because the Oni  is built with Evolv's DNA 250 chip set and is powered by dual 18650 cells, it is capable of 167 watts of output power.  The cells are stored behind a triple magnetic door that is easily removed for external charging.  There's also an ability to install a Lithium Polymer battery instead of the pre-installed external battery bay, but this must be purchased separately.  Batteries can be topped off while inside the battery sled by plugging the Oni DNA 250 into any USB wall or computer outlet. Charging occurs at a rapid 2 amps of current, so you'll be good to go in no time. And, balanced charging technology further ensures safety and vape through capability allows for continued mod use during the charging process.  The USB port is also used for future software upgrades in case Asmodus publishes a new firmware to improve the mod.
The box mod has several built-in modes that can also be customized via Escribe desktop software. These include power mode and three temperature control modes that  support either nickel, titanium and stainless steel heads.  The Oni 167W is compatible with atomizers that have a resistance down to 0.08ohm in any of the temperature modes or 0.10ohm during variable wattage operation.
Overall, if you are looking for a reliable box mod with modern design and customization, the Asmodus Oni DNA 25o will provide adequate power, precise operation and personalization on both the design and technological level.
Features
Measurements: 90.5mm x 54mm x 27mm
Colors: gold, neo chrome, blue chrome, chrome, black/red
Curved corner design
Disassemble completely
Swap chassis, panels, etc…
510 threaded/springloaded connection
Included: 24mm diameter 510 ring
Square adjustment buttons
Buttons match chassis color
0.91 inch display with DNA menu
Configure mod settings/screen menu via Escribe desktop software
Evolv DNA 250 chip
Magnetic battery door
Utilizes dual 18650 batteries
Battery bay can be replaced with optional LiPo battery
Micro USB balanced charging
2A fast charging current
Firmware upgrades via USB port
Power output range: 1W to 167W
Temperature range: 200°F to 600°F
Operating modes: Power, Ni2oo, SS, Ti
Resistance range in variable wattage mode: 0.1Ω to 2.0Ω
Resistance range in temperature control: 0.08Ω to 1.0Ω
Voltage ouput range: 1V to 7.4V
Maximum continuous output current: 50A
Peak maximum ouput current: 55A
Input voltage range: 9V to 12.6V
Input current range: 0.5A to 28A
Power down current: 5uA
Screen on vurrent: 21mA
Quiescent current: 3.5mA
Cell by cell monitoring
Cell balancing
Power lock mode
Stealth mode
Lock mode
Lock resistance
97% efficient
USB cable included
User's manual
Total Views Today: 1 Total Views: 155