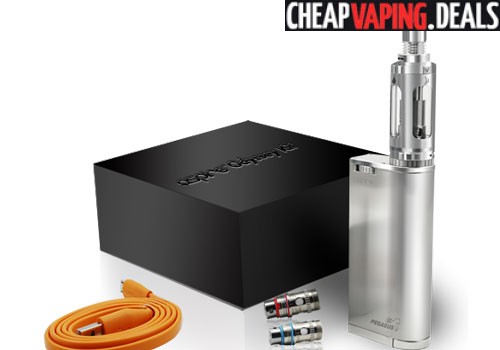 Here's a fantastic deal Aspire Odyssey Box Mod V2 Starter Kit with Triton Tank.
Update: This Item Is Out Of Stock Everywhere – Check  Similar Mod & Starter Kit Deals Below
About the Triton Tank
After having had great success with the Atlantis series of tanks, Aspire has introduced another incredibly made sub-ohm tank: the Aspire Triton Tank System. The Triton has amazing performance and is made for longevity.  It is also very user-friendly.  If you want a high-performance subohm tank, the Triton may be for you!
The Triton is made with stainless steel, which means it will last for a long time.  The tank itself is made of Pyrex glass, making it difficult to break if you happen to drop it on the ground.
The tank is constructed to be easily used with new features such as top-fill, which makes it easier to add juice without spillage.    The airflow control system on the sub ohm tank is also state-of-the-art. It has changeable airflow on the bottom as well as at the top of the tank.   Because of this dual air flow system, you can produce big clouds of vape, while enhancing flavor.
The Triton comes with a wide bore 510 drip tip which features heat fins.   You also won't need an adapter if you want to use your own drip tips. With a capacity of 3.5 ml, the tank's size is also reasonable.
Another great feature of this tank is that the coils use Japanese organic cotton which won't endanger your health and also results in cleaner taste.
With this tank, Aspire has redone the best features of the Atlantis 2.0 and made them better. The convenient top fill design, easy fill system and the dual adjustable airflow allow you to vape the way you personally like.
Triton Features
Convenient Top Fill design
22 mm Diameter
510 connection
Surgical Grade Stainless Steel Tube Filament
3.5ml liquid Capacity
Sub-ohm 0.4ohm and 1.8ohm replacement head included
Japanese Organic Cotton Coils
Compatible with Aspire Atlantis 2 Coils
Dual airflow control valve system
Triton RTA Kit Available for those that prefer to rebuild (Sold separately)
0.3 Ohm  Coil (45-55W)
0.4 Ohm  Coil (25-30W)
1.8 Ohm  Coil (10-13W) for mouth to lung vaping
Triton Video Review
About the Pegasus Box Mod
The brand new Pegasus is Aspire's first vape mod they've made. With a brushed metallic finish, its shiny finish is really breathtaking.  This box mod has an amazing design and feels great in your hand.
The Aspire Pegasus can fire up to 70 watts.  This means it can be used with virtually all tank systems out there.  The resistance range for this atomizer is as low as 0.2 ohm all the way up to 5 ohms.  As a result, you can use both standard or sub ohm coil heads.   More importantly, the Pegasus pairs very efficiently with the Aspire Triton and that's why the Aspire Odyssey kit is a really good buy.
The Aspire Pegasus utilizes the most updated vaping technology.   The brand new temperature control output mode automatically determines whether you are using a Kanthal or Nickel coil. When set to temperature control mode,  you can fire the box mod as low as 0.1 ohm at 200 to 600 degrees Fahrenheit. This  gives you the ability to personalize your vape experience.
The Pegasus features a well-lit OLED  screen.  There are indicators for atomizer resistance, output wattage,  output voltage, battery level and temperature.  You can either charge the battery through USB or quickly change it out through the easily removable battery panel.   The Pegasus takes one 18650 battery.
Pegasus Features
1 to 70W Output Wattage
0.2 to 5 ohm
Newly Integrated Temperature Control Output Mode
 Autosensing
.1 ohm and above
Battery Voltage MUST Be Above 3.3V
200 to 600 Degrees Fahrenheit
Ergonomically Designed Adjustment Gear
Full Display to the Hundredths
Output Voltage Readout
Output Wattage Readout
Atomizer Resistance Readout
Battery Life Indicator
Battery Compartment
Utilizes Single 18650
Micro USB Port
Passthrough Capability
High Resistance/No Atomizer Protection
Short Circuit Protection
Low Voltage Step Down Protection
12 Second Cutoff Protection
Low Battery Protection
High Temperature Protection
Brushed Finishes
Stainless Steel Firing Button
Pegasus Video Review
Total Views Today: 1 Total Views: 134