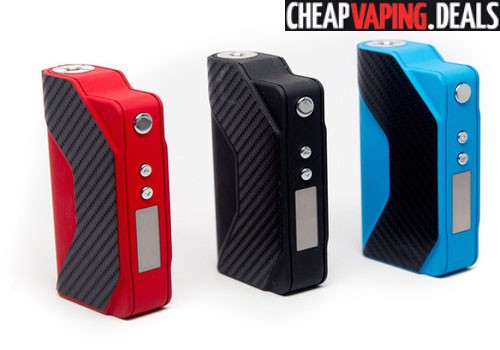 What an amazing deal on the the Sigelei 150W Temperature Control Box Mod.
Update: This Item Is Sold Out Everywhere – Check  Similar 160W Box Mod & Kit Discounts Below
Overview
Sigelei recently updated their 150W box mod and the final product is amazing.   This box mod has beautiful rounded edges, feels really solid and is well constructed.  It has a rubberized finish and the buttons are very solid and clicky.  It has a maximum output power of 150 watts and its lowest resistance is 0.10Ω, making it compatible with pretty much all atomizers and tanks.   Temperature can be controlled in the range of 212°F to 572°F.
The top of the device features a nice stainless steel threaded connector with a spring loaded copper pin.  All atomizers will sit flush on this device.
The Sigelei 150W TC box mod features a mirrored screen which displays  battery level, wattage, voltage and resistance in wattage/power mode.  In Joules/TC mode, the menu includes battery level, joules, temperature, voltage and resistance.  Switching between Joule and power mode is a breeze and if your tank is running empty, the device will display "Dry coil, no liquid".
The Sigelei 150W utilizes two 18650 high drain batteries, hidden behind a magnetic door that is easily removed.  It has a nice battery ribbon for easy removal.  The OLED screen indicates battery level as both an icon on the left hand side of the screen and a percentage level on the bottom right.
This mod includes many safety protections such as low voltage, reverse battery, high voltage, low resistance and short-circuit protections, as well as overheating prevention.
Overall, the Sigelei 150w is a great vape with whatever sub ohm tank is hooked up to it.  The mod works really well in both wattage and temperature control mode and both the functionality and its visual design are said to be perfect.  You can get one in black, red or blue.
Features
Size: 103mm x 57mm x 25mm
Weight: 190 grams
Temperature control  range: from 212°F to 572°F  or 100°C to 300°C
Power output: 10W to 150W
Output voltage: 1.0V to 7.5V
Atomizer resistance: 0.10Ω to 3.0Ω
Battery voltage range: 6.4V to 8.4V
10 joules to 100 joules
Maximum current: 35 amps
Battery level display
Constructed of aluminum alloy with rubberized finish
Utilizes two external 18650 batteries
No USB charging
510 spring loaded connection with copper pin
Easy magnetized battery panel
Many safety features
Video Review
Total Views Today: 1 Total Views: 364