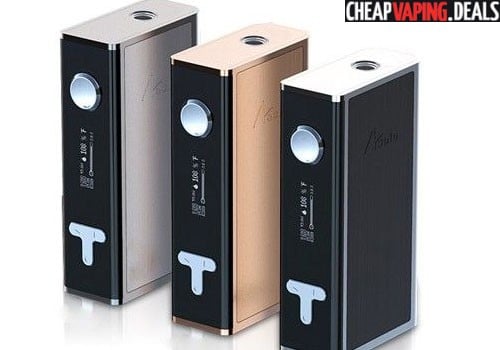 Update: The
Ijoy ASOLO 200w Box Mod
Has Been Discontinued – Check  Newer IJOY Mods & Kits
 Or
All Mod/Kit Deals
The IJOY Asolo is a very powerful temperature control box mod, with a power output range from 5 to 200 Watts.  Its coolest feature is that it will fire virtually any atomizer or tank.  You can use it with almost all coils including Ni, Ni-Cr, Ti, Ti-cr, stainless steal & Kanthal coils.  This 200W powerhouse features a IW200TC-V01 mini processor.  It is able to memorize your preferred flavor so that you can always vape on your favorite setting.
The Asolo has a really nice display with a multitude of indicators.  In voltage/wattage mode, it displays atomizer resistance, voltage, current, battery level, wattage and working time.  In Temperature Control mode, the screen's display presents an e-liquid indicator, temp, wattage, atomizer resistance, voltage, current, battery indicator, thermometer, working time and temperature percentage.
The 510 connector has stainless steel threads and is spring loaded copper pin.  This makes the connection resistant to wear and tear.  The bottom features a vented sliding battery panel to easily change the dual 18650 batteries.  On the side, the fire button has a good feel to it and is quite clicky.
Overall, the device is beautifully designed, has a sturdy feeling and is comfortable to hold.  This box mod is considerably smaller and not quite as wide as other 200 Watt boxes on the market, yet it works really well.  It does come with a silicone sleeve which goes on there quite nicely and gives it a nice look and tactile feel.
Visit the Ijoy homepage and see more features of this device 
Features
0.91″ OLED screen
Output Wattage: 5 Watt to 200W
 Voltage: 1 Volt to 7.5 Volts
Current: 1.0 Amp to 35 Amps
Resistance Range: 

0.1ohm to 3 ohms depending on the coil used.  

Material: aluminum body
Password protection
Fire method: metal stretch button
No USB charging
Supports most heating coil material
Ijoy Asolo Video Review
https://www.youtube.com/watch?v=skg1yJHPEnA
Total Views Today: 1 Total Views: 143