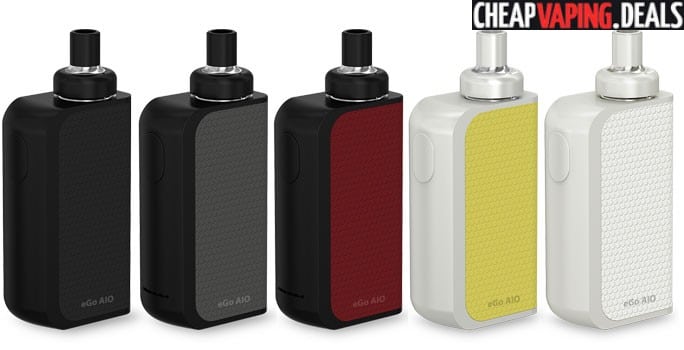 Here's fantastic discounts on the Joyetech eGo AIO Box Mod Kit.
Overview
The eGo AIO Box is am all-in-one box mod and submerged tank setup.  It features a 2ml e-juice capacity, a massive 2100mAh internal battery, changeable stickers, a childproof design and is available in a wide range of colors.
This kit is available in black, black/grey, black/red, white/white and white/yellow. It was designed to be very portable with dimensions of only 23mm x 43mm x 77mm.
The eGo AIO is built is an all-in-one setup with the atomizer tank located inside the box mod.  The internal tank features a 2ml e-liquid capacity and is refilled by pressing down and removing the childproof top cap and adding juice into the chambered slot.  Very easy!  E-l;iquid levels can be monitored thru a viewing window which also contains an LED light, with changeable colors between purple, white, indigo, blue, green, yellow and red.
Airflow is also adjustable via the airflow ring on the top cap.  By rotating it in either direction, you can easily maximize or minimize the intake for a mouth to lung or direct to lung.
Charging the eGo AIO is done by easily connecting it with a computer or a wall adapter with the included USB cable.  When the battery is full, the LED light will go out.
Overall, this is a very basic kit that is efficient with adequate vapor production.  It may just be a perfect device to take with you on the go.
Video Review
Not available
Features & Specs
Dimensions: 23mm x 43mm x 97mm
All-in-one tank/box mod setup
Anti-leak
Childproof
Tank capacity: 2ml
Easy top fill
Massive 2100mAh battery for infrequent charging
Changeable LED
Adjustable airflow control
Wide range of sticker colors
Atomizer resistance: 0.6Ω
Total Views Today: 1 Total Views: 71