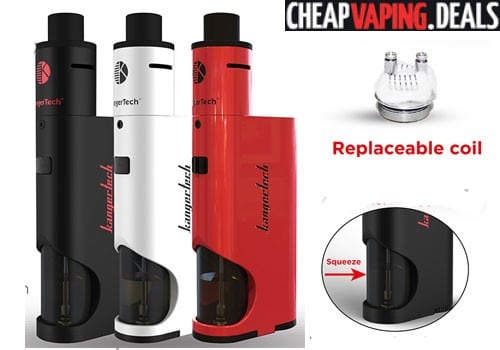 Update: The Kanger Dripbox Kit Has Been Discontinued  Check Similar Deals Below
Overview
The Dripbox Kit from Kangertech is the company's entry into squonk mods.  It features an RDA setup without a need to build coils or the necessity to drip juice.  It takes all the work out of dripping.
Dripping is a preferred way of vaping because the vapor travels directly from the coil to the drip tip. As a result, the flavor is never reduced.  Unfortunately,  the necessity of dripping e-juice can be quite inconvenient.  The Dripbox solves this problem by having an e-liquid tank inside the mod.  When squeezed, the e-juice travels up to the atomizer and soaks the coil, resulting in a hassle-free drip experience. Best of all, the Dripbox has a massive 7ml tank capacity, eliminating the need for constant refills.
The device is powered by one 18650 battery cell, which can be charged externally or via the unit's USB port.  It has a maximum output power of 60 watts and is fired with a resistance of 0.2Ω.  It also features adjustable airflow via 13mm airflow slots.
You will receive the drip mod, an RDA, a replacement coil, a USB cable, a user manual, and a bag of extra parts with purchase.
Features & Specs
Dimensions: 100mm (H) x 24mm (W) or 3.94″ x 0.94″
Weight: 180h or 6.35oz
E-liquid capacity: 7.0ml
Available in white, red or black
Dripping experience without hassles
Improved flavor
Utilizes a single external 18650 battery
USB charging
Replaceable dripping coil
Special battery cover design
Easy e-liquid filling system
Bottom-feeding juice setup: squeeze mod to wick the coil
Maximum output power:  60W
Subdrip coil resistance: 0.2Ω
Adjustable airflow with 13mm slots
Replaceable chuff cap
Supports RBA
Total Views Today: 1 Total Views: 575