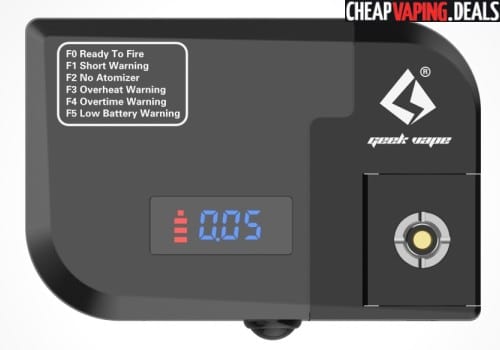 Here's a discount for the brand new Geekvape Tab Pro.
Overview
The Tab Pro is Geekvape's latest powerful and portable ohm reader for coil building.  The device not only reads resistance but also can check for voltage drops and function as a rebuilding station as well as a firing station. You can also use it as a temporary mod by rotating the 510 connector.
From a design perspective, this new ohm meter is portable with measurements of just 94.6mm x 38.5mm x 24.0mm and is made with durable high grade material with a matte finish. The layout features a display screen with battery status, a USB port to charge the battery, a firing button and a 510 connection.  The atomizer connection rotates 90 degrees so you can simply test the coil or use the tab as a temporary mod and actually take a puff.  A single 18650 battery powers the Geekvape Tab Pro and is via a magnetic panel that easily comes off to reveal the battery compartment.
On the technical level, this ohm meter is capable of a maximum 50 watts of power, has a resistance detection range down to 0.05ohm and rated resistance range from 0.1ohm to 0.3ohm.  Detailed specifications are listed below.
Features & Specifications
Dimensions: 94.6mm x 38.5mm x 24.0mm
Chassis made from ABS/PC with zinc alloy
Matte finish
Colors: black
OLED display with resistance and battery life
90 degee rotatable 510 connection
USB charging port
Utilizes single 18650 battery
Magnetic bottom battery panel
Maximum output duration:10 seconds
Maximum power output: 50W
Maximum Voltage out put: 9V
Rated Voltage Supply: 3.2 to 4.2V
Resistance detection range: 0.05Ω to 0.3Ω
Resistance detection accuracy:0.02Ω
Rated resistance range:0.1Ω to 0.3Ω
Standby current:Shutdown state≤25uA
Standby state≤50mA
low battery voltage warning:3.2V
PCBA Temperature Warning:85°C
Power output mode:Automatic Power
Operating temperature range:-10°C to 40°C
Charging specification:5V 1A
Review
Gallery
Similar Products
Total Views Today: 1 Total Views: 688