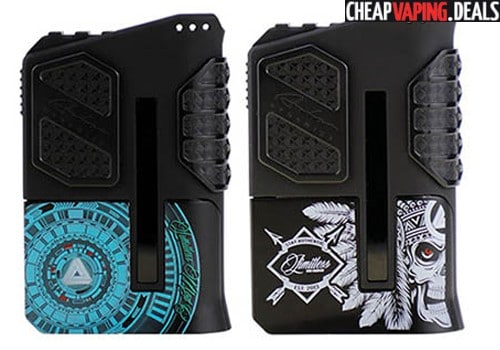 Update: The
Limitless Arms Race LMC V2
Has Been Discontinued – Check  Newer 200W Box Mod  Deals Below
Or
All Mod/Kit Deals
Video
Overview
Limitless Mod Company has upgraded their Arms Race Box Mod.  The Limitless Arms Race LMC V2 features a slightly changed design, new interchangeable battery sleeve patterns, still has 200 watts of output, versatile temperature control, easy battery loading and utilizes dual 18650 batteries.
From looking at the product's images, the mod's design has been slightly altered.  The form factor looks to be identical and, with dimensions of 45mm x 25mm x 88mm, the unit is still easily transported. Made from zinc alloy, the unit has a rubber finish for best ergonomics.  The gold accented shield on the front/side has been replaced by rubberized grooves, perhaps to ensure a tight grip is maintained. The top is built at a 45 degree downward angle and features a rail-like plating that contains a 24mm compatible 510 atomizer bezel.   The side firing mechanism is rectangular and is easily operated because of its textured surface  The 0.91″ OLED screen is still located on one of the larger sides of the mod and has a menu that features two battery bars, voltage, resistance and wattage/temperature in a horizontal orientation.
The V2 is available with two battery sleeves, one with a skull chief and the other with a Limitless blue pattern. When removed, the sleeves expose the battery sled that contains dual 18650 batteries which power the Arms Race LMC V2.  Simply insert your batteries, replace the sleeve and you're good to go!  There may also be an onboard charging system to top of the cells while they are in the mod via the micro USB port, that doubles as a firmware upgrade port.
A Limitless proprietary chip powers the Arms Race LMC V2.  It permits the mod to fire with 200 watts of output in power mode, 600 degrees Fahrenheit in temperature modes (nickel, titanium, stainless steel, TCR) and ensures compatibility with builds or tanks down to 0.10ohm.  As was the case with its predecessor, the mod surely is still capable of detecting the flashpoint of e-liquid in your atomizer to prevent dry puffs in temperature control modes.
Video
Features & Specifications
Made in the USA
Dimensions: 45mm x 25mm x 88mm
Weight: 200g
Constructed from  with rubberized finish
Colors

Skull chief sleeve
Blue LMC logo sleeve

Interchangeable sleeves

Hide the battery bay
Utilizes dual 18650 batteries
Micro USB charging

Angled rail plate at top
510 threaded connection bezel

Compatible with up to 24mm atomizers
Gold-plated pin for conductivity
Spring-loaded pin for flush atty installs

Bottom venting holes
Textured rectangular fire button
0.91″ display

Horizontal menu
Flip screen for left-handed use
Two battery bars

Limitless proprietary chip board
Output modes: VW/TC SS/TC Ni200/TC Ti/TCR
Resistance range: 0.10Ω – 3.0Ω
Power output range: 5W – 200W

Adjustable in increments of 0.5W

Temperature control range: 200°F – 600°F
Intelligent detection of e-liquid flash point
Micro USB upgrades
Pictures
Total Views Today: 1 Total Views: 217