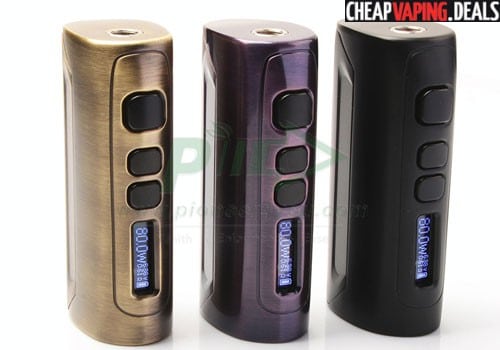 Overview
The IPV D4 is the latest Yihi-powered box mod in Pioneer4You's D series of mods.  The device features 80 watts of output, a wide range of precise temperature control modes and is powered by a single 18650 battery to allow for a tiny form factor.
The D4 is made from aluminum and is light as a result.  The device has dimensions of 80.4mm x 42.8mm x 25mm, so it is ergonomic and can be easily carried in the pocket or purse.   You can get the unit in several bright colors including bronze purple, bronze yellow and there's also a black one available.
The mod utilizes a Yihi SX130H chip board, known throughout the vape industry for reliable and accurate temperature operation.  The maximum power output comes in at 80 watts, the temperature range is 212°F to 572°F or up to 80J and the unit can fire builds/tanks all the way down to 0.05ohm in temperature/joules mode.   The mod also  SX Pure mode for use with Pioneer4You atomizers and also a TCR mode for resistance versatility.
The IPV D4 is powered by a single 18650 cell.  While many claim that's not enough to permit long vape times, this particular chip board is built to best battery preservation thanks to its standby mode that requires less power when not in use.  The battery cell looks to be easily accessed or you can plug the IPV D4 into an outlet for direct USB charging. With passthrough charging technology, you can also continue vaping while the mod is plugged in.
Overall, if you are looking for a more portable device with a Yihi chip, you are bound to fall in love with the portable IPV D4.  With low power consumption, a small form factor and amazing Yihi Technology, this is bound to be one of your favorite compact mods when you are out and about.
Features & Specifications
Measurements: 80.4mm x 42.8mm x 25mm
Constructed from aluminum
Colors: black, brushed silver, brushed gold
Lightweight
Portable
Powered by a single 18650 cell
Easy battery access
On-board charging
Passthrough capable
Voltage input range: 3.2V to 4.5V
Voltage output range: 1V to 7V
Power output range: 7W to 80W
Temperature output range: 212°F to 572°F or 10J to 80J
Temperature control resistance range: 0.05Ω to 0.5Ω
Power mode resistance range: 0.15Ω to 3.0Ω
Pictures
Video Review
Coming soon
Total Views Today: 1 Total Views: 220