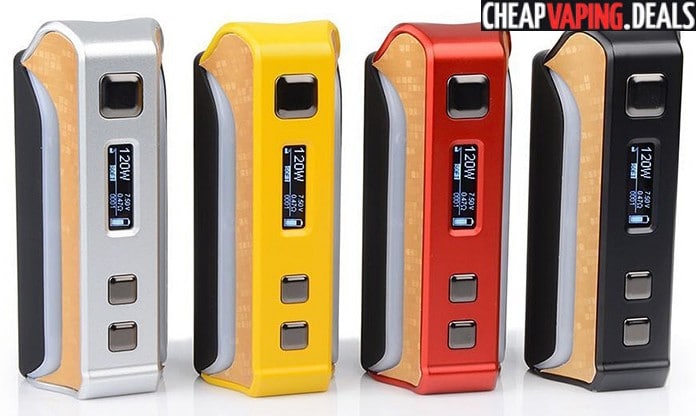 Check out this cheap price on the Pioneer4you IPV Velas Box Mod.
Overview
The IPV Velas is the latest mod from Pioneer4You. It features a Yihi SX410 chip board, 120 watts of output, a 7-color LED strip, the latest SXi-Q temperature curve control system, a low resistance capability and is powered by dual 18650 cells.
This mod does not look like any of the previous devices from Pioneer4You.  This device is compact and features a rounder design, especially at the top which curves like the letter S.  At this time, the device is available in silver, yellow, red or black but future colors include gun metal and purple. Each mod is built with an LED strip on both sides that can be set to 7 alternate colors for an amazing look in the dark!
Technically, this mod is quite advanced.  It is built with a Yihi SX410 chip board which means it utilizes the newest SXi-Q technology.  This allows the mod to operate with an  Intelligent Taste Curve system which assures the most accurate output due to one-of-a-kind algorithms.  Available taste modes with the IPV Velas include power mode, soft mode, eco mode, standard mode and SXi-Q mode. Temperature operation is also versatile with compatibility for stainless steel, nickel, titanium, TCR or use or use SX Pure mode.  The maximum power output is 120 watts, the highest temperature output is 572 degrees Fahrenheit while the lowest atomizer resistance comes in at just 0.05 ohm in temperature modes or 0.15ohm in power mode. And this device is safe thanks to low voltage, low resistance, high input voltage, temperature overheat, short circuit and reverse battery protections.
The Pioneer IPV Velas utilizes dual 18650 cells that are rechargeable via the micro USB port at the bottom. Batteries can be installed/removed via the convenient back panel that easily slides off.
IPV Velas Features & Specs
Powered by the latest Yihi SX410 chip board
Measurements: unknown at this time
Compact mod with modern design
Colors: silver, yellow, purple, red, black, gun metal
Dual 7-color LED strips
510 threaded connection
OLED screen
Utilizes dual 18650 cells
Bottom micro USB charging port
Flavor modes: powerful, soft, eco, standard, SXi-Q
Output voltage range: 1.0V to 9.5V
Power mode output range: 10W to 120W
Temperature range: 10J to 120J or 212°F to 572°F or 100°C to 300°C
Power mode resistance range: 0.15Ω to 3.0Ω
Temperature mode/TCR/ Joules resistance range : 0.05Ω to 1.50Ω
Temperature control compatibility: Ni200, SS316L, Ti 01, SX Pure, TCR
TCR value: 0.00050-0.00700
SXi-Q Intelligent Taste Curve control system for best operation and prevent dry puffs
Low voltage protection
Low resistance protection
Input voltage protection
Overheat protection
Short circuit protection
Reverse polarity protection
Pictures
Total Views Today: 1 Total Views: 716