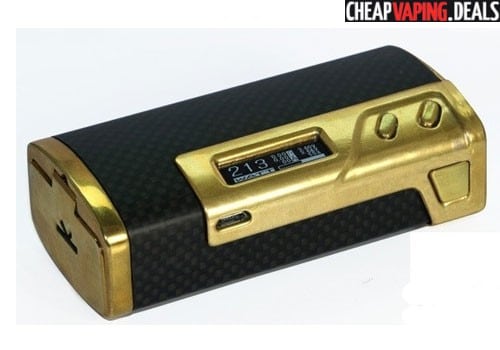 Check out this awesome price for an authentic Sigelei 213W TC Box Mod. This is the premium version with carbon fiber, not the cheaper Sigelei Fuchai 213. This mod used to retail for over $90.00!
Overview
The Sigelei 213W is the latest in a long line of high quality box mods from Sigelei.  It is the result of cooperation between Chinese and American designers.   The device features 213W of output power and supports all types of coil heads in temperature control mode.
The mod's stunning design features carbon fiber with aluminum gold or black trim to make it light and durable.   The gold/black contrast with angled control face makes this mod a sure headturner.  And, the fire button has been designed to prevent accidental firing in case the box mod is located in your pocket or purse.
The unit has a maximum power output of 213W, is compatible with pretty much every coil head and supports temperature control with nickel, titanium and stainless steel heating elements.  The mod also has  TCR technology to customize the temperature coefficient of resistance for your particular coil or build.  And then there's also TFR (Temperature Factor of Resistivity) mode which permits the mod to be used with hybrid builds that have a mix of different wire types.  A helpful tool for TFR mode settings is the Steam Engine Wire Wizard
The  most unique aspect of this box mod is its unique power up configuration technology.  It allows you to set the exact way you would like the mod to fire.  For example, you can set a higher power level when you begin a puff and allow the unit to throttle down the wattage along the way, or vice versa.  Whatever your preference!
Swapping batteries is also quite easy.  The 213W from Sigelei runs off two 18650 batteries which are loaded from the bottom by pressing the pop-up battery door. There's also a USB port for fast 2 amp on-board charging and the device is firmware upgradable to keep up with future technologies.
The OLED is completely redesigned from previous Sigelei mods.  It features a more simple layout, voltage level of each individual battery is displayed and changing modes is easier than ever.   The screen's menu also shows wattage, resistance, amperage, battery percentage and current mode.   You can also save up to 5 TCR values to ensure easy transition between atomizers.
Overall, the Sigelei 213W looks like an amazing box mod.  It has the latest technology, is easily customized and features a spectacular design.  And, since it's by Sigelei, it's bound to be durable and perform according to its specifications.
Check out Sigelei's facebook for more info on its 213W box mod.
Features & Specs
Dimensions: 23mm x 105mm x 55mm
Weight: 185g
Made from reinforced carbon fiber with aluminum frame
Power range: 10W to 213W, adjustable by 1W
Temperature control range: 200°F to 570°F or  100°C to 300°C
Voltage output range: 1.0V to 7.5V
Voltage input range: 6.4V to 8.4V
Curved body for sleek look
Angular buttons to prevent accidental firing
Prevent accidental firing
Power output range: 10W to 213W, adjustable in 1W increments
Set desired initial output wattage and throttle up/down during puff
Powered by two external 18650 batteries
Bottom load cells thru easy push battery door that pops up
USB charging
Upgrade firmware
Temperature control compatible with SS, Ti, Ni200
TCR mode with 5 memory slots
TFR mode to use with hybrid mods
OLED display with easy menu and new layout
Shows power levels in all three batteries
Brass 510 threaded connection
Springloaded center pin
Video  Review
https://www.youtube.com/watch?v=z0y9u2BOX0o
Total Views Today: 1 Total Views: 72,437