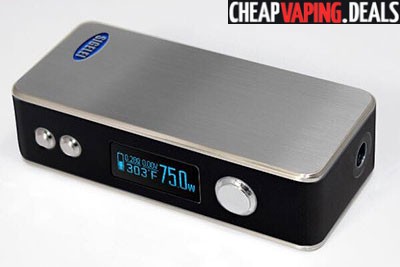 Overview
Over the summer of 2015, Sigelei released two new mods with temperature control functionality that produce more precise vaping. The Sigelei 75w TC was first to be released and made a splash in the vaping community.

This device was redesigned to cater to your tactile and aesthetic needs. Sigelei improved their firing button by making it sturdier in order to produce that bold and rhythmic click we all love to hear. In addition to a new and improved firing button, the Sigelei 75w TC also have redesigned wattage adjusting buttons, which are more tactile than past mods. Amongst all the features to revel in, one of the greatest features of the Sigelei 75w TC is its versatility. The device is the first to have customizable AND removable magnetic side panels. The removable magnetic side panels are wonderful because they make it so ridiculously easy to swap batteries even a caveman can do it.

The Sigelei 75w TC Box Mod operates on a single 18650 battery and is chargable via mini USB cable. 

In comparison to the Sigelei 150w TC Box Mod, the Sigelei 75w TC is sleeker and carries a lower wattage. Fortunately, the Sigelei 75w TC's size and wattage does not deter it from efficacy and excellence. This mod is perfect for sub-ohmers since it can manage atomizer resistance as low as 0.1 ohm. 
Features
Size: 40mm x 24mm x 90mm
Constructed of Aluminum Alloy
Made with stainless steel parts
Spring-loaded, self-adjusting 510 connector
Bottom air cooling
Variable wattage
Power output: from 5W to 75W
Voltage range: from 0.5V to 8.5 V
Resistance: from 0.05Ω to 2.5Ω
Temperature control functionality
Temperature range: from 212°F to 662°F or 100°C to 350°C
Use Kanthal or Nickel coils
Utilizes one 18650 Battery (not included)
OLED display screen
Battery level display
Charge via Mini USB port
Easy battery swapping
Double magnetized panels
Change panels to alternate colors  (not included)
Reverse Polarity Protection
0 second cutoff in temperature control mode
10 second cut-off in voltage & wattage mode
Video Review
More Sigelei 75W Box Mod Deals
Total Views Today: 1 Total Views: 191