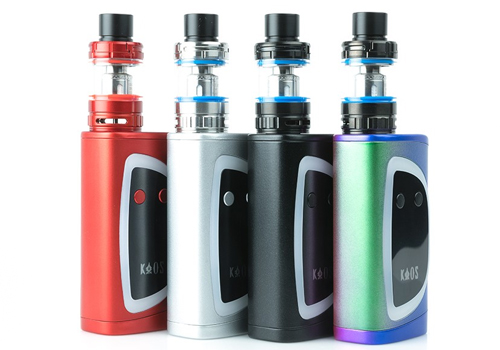 Here are fantastic deals on the Sigelei Kaos Spectrum Mod.  This powerful 230-watt mod has a customizable LED light band around its full-color display.
Overview
The Sigelei Kaos Spectrum is a brand new box mod that looks to become popular due to its uniqueness.  It features a one-of-a-kind changeable light ring on the front, up to 230 watts of output, fast charging, and a wide range of variable temperature modes, including TCR.
Unlike previous Sigelei mods, the screen on the front bezel is a full-color TFT display with a horizontal menu that shows current power, resistance voltage, current, and battery level. Navigating the mod is simple with shortcuts like three clicks to change modes.
Surrounding the TFT, there's a unique LED light ring that can be set to light blue, purple, red, yellow, green, or pink. You can also set the LED to be continuously lit, only when firing or you can turn it off altogether.
The Spectrum box mod has dimensions of 88mm x 45mm x 30mm and features a zinc alloy chassis that is shaped with rounded corners for a modern design. The device is available only with a black finish.  The back of the mod is textured and, although it is not leather, has an ergonomic feel.  The top contains a 510 threaded connection bezel and a beautifully emblazoned logo.  The firing button on the side is large and circular. The adjustment buttons are above the screen for easily modifying mode or wattage/temperature levels.
To power the Kaos Spectrum, two 18650 batteries that are installed from the bottom.  Accessing the battery sled is performed by unlatching its hinged door that easily flips open.  The mod's cell can also be charged onboard via the USB port on the side which doubles as a firmware upgrade port.  Charging occurs at a very fast 2.5A, so the process will complete rather quickly.
A brand new Sigelei chip board powers the Spectrum and is said to offer more stable performance than the company's previous box mods.  As a result, the mod can fire with up to 230 watts of power, can alter temperature up to 570 degrees Fahrenheit, is compatible in variable temperature modes with stainless steel, titanium & nickel wire, and also can be used in TCR mode.  The lowest limit for atomizer resistance bottoms is just 0.1ohm.  With these attributes, the unit will certainly work in harmony with many atomizers, builds, or tanks.
Overall, the Sigelei Kaos Spectrum mod looks amazing and the full-color screen and changeable LED belt are sure to turn heads.  With a new chipboard, we also hope Sigelei has resolved the problems it had with precise temperature control in previous mods such as the Fuchai series of box mods.
Video
Gallery
Features & Specifications
Measurements: 88mm x 45mm x 30mm
Made from zinc alloy
Modern design
0.96″ TFT display screen
Horizontal menu
One-of-a-kind changeable LED light ring
510 threaded connection
Hinged bottom battery door
Utilizes dual 18650 external batteries
Micro USB fast charging at 2.5A
Modes: VW, TC SS, TC Ti, TC Ni200, TCR
Power mode output range: 10W to 230W
Temperature range: 100°C to 300°C or 200°F to 570°F
Resistance range (VW & TC): 0.1Ω to 3.0Ω
Input Voltage Range: 6.4V to 8.4V
Voltage output range: 1.0V to 7.5V
Maximum output current: 35A
Total Views Today: 1 Total Views: 1,138