Here are cheap deals to purchase the Smok IPX 80 Pod System Kit. This setup features a waterproof/shockproof/dustproof design, adjustable power up to 80 watts, a 3000mAh integrated battery,  Type-C charging, airflow control, RPM2 mesh coils, a 5.5mL juice capacity, a side-fill system, RPM 2 mesh coils.  Update May 10: check out the brand new Smok IPX Bar Disposable.
Deals
USA Deal:

$23.09

  Use coupon code 30CVD at checkout (exclusive 30% off sitewide – blowout prices & fast USA shipping – one use per account – $250 limit)
Strong, Waterproof Design
In the design department, the Smok IPX 80 infuses incredible performance into a setup that also looks fantastic.  First, this kit is quite portable, and you can place it in a pocket for vaping.  Plus, the appearance is classy due to colorful finishes such as red, fluid 7-color, fluid black grey, grey, blue, black carbon fiber, and brown. Moreover, the paint consists of splicing silicone that resists fingerprints and is also stronger because it is layered.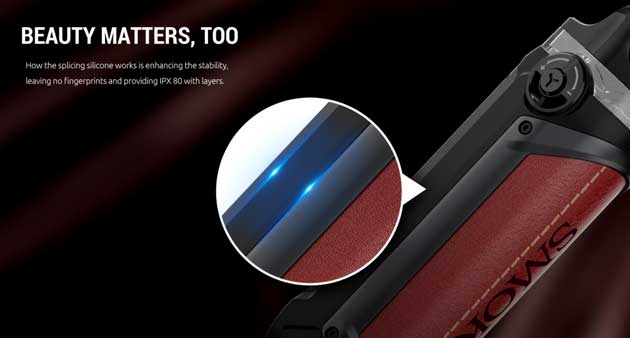 But perhaps the most important aspect of this kit is that it is waterproof, dustproof, and shockproof. This means you can take it out in any weather condition or to the pool without worrying about damage to the circuit boards.  Accidental drops shouldn't damage the pod system, but we don't recommend that you test this out.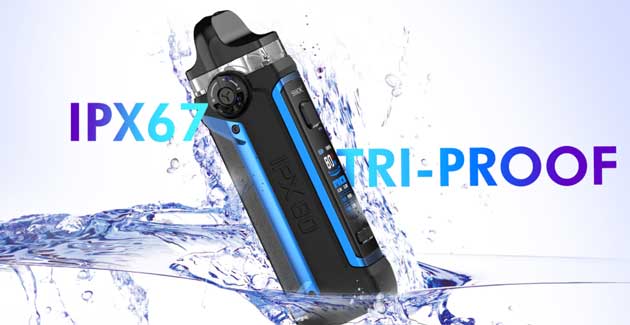 Powerful Battery, 80 Watts & Full-Color Screen
The Smok IPX 80 Pod Kit utilizes a powerful 3000mAh battery that produces up to 80 watts.  Recharging this cell is a breeze thanks to a 1.4 amp USB-C interface that permits fast recharging to finish this process quickly.  You can also change the wattage output to produce the vapor.  Thanks to many safety protections, such as overcharging and short circuit prevention, the pod system is safe to use.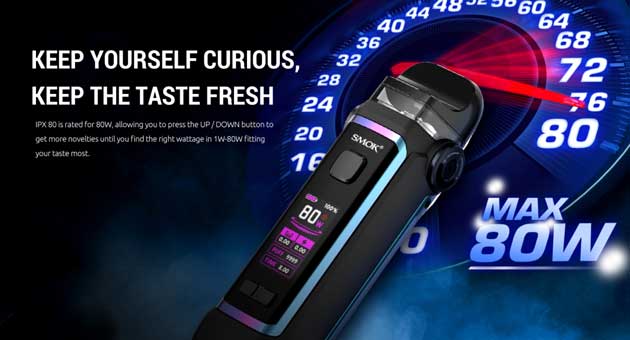 On one of the sides of the IPX 80, you can find a full-color display screen that measures 0.96″ to ensure you can see vape data.  On the menu, you will see vertically oriented indicators, including the current power, the current resistance, the current voltage, the number of puffs taken, the puff time, the battery percentage, and a battery bar.  And you may change the color theme of the user interface to white, blue, red, yellow, or red.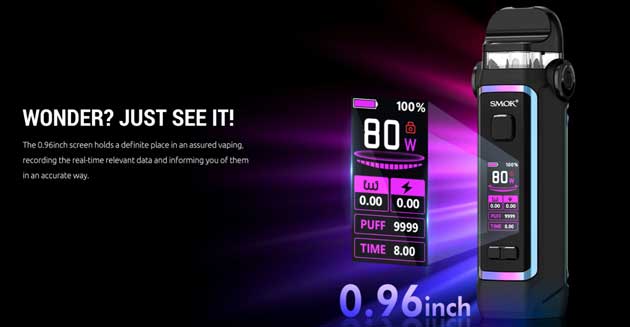 5.5mL Pods & Mesh Coils
We already discussed the IPX 80 mod, so now it is time to move on to the pods, which also look to be state-of-the-art.  You see, each of these cartridges stays in place with strong magnets, so they don't move around, and they can also hold a decent 5.5mL of e-liquid.  This means long vape times without any hassles, especially if you consider the powerful integrated battery also reduces the frequency of recharging.  Refilling the pods is a breeze thanks to a side-fill port with a rubber plug to ensure no leakage. And the duck-billed mouthpiece is ergonomic, reduces leakage into the mouth, and is conducive to creating incredible taste.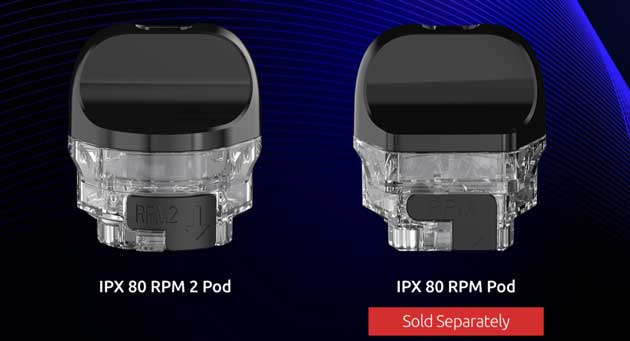 The cartridges utilize RPM 2 coil heads that are effortless to install via a push/pull method.  With purchase, you'll get both the RPM 2 0.16ohm coil (pre-installed) and an additional RPM 2 DC 0.6ohm coil. The RPM 2 coil permits you to engage in a direct-to-lung vape experience with dense vapor production in the 25 to 50 watts range.  The RPM 2 DC has dual coils and is ideal for mouth-to-lung vaping in the 12 to 25 watts range. Both of these coil heads are included with the purchase.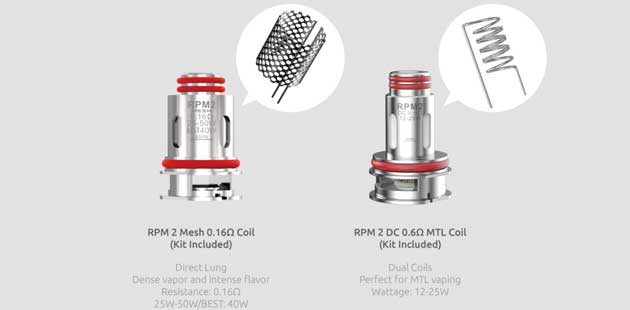 Adjustable Airflow Control
Most pod systems in the vape marketplace can't change the air intake.  That's where the Smok IPX 80 Pod Kit is unique, as there is an airflow control ring near the top of the battery section to change the airflow to your liking.  You may turn this knob to the left to increase the air intake or to the right to decrease it.  In this way, you can have a versatile vape experience.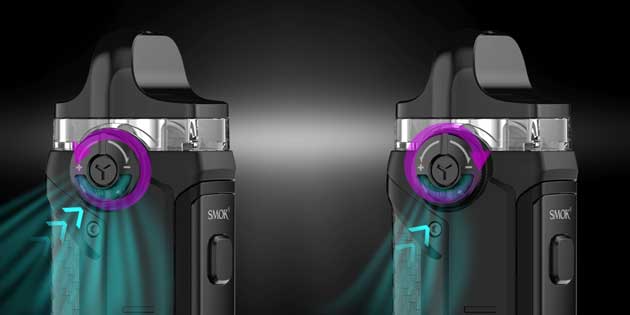 Features & Specifications
This electronic cigarette is small, with measurements of 107mm by 34.8mm by 34.5mm, and only weighs 130 grams.  Inside, there's a 3000mAh battery with a Type-C charging system, and output can be changed between 1 and 80 watts.  Each pod can store 5.5mL of e-liquid, has a side-fill system, and works with RPM 2 coils.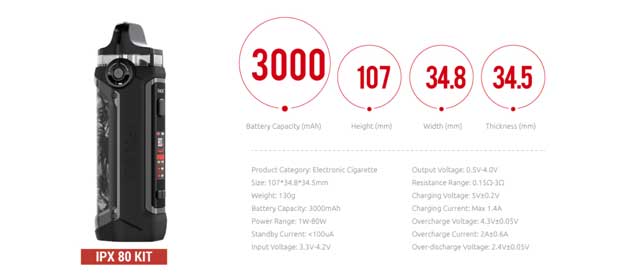 In The Box
With the IPX 80, you will receive the battery mod, an RPM 2 pod, an RPM 2 Mesh 0.16ohm coil, an RPM 2 DC 0.6ohm coil, a Type-C cable, and a manual.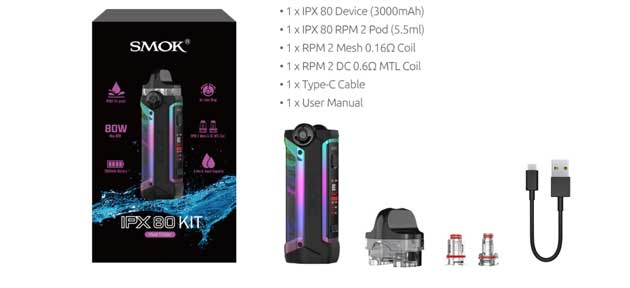 Gallery
Similar Products
Total Views Today: 2 Total Views: 3,875