Here are cheap deals to buy Smok TFV18 Coils. The available replacement heads are the 0.33ohm TFV18 mesh and the 0.15ohm TFV18 dual mesh coils.  We will add other versions if they are released, but we already know the TFV18 RBA Coil will soon hit the shelves.
Overview
As their name indicates, Smok TFV18 Coils work with the TFV18 tank, featuring a mesh configuration and an organic cotton core.  Because of the mesh heating element, these heats have a larger heating area and also fire with lightning speed for instant, dense vapor and tons of flavor.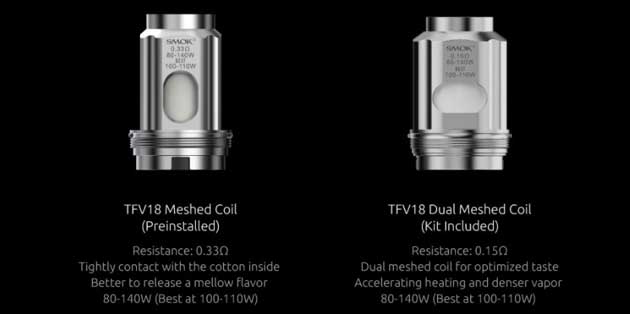 The first coil for sale is the 0.33ohm TFV18 Meshed Coil, which comes pre-installed when you buy your tank.  This head makes tight contact with the cotton inside to produce a better mellow flavor.  It has an operating range of 80 to 140 watts, but the best mod setting is 100 to 110 watts.  Also available is the 0.15ohm TFV18 Dual Meshed Coil with dual meshed coils for optimal flavor and accelerated heating for the densest possible vapor.  It fires between 80 and 140 watts but is also recommended at 100 to 110 watts.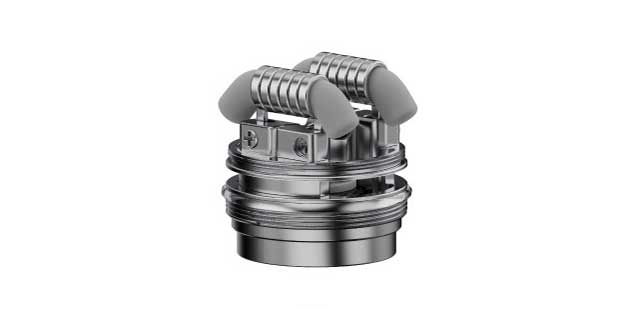 There's also a TFV18 RBA Coil for advanced vapers with a 0.33ohm heating element and fires from 45 to 80 watts.  The recommended setting is 55 to 65 watts. It utilizes the tank's massive airflow, is dual coil compatible, is meant for direct-to-lung vaping, and comes with a premade Clapton coil.
Smok TFV18 Replacement Coil Options
0.33ohm TFV18 Meshed Coil |  80-140W | Best: 100-110W
0.15ohm TFV18 Dual Meshed Coil | 80-140W | Best: 100-110W
0.33ohm TFV18 RBA deck: dual coil | 45-80W | Best: 55-65W
Related Deals
Total Views Today: 1 Total Views: 2,529