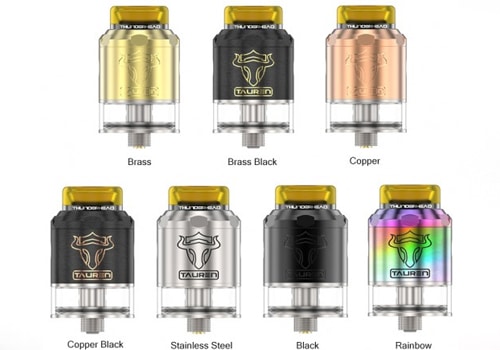 Here are cheap deals for the THC Tauren RDTA.  This rebuildable dripping tank atomizer features 3d airflow, a 2ml juice capacity, easy refills, dual coil compatibility, both a BF & standard connection pin and dual external air slots that are fully adjustable.
Overview
Appearance-wise, the Tauren RDTA is made from stainless steel, brass and copper and has available finish options in 7-color, black, silver, brass, brass black, copper and copper black. The dimensions of the THC Tauren RDTA come in at 24mm x 38mm and the juice reservoir can be filled with up to 2ml of e-liquid. A top fill system with decent sized fill slot will make refills effortless.
Airflow occurs externally via dual inlets that travel thru the Tauren and hit the deck's coils from all directions thanks to a unique 3D surrounding airflow system. At the bottom, there's a standard 510 threaded connection pin, but you may also install an included BF pin that works well with any squonk or tube mods in the marketplace. At the top, there's an 810 PEI drip tip but, unfortunately, a 510 adapter is not included.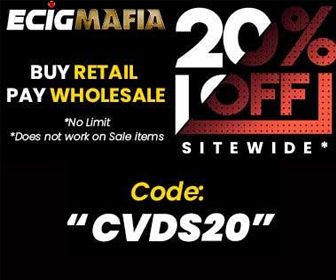 Under the chuff cap, you will see a 45 degree build deck that is compatible with dual coil builds and features the previously mentioned 28 micro air holes to produce 3D airflow for massive vapor and flavor. With purchase of the THC Tauren RDTA, you will also receive a 510 squonk pin, an Allen wrench and a bag of accessories.
THC Tauren RDTA Features & Specifications
Dimensions: 24mm x 38mm
Made from copper/brass/SS
810 PEI drip tip
Gold plated standard & BF pin
Colors: 7-color, black, silver, brass, brass black, copper and copper black
3d airflow with 28 micro internal air holes
45 degree build deck for dual coil installation
Juice capacity: 2ml
Easy fill system
Total Views Today: 1 Total Views: 83