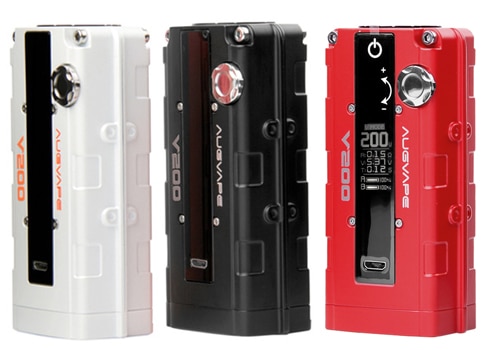 Update: The Augvape V200 200W Box Mod Has Been Discontinued – Check  Newer 200W Box Mod  Deals Below
Or
All Mod/Kit Deals
The Augvape V200 was inspired by the VTEC B18C Type-R engine and features 200 watts of output, a wattage control rotation button, a hidden fire button, stable power output, fast firing, power mode, mechanical mode, and voltage mode.
VTEC Engine Design
If you come across a picture of a VTEC B18C Type-R engine, you will be stunned that the Augvape V200 looks almost identical. This one-of-a-kind mod is available in black, red, or white, is made from zinc alloy, and has 87.5mm x 45.0mm x 29.2mm dimensions.  In addition to the design, the device is unique in that there's a wattage control wheel to easily adjust output, and the hidden fire button on the front results in a more streamlined appearance.  On the front, there's a crystal clear display with white font and black background. The menu is vertically oriented and features current output, resistance, voltage, puff time, and two battery bars to keep track of charge levels for the two 18650 cells that power the unit.  The cells are accessed via a bottom sliding panel and recharged via the micro USB port with a decent 1.2 amps of current.  At the top of the mod, there's a centered/protruding 510 connection bezel that has an amazing look thanks to grooves enhancing airflow.
While the Augvape V200 box mod does not operate in temperature control, it does feature power and voltage modes, or you may use it as an unregulated device in bypass mode (short circuit protection).  In power mode, the device can fire at 200 watts and features a VTEC system that allows it to fire almost instantly with stable output.  For maximum atomizer compatibility, the resistance is also a very low 0.05ohm.
Features & Specifications
Dimensions: 87.5mm x 45.0mm x 29.2mm
Weight: 165g
Made from zinc alloy
Colors: red, white, black
Portable
VTEC B18C Type-R inspired design
Protruding 510 connection bezel
Wattage control wheel
Hidden fire button
Powered by dual 18650 batteries

Bottom battery sliding/flip door
Micro USB 1.2A  charging

Output  modes:

Mechanical
Voltage
Power

VTEC mode for stable output and fast firing

Power output range: 5W to 200W
Input voltage range: 6.6V to 8.4V
Resistance range: 0.05Ω to 3.0Ω
Standby current: < 500uA
Gallery
Total Views Today: 1 Total Views: 350