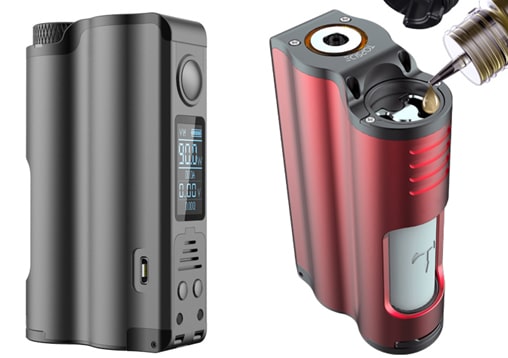 Here are cheap deals for the Dovpo Topside 90w Squonk Mod.  This new squonker features a top fill system for the massive 10ml squonk bottle, 90 watts of power, bypass mode, temperature mode, power mode, and firmware upgrades.  This item is an older Dovpo Squonk Mod, so check out the latest Dovpo squonker to hit the vape marketplace.
Deals
Overview
From a design perspective, the Dovpo Topside Squonker is available in black or red. It is made from zinc alloy, aluminum alloy, and stainless steel and measures 92mm x 54mm x 27mm. On the control face, you will see a 0.96-inch OLED display with a vertical menu that utilizes blue font for easy viewing.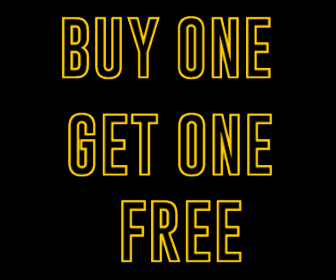 On one side of the mod is where the 10ml squonk bottle is stored. It is made from food-grade stainless steel and silicone for health and has a unique top-fill system. In other words, you never have to remove the bottle to refill it. Instead, unscrew the top cap next to the 510 gold-plated/springloaded 510 and add juice.
Adjacent to the e-juice bottle compartment is where the battery bay can be found. The Topside Squonk Mod uses a single 21700 battery that is bottom loaded via a flip battery cover. Unfortunately, it is uncertain if a micro USB charging system is integrated into this unit. But, since the device is designed to perform firmware upgrades, we would imagine there is an onboard charging interface. We will update this page when the information becomes available.
Technically, the Topside Box Mod is capable of power, bypass, and temperature control modes. The maximum achievable power output is 90 watts or 4.2 volts, and the Dovpo Topside is compatible with atomizers with a resistance that ranges from 0.08ohm to 3.5ohm.
Features & Specifications
Dimensions: 92.0mm x 54.0mm x 27.0mm
Color options: black, red
Made from stainless steel, aluminum alloy, zinc alloy
All parts that come in contact with e-juice are food grade (SS & silicone)
Gold plated/Spring loaded 510 threaded connection
0.96-inch OLED display

Vertical menu
Blue font on black background

10ml internal juice bottle

Unique top fill system via the top screw cap

Powered by a single 21700 battery

Easy bottom battery cover

Operating modes: bypass, power, temperature control
Resistance range: 0.08ohm to 3.5ohm
Power output range: 0W to 90W
Temperature control range: not listed
Input voltage range: 3.2V to 4.2V
Firmware upgrades
Gallery
Similar Products
Dovpo
Squonk Mods
Total Views Today: 1 Total Views: 4,207