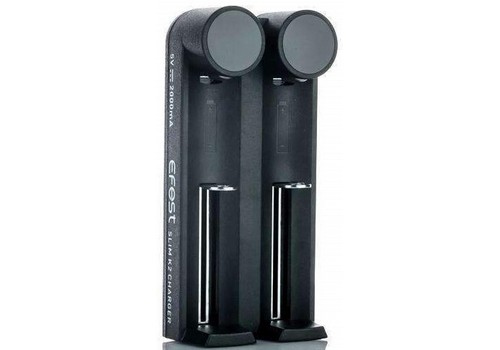 Here's a cheap deal for the Efest SLIM K2 Charger. It features a powerful yet portable design, quick charging, compatibility with many different types of batteries, LED battery life indicator, and several safety features to keep you safe while you charge.
Overview
The Efest Slim K2 is a high-quality transportable two-bay  charger that is built with a micro USB port for power. It supports 1.0A charging with 2 batteries in the bay and is able to take 3.6V or 3.7V batteries in wide range of sizes.
This charger is made with reverse polarity protection, an activation function, an auto-detect charging system,  short circuit protection and overcharge protection. The springs in the bays use piano wire to result in effortless sliding action upon battery installation and removal. Each bay is monitored separately whenever batteries are inserted. And,  a convenient LED light shows the charge level of the battery in each slot.
Review
Features & Specifications
Compatible Batteries:

10440, 14500, 14650, 16340, 16650, 17650, 17670, 18350, 18490, 18500, 18650, 20700, 26500, 26650

AC Input Power: 100V – 240V 50Hz/60Hz
DC Input Power: 5V 1A
1A CC Current: 1000mA ± 10%
Standby Current: <20mA
CV Cut-Off Current: <100mA
Cut-Off Voltage: 4.2V ± 0.05V
Activation Current: 50mA – 100mA
Auto Recharge Voltage: 4.10V ± 0.10V
Operation Temperature: 0℃ ~ 40℃
Storage Temperature: -40℃ ~ 70℃
Related Deals
Total Views Today: 1 Total Views: 246