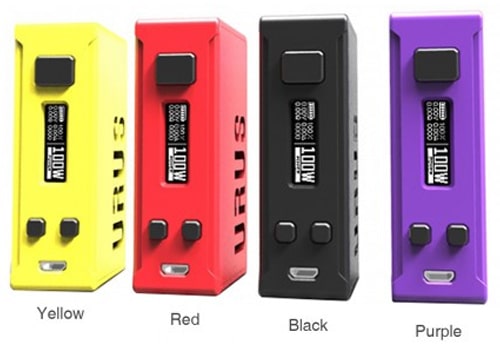 Check out these cheap deals for the Hugo Vapor URUS Box Mod.  
Overview
The Hugo Vapor URUS features a lightweight design, a 0.91 inch display, versatile temperature control, curve modes,  100 watts of output, utilizes a single 21700 cell for long vaping times but also works with 18650 and 20700 batteries.
Appearance-wise, this new mod  has a basic design but it is said to be  lightweight and comfortable in the hand. Its frame is made from nylonfibre with stainless steel elements. The device has measurements of 49.5mm x 82mm x 26mm and is available in yellow, red, black or purple. On the side, you will see the control face with a large square fire button, adjustment buttons and a display. The screen measures 0.91 inch and is made with a horizontally oriented menu system that shows vape data such as battery charge percentage, a battery bar, current voltage, current resistance, current amperage, current wattage/temperature and current mode.
Under the hood, the URUS Mod is quite capable because it can function in a versatile range of operating modes that include power, bypass, preheat, VTC and temperature control with nickel, stainless steel and titanium. The power can reach 100 watts and the resistance bottoms at 0.06ohm ensuring it will work with many tanks/builds currently in stores.
For the longest vaping times possible, the URUS Box Mod uses a single 21700 battery. Fortunately, if you don't have this type of cell, you may also use a less powerful 20700 or 18650 which will result in the necessity to recharge more often. Charging the battery can be done by using the onboard system that operates with a low 1 amp current. If you want to use your own charger, the batteries can be accessed by removing the side panel.
Review
Features & Specifications
Measurements: 49.5mm x 82mm x 26mm
Colors: purple, black, red, yellow
Nylonfibre with stainless steel

Lightweight
Ergonomic
Easy to carry

510 threaded connection
0.91 inch OLED
Works with a single 21700 or 20700 or 18650 battery

Long vaping times with 21700
Micro USB 1A charging system
Removable side battery panel

Operating modes: power / bypass / TC SS / TC Ti / TC Ni / VTC / preheat
Power mode range: 1W to 100W
Temperature range:unknown
Highest output current:45A
Resistance range (power & variable temperature):0.06Ω to 3.0Ω
Input voltage range: 3.2V to 4.2V
Output voltage range: 0.1V to 9.0V
Gallery
Similar Products
Total Views Today: 1 Total Views: 424