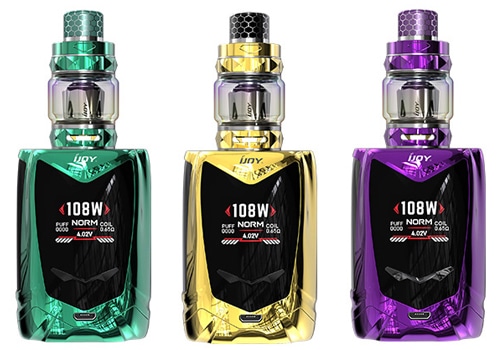 Summary
Here are cheap deals to purchase the iJoy Avenger Baby Mod or Kit at a low price.  The box mod features voice control, a luxurious appearance with a mirror finish, an oversized fire button, a color display, LED lights that may be customized,  dual 20350 battery compatibility, power mode ramp and taste modes, a full suite of temperature control, a pod mode, TCR mode, and a rock bottom resistance capability of 0.05ohm. If you get the kit, you will also get a Diamond Baby Tank that has a 4ml juice capacity, a top fill system, mesh coils for intense vapor, and bottom adjustable airflow.
Deal
Overview
From a design perspective, the Avenger Baby Kit's mod is a miniature version of the larger Avenger 270 Mod.  The new device measures only 48mm x 34mm x 66mm with plenty of color finish options and is on sale in mirror orange, mirror blue, mirror black, mirror silver, mirror gunmetal, mirror purple, mirror gold, mirror green, mirror white and mirror rainbow. On the side of the Avenger Baby, you will notice the trigger-style fire mechanism which takes up the entire length of the mod for ergonomics and easy firing. On top of the Avenger Baby, there's a stainless steel/510 threaded connection bezel that will work with large atomizers up to 30mm in diameter.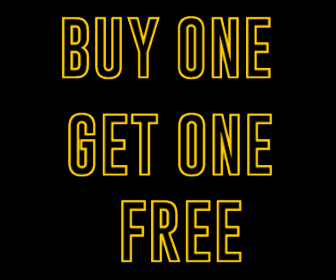 On the front of the Avenger Baby Kit is a 1.3-inch color screen that utilizes white font and red accents for an amazing appearance. The menu on the display is shown in a vertical manner for easy reading and includes indicators for battery status, current voltage, atomizer resistance, taste mode setting, total puffs, current wattage, and current temperature. Two adjustment buttons underneath the screen look to be ergonomic for easy navigation of the menu system and effortless settings adjustment. Around the display, you will see RGB lights that can be customized to show white, blue, green or red. These LEDs will become active anytime the Avenger Baby is fired or whenever a voice command is given to the iJoy Avenger Baby.
On the technical side, Avenger Baby Mod has the same voice-activated command system as its predecessor. Although it should not be called "articifical intelligence", the device can understand basic commands such as light off, music light, turn on the light, auto watt, power low, high power, unlock device, lock device, hard more, normal mode, soft mode or you may tell it a power output setting such as 50 watt or 90 watt.
For power, the Avenger Baby Kit works with two 20350 cells for long vaping times since the power tops out at 108 watts. Both batteries combined have a 2800mAh capability and are installed by opening up a flip door at the bottom. A micro USB port underneath the color display permits an easy recharge process with the included cable. You may also upgrade the firmware of the Avenger Baby via the USB interface. Performance-wise, this mod is cable of power mode with three taste settings (hard, soft, normal), POD mode for the perfect taste settings and a voltage range from 2.5 to 3.8 volts (use for mouth-to-lung vaping with high nic or nic salt juices), temperature control with stainless steel, nickel or titanium (2 memory slots to save your favorite settings) and TCR mode (2 memory slots). The highest achievable output on this setup is 108 watts or 600 degrees Fahrenheit with any atomizer that has a minimum resistance of 0.05ohm or higher. For safety, the Avenger Baby was also designed with reverse battery, low power and short circuit protections.
Also included with the Avenger Baby Kit is the Diamond Baby Tank. It features an exquisite design thanks to diamond-like accents on the bottom airflow ring and on the top cap. The finishes match the mod in the Avenger Baby Kit.  The reservoir on this small tank utilizes a bulb-style Pyrex glass tube to increase the tank capacity to 4ml which is quite high for an atomizer you can use on the go.  Refills of the 52.7mm x 22.5mm Diamond Baby are performed by unscrewing the top cap which reveals two large juice ports that you can simply squirt juice into. Two adjustable air slots can be found at the bottom and look to be widely adjustable to ensure your favorite vape settings.
Powering the Tank in the Avenger Baby Kit are the updated coils that are known in the vape industry for providing intense and massive vapor production with plenty of taste. These new heads use wood pulp wicking and flax fiber to further enhance vape flavors. Four different coils are available all of which fire in the range of about 4o to 80 watts. The 0.3ohm DMB-C1 coil , the 0.2ohm DMB-C2 coil, the 0.15ohm DMB-DM  coil (included) and the 0.18ohm DMB-Mesh coil (included) for intense vapor and flavor.
Features & Specifications
Avenger Baby Mod
Dimensions:  48mm x 34mm x 66mm
Colors:  rainbow, white, green, gold, purple, gun metal, stainless steel, black, orange, red, blue
 SS 510 threaded connection

Accommodates builds/tanks up to 30mm without overhang
Spring-loaded pin

Over-sized fire button
1.3 inch color screen

Vertically oriented layout

RGB LED lights

Light up when using voice commands or mod firing
Customize to white, blue, green, red

"Artificial Intelligence" voice commands

Mod responds to basic preset voice commands

Utilizes two  20350 Batteries

Micro USB charging port

Also used for firmware upgrades

Bottom flip battery cap to access battery bay

Operating modes: power | TC-Ni | TC-Ti | TC-SS |TCR | pod mode

Pod mode: 2.5V to 3.8V of power

Use with high nicotine e-liquids
Mouth-to-lung vape experience

Variable wattage mode

Set taste mode (hard, normal, soft)
Custom user mode for ramp vaping

TCR mode: save settings in 2 memory slots
TC modes: save settings in 2 memory slots

Maximum power output: 108W
Resistance capability 0.05ohm to 3.0ohm
Variable temperature output range: 200° to 600°F
Safety features

Reverse polarity protection
Low power protection
Short circuit protection
Diamond Baby
Measurements: 52.7mm x 22.5mm
Made from stainless steel and pyrex glass
Easily disassembled
510 threaded connection pin
Diamond theme
Colors: match the Avenger Baby
Tank capacity: 4ml (2ml for EU)

Fill by unscrewing 180 degree top cap

Two widely adjustable air intake slots
Diamond Baby coils

Included: 0.15ohm DMB-DM Coil | Rated 40W to 80W
Included: 0.18ohm DMB-Mesh Coil |  Rated 40W to 80W
In The Box
 iJoy Avenger Baby Box Mod (batteries not included)
Diamond Baby Tank
Pre-installed: 1 x DMB-Mesh Coil 0.18ohm
1 x DMB-DM Coil 0.15ohm
1 x replacement glass section
Micro USB cable
User manual
Warranty information
Gallery
Total Views Today: 1 Total Views: 1,804