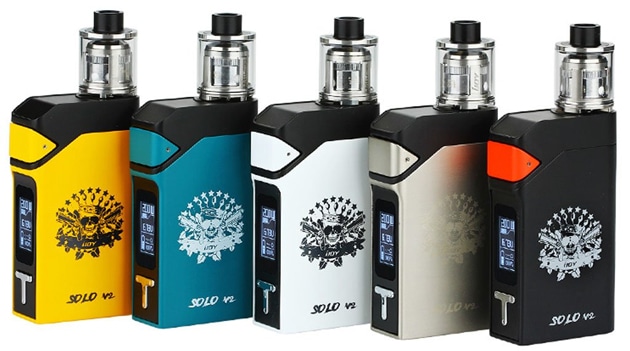 Update: The
Ijoy Solo V2 200W Box Mod Kit
Has Been Discontinued – Check  Newer 200W Box Mod  Deals Below
Or
All Mod/Kit Deals
Here's fantastic offers on the Ijoy Solo V2 Kit.
Overview
The iJoy Solo V2 Kit is a bundled vape setup that includes both a 200 W box mod with temperature control and the popular Ijoy Limitless sub ohm tank.  It is available in white, black, yellow, green and silver.
The 200W box mod is quite versatile with both power and a wide range of temperature control modes.  During variable temperature operation, you can use nickel, titanium and stainless steel coil types and there's also a TCR mode to enter customized resistance settings.  The Solo V2 mod will also work with any atty that has a resistance between 0.06ohm and 3.0ohm.
The control face of the mod features a cool OLED interface that is easy to use to ensure an enjoyable experience.  The menu has a vertical orientation with indicators for wattage/temperature, mode, voltage, resistance, battery level and puff counts.  On the secondary menu, you can conveniently choose from three temperature modes, set the power mode intensity, input TCR in two memory slots or reset the puff counter.  For left handed users, the screen also rotates 180 degrees.
The mod has measurements of 25mm x 54.8mm x 94.3mm and is made from zinc alloy.  The Solo V2 utilizes dual 18650 batteries that can be charged via the USB port which is also used for operating system updates. For external charging or to swap them out, the batteries are conveniently accessed via a sliding battery cover.
The V2 has measurements of 25mm x 54.8mm x 94.3mm and is made from zinc alloy.  At the top of the device, you will also find a spring loaded 510 connection bezel for fast and flush atomizer or tank installs.
The fire button on the mod is over-sized and the adjustment buttons are in a T formation.  Clicking left or write increases/decreases wattage or temperature, while clicking on the bottom of the "T" allows for easily changing modes.
The Limitless tank in this kit features a stainless steel chassis, a Pyrex glass tube and measures 25mm wide and 40.4mm in height.  The tank can hold up to 2ml of e-juice, but is refilled fast by unscrewing the top cap and squirting juice in the fill port that surrounds the chimney.
The device has four airflow slots on the bottom of the base that direct air straight to the coils.  The heads that are compatible with the Limitless tank are for low to mid wattage vaping.  Included with purchase, you'll receive two 0.3ohm coils that have a power range from 40 to 80 watts.  Another available head, not included, is a 0.6ohm one that should be used between 20 to 40 watts.
You will receive the iJoy Solo V2 box mod, the Limitless Tank, two 0.3ohm heads, a USB cable, a 510 adapter so you can use your own drip tip, a user's manual, a vape band and a warranty card.
Features
Ijoy Solo V2 Specs
Dimensions: 25mm x 54.8mm x 94.3mm
Made from zinc alloy
Colors: silver, green (teal), yellow, black, white
Over-sized fire button
OLED with vertical menu
Flip screen for left-handed use
Spring-loaded 510
Power mode range: 5W to 200W
Two memory slots
Puff counter
Temperature control with Ni, Ti, SS, TCR
Two TCR mode memory slots
Resistance range: 0.06Ω to 3.0Ω
Output voltage range: 1V to 9V
Output current range:1A to40A
180 degrees rotatable screen display
Sliding battery cover
Utilizes dual 18650 batteries
USB charging
USB firmware upgrades
Ijoy Limitless Tank Specs
Dimensions: 25mm x 40.4mm
Made from stainless steel
Pyrex glass tank reservoir
Top fill system
Tank capacity: 2ml
Disassembles for easy maintenance/cleaning
Four air slots at bottom
Direct-to-coil airflow
Included coils: 2 x 0.3Ω – 40W to 80W
Optional coil: 1 x 0.6Ω – 20W to 40W
510 threaded connection
Pictures
Total Views Today: 1 Total Views: 143