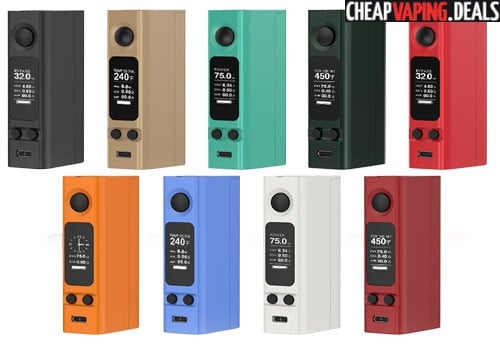 Overview
The eVic VTwo Mini is the updated edition of Joyetech's eVic-VTC Mini.  It features a more classy design and some new features such as real time clock display, customized logo and more.
The eVic VTwo Mini integrates a captivating style with the best vaping technology.  It is made from stainless steel and  features a compact form factor, so it's the perfect device when you're on the go.    It is available in a wide range of colors including orange, blue, white, burgundy, black, gold, cyan, grey and red. At the top of the unit, there's a high quality 510 connection bezel with durable threading and a springloaded center pin for adaptibility.
The control face of the mod is very similar to its predecessor with a super large OLED screen.  What's new is that the device uses Joyetech's latest firmware V4.02 which includes new modes, a new interface and real time clock mode with analog/digital display option.  As Joyetech releases new firmware, you'll be able to update the device operating system via the USB port.
The Vtwo Mini utilizes a single 18650 battery to generate the 75W of maximum output.  The mod can fire atomizers all the way down to 0.05Ω in temperature control mode and has a range of 200°F to 600°F.  The battery is easily accessed via the magnetic battery cover which is easily removed.  The micro USB port is located at the bottom of the control face.  Simply connect the the eVic VTwo Mini with the included wall adapter or any USB cable.  Once the device achieves full charge, the charging display will disappear from the menu.
The device features several modes to ensure a customized vape experience.  These include real time clock mode, bypass mode, power mode,  three temperature modes (Ni,Ti,SS316) and three TCR modes.
Safety and reliability is also built in to the box mod.  It features two different battery protections that prevent over discharging, over current and over charging.
Features & Specs.
Constructed from stainless steel
Many colors
Dimensions: 22.2mm x 38.2mm x 82mm
510 threaded connection with springloaded pin
Super large OLED with easy vertical menu
Latest firmware
Real Time Clock with digital or anolog display option
Power range: 1W to 75W
Temperature range: 200°F to 600°F or  100°C to 315°C
Power/bypass mode resistance range: 0.1Ω to 3.5Ω
TC control resistance range: 0.05Ω to 1.5Ω
Powered by one 18650 high amp battery
USB charging
Easy magnetic battery door
Dual circuit protection
Firmware upgrades
Video Review
https://www.youtube.com/watch?v=yQ3Ldq1u3Tk
Total Views Today: 1 Total Views: 420