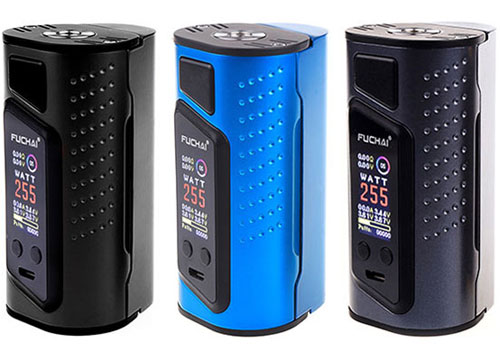 Check out this discounts for the Sigelei Fuchai Duo-3 Box Mod.  
Update: This Item Is discontinued So Check Out Similar Deals Below
Overview
The Fuchai Duo 3 is the latest  in the series of popular Fuchai mods from Sigelei.  It utilizes two or three 18650 cells, features easy battery access, comes with a range of temperature modes,  is capable of 175 watts of output, is built with a full color screen and looks modern.
This mod measures 85mm x 42mm x 33mm, so it is smaller than previous Fuchai devices such as the Sigelei Fuchai 213 Plus.  The device is constructed from zinc alloy to make it durable and ergonomic.  The body features a beautiful design with soft contours that allow comfortable holding in the hand.  Ventilation holes on the bottom keep the device cool while a top-located 510 connection bezel with a springloaded pin ensures flush installs of any build or tank.  You can get the device black, silver, grey, red, blue or gold.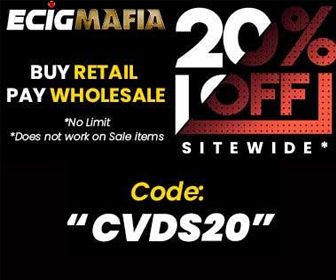 On the control face, you will find a large 1 inch full color TFT display.  The menu looks similar to its predecessors, but has been reorganized and mod stats are displayed in a vertical orientation. Located below a bright Fuchai logo, the screen shows indicators for resistance, voltage, current mode, current temperature/wattage, amperage, battery voltage for each cell, a battery bar and a puff counter.  The entire control face looks great with the display and oversized firing button meeting at a slanted angle to further enhance the modern design.   Below the screen, there are also a micro USB port and two small round mod adjustment buttons.
A brand new chipset, developed by Sigelei, can be found inside the Fuchai Duo-3 Box Mod.  This chip allows for a maximum output of 175 watts (dual batteries) or 255 watts (triple batteries), a low resistance capability of 0.1ohm and temperature output in the range of 212 to 572 degrees Fahrenheit.  The unit is built with standard modes such as power mode, three temperature control modes (for nickel, titanium and stainless steel) as well as TCR mode for precise resistance settings for your particular coil.  But, what sets this mod apart from the crowd is the TFR mode (Temperature Factor of Resistivity) that permits it to work with hybrid builds.  Firmware upgrade capability via the micro USB port means this mod will always stay up to date with the latest vape technologies in the marketplace. And, to ensure vaping is as safe as possible, the unit is made with reverse polarity protection, low resistance protection, low voltage alert, overheat protection and short circuit protection.
The Fuchai Duo-3 mod utilizes two 18650 external batteries that can be charged via the micro USB port on the control face with the included cable.  Balanced charging technology assures the batteries are always safe to use and charging occurs at a lightning fast 2.5A, so you cells will be topped off in no time at all. If you prefer to use your own charger, the cells are easily accessed via a convenient battery cover on the back that is held in place by a lock switch that is easy to operate.
Overall, the Sigelei Duo-3 mod looks to feature an amazing design, an incredible display and comes with all the technical bells and whistles you could possibly need.  And, it's affordable!
Fuchai Duo-3 Video
Fuchai Duo-3 Features & Specs
Measurements: 85mm x 42mm x 33mm
Constructed from durable zinc alloy
Colors:  black, grey, silver, red, gold or blue
Large 1″ full color TFT screen
Stainless steel/threaded 510 connection
Spring-loaded pin for flush installs
Power mode range:10W to 175W
Temperature range:212℉ to 572℉ or 100℃ to 300℃
Voltage input range:6.4V to 8.4V
Voltage output range:1V to 7.5V
Highest output current:40A
Resistance range in all modes:0.1Ω to 3.0Ω
Preset ouput modes: VW / TC SS / TC ti / TC Ni / TCR/ TFR
Preheat power adjustment for customized firing profile
Utilizes dual 18650 batteries
Convenient back battery cover with lock switch
Fast USB charging DC 5V/2.5A
USB firmware upgrades'
Low voltage protection
Short circuit protection
High input voltage warning
Reverse battery protection
Overheat prevention
Pictures
Total Views Today: 1 Total Views: 455